dir-scr So Yong Kim
prd Jen Gatien, Bradley Rust Gray, So Yong Kim
with Paul Dano, Jon Heder, Shaylena Mandigo, Jena Malone, Margarita Levieva, Dakota Johnson, Alex Mauriello
release US 5.Sep.12, UK 15.Feb.13
12/US 1h34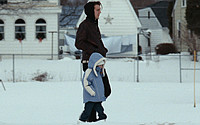 Father-daughter bonding: Dano and Mandigo



---
SUNDANCE FILM FEST
BERLIN FILM FEST

R E V I E W B Y R I C H C L I N E

There's a terrific performance by Dano at the centre of this film, which is so focused on him that everything else kind of blurs into insignificance, including the plot. It's very well made, but feels rather thin.

Aimless rocker Joby (Dano) heads home to divorce his wife Claire (Levieva), who's so angry that she won't speak to him even for the sake of their young daughter Ellen (Mandigo). Cash-strapped, Joby is faced with a dilemma when Claire offers him half of the value of the house if he signs away visiting rights to Ellen, who he barely knows anyway. Working with his inexperienced lawyer (Heder), Joby struggles to make a decision. Then as part of the negotiations, he gets to spend two hours with Ellen.

Dano is terrific as a rootless guy whose life seems to be nothing but one hardship after another, leaving him a shuffling, clueless mess. He's so irresponsible that he's on the verge of being thrown out of his own band. And yet we feel that inner yearning to connect with his daughter. Dano and Heder, as a hilariously too-nice geek, make a terrific double act, and we worry that they're going to be devoured by the real world they're up against.

Writer-director Kim shoots the film in the dead of winter, and the snowy townscapes give the story an intriguingly icy atmosphere. But the film is so focussed on Joby that everyone else on-screen feels peripheral (including the soulful, adorable Ellen). So the film becomes a long journey into Joby's blunted soul. It's oddly structured yet beautifully observed, with moments that shock us, such as when Joby lashes out cruelly at Claire about their past. Or when he awkwardly reaches out to Ellen.

As usual, Dano makes the most of his jangling limbs and breathless introspection. He also turns this vague, elusive film eerily gripping, even as we begin to wonder why Joby can't snap out of it and just decide on a few priorities in his life. Sure, we can see that he's trying. And that the place he is in life certainly doesn't make it easy. But by wallowing in his internal confusion, the film feels like it barely cracks the surface.
| | | |
| --- | --- | --- |
| | themes, strong language | 23.Apr.12 |