dir James Marsh
scr Tom Bradby
prd Chris Coen, Ed Guiney, Andrew Lowe
with Andrea Riseborough, Clive Owen, Gillian Anderson, Aidan Gillen, Domhnall Gleeson, Brid Brennan, David Wilmot, Stuart Graham, Martin McCann, Cathal Maguire, Michael McElhatton, Gary Lydon
release US Jan.12 sff, UK 28.Sep.12
12/Ireland BBC 1h41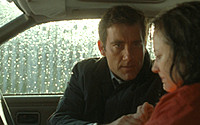 Puppet master: Owen and Riseborough



---
SUNDANCE FILM FEST
BERLIN FILM FEST

R E V I E W B Y R I C H C L I N E

Slow and steady, this will appeal to filmgoers who like to get involved in a complex, intelligent story that refuses to follow the rules of more bombastic thrillers. And it rewards patience with a moving story about the collision of family and political values.

In 1993 London, IRA operative Colette (Riseborough) is offered a terrible deal by MI5 agent Mac (Owen): she can avoid a lengthy prison sentence and stay home with her son (Maguire) only if she agrees to spy on her mother (Brennan) and activist brothers (Gillen and Gleeson) back home in Belfast. But when she gets home, she finds that the IRA leader (Wilmot) already knows that there's a spy in their midst. Meanwhile, Mac starts to suspect that something's up with his secretive boss (Anderson).

Marsh directs this in a sure-handed way that never overstates anything. Every detail is revealed subtly through quietly gliding camerawork, internalised performances and minimalistic dialog. In other words, the film requires rather a lot of work on the part of the audience; like last year's Tinker Tailor Soldier Spy, it relies on the viewer's intelligence. Which of course will make it either bracingly thrilling or annoyingly dull, depending on how you take it.

Riseborough has never given a performance with this much subtext, underplaying scenes wonderfully to draw us into Colette's personal dilemma. We can see that she's torn by her loyalties, afraid that no matter what she does she will end up losing her son, either killed as an traitor or imprisoned as a terrorist. So as the story builds to a startling conclusion, we are drawn into the intensity of her predicament.

By comparison, none of the other characters registers very much. Owen's Mac is enigmatic, with no life outside his work. Anderson's spymaster is more intriguing simply because we're not sure what she's up to, but she never gets to cut loose. And Gillen, Gleeson and Brennan are all terrific in brief scenes that leave us wanting more. This could perhaps be said of the entire film, which barely gives us enough detail to chew on. But as a work of cinematic art, it's both gorgeous to watch and darkly unsettling.
| | | |
| --- | --- | --- |
| | themes, language, violence | 3.May.12 |