prd Laurent Baudens, Didar Domehri, Alvaro Longoria, Gael Nouaille, Fabien Pisani
scr Leonardo Padura
---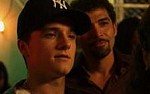 Monday: El Yuma
dir Benicio Del Toro
with Josh Hutcherson, Vladimir Cruz
---
Tuesday: Jam Session
dir Pablo Trapero
with Emir Kusturica, Alexander Abreu
---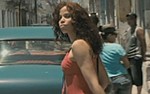 Wednesday: Cecilia's Temptation
dir Julio Medem
with Melvis Estevez, Daniel Bruhl, Leo Benitez
Thursday: Diary of a Beginner
dir Elia Suleiman
with Elia Suleiman
---
Friday: Ritual
dir Gaspard Noe
with Cristela De La Caridad Herrera, Othello Rensoli

---
Saturday: Bittersweet
dir Juan Carlos Tabio
with Mirta Ibarra, Jorge Perugorria
---
Sunday: The Fountain
dir Laurent Cantet
with Nathalia Amore
---
release Fr 30.May.12,
UK 6.Jul.12
12/France 2h09

---
CANNES FILM FEST

R E V I E W B Y R I C H C L I N E
There's plenty of colour and culture in this anthology, which could have been titled La Habana Te Amo, to match the similarly uneven Paris Je T'Aime and New York I Love You. It has moments of artistic inventiveness, but barely breaks the surface.

On Monday, an American (Hutcherson) moves to Havana to start film school, connecting with a friend (Cruz) who takes him for a night on the town. Tuesday, filmmaker Kusturica arrives to accept an award, then escapes to a jazz club with his driver (Abreu). Wednesday, a Spaniard (Bruhl) tries to recruit a Cuban singer (Estevez) to work in Europe, but her baseball-player boyfriend (Benitez) has other plans. Thursday, a Palestinian (Suleiman) struggles to make sense of the local culture. Friday, a teen (Herrera) is put through a ritual to cure her lesbian tendencies. Saturday, a woman (Ibarra) tries to hold her family together by working two high-pressure jobs. And Sunday, a woman (Amore) obeys the Virgin and gets her family to install a pond in her sitting room.

Each film is shot in its director's style. The highlights are both nearly silent: Noe's dark and creepy film, which seems to be lit by bonfires, and Sulieman's witty observational comedy, framed like a Wes Anderson jaunt. But the shorts all raise serious issues without exploring them. Sexuality and gender, foreign interlopers, oppression, poverty and escape are important in any society, but take on added interest in a country like Cuba. So it's frustrating that they're left hanging in the breeze by Padura's screenplay.

That said, there's a range of engaging, fascinating characters, including several who pop up in multiple segments. Standouts include the expressive Estevez, who makes Cecilia's multi-faceted dilemma especially vivid, and Ibarra, who grounds the film's most complex chapter. These characters maintain their dignity even when the script throws them into melodrama.

As a glimpse of day-to-day Havana, there's a lot to enjoy as scenes shift between comedy, romance and drama. What the film lacks in depth it makes up for in casting and production values, with actors and filmmakers who know how to bring even the slightest of situations to life in interesting ways. If the script had bothered to grapple with what the big issues mean for these characters and for us as outsiders, it would be essential viewing.
| | | |
| --- | --- | --- |
| | themes, language, sexuality, violence | 12.Jun.12 |