R E V I E W B Y R I C H C L I N E
MONTMARTRE
dir-scr Bruno Podalydes
with Bruno Podalydes, Florence Muller
QUAIS DE SEINE
dir Gurinder Chadha
scr Gurinder Chadha, Paul Mayeda Berges
with Cyril Descours, Leila Bekhti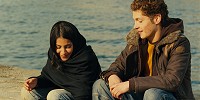 Riverside: Bekhti and Descours

LE MARAIS
dir-scr Gus Van Sant
with Gaspard Ulliel, Elias McConnell, Marianne Faithfull
TUILERIES
dir-scr Joel Coen, Ethan Coen
with Steve Buscemi, Julie Bataille, Axel Kiener
LOIN DU 16e
dir-scr Walter Salles, Daniela Thomas
with Catalina Sandino Moreno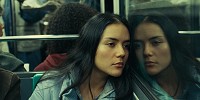 Lullaby: Sandino Moreno
PORTE DE CHOISY
dir Christopher Doyle
scr Christopher Doyle, Gabrielle Keng Peralta, Rain Kathy Li
with Barbet Schroeder, Li Xin
BASTILLE
dir-scr Isabel Coixet
with Sergio Castellitto, Miranda Richardson, Leonor Watling
PLACE DES VICTOIRES
dir-scr Nobuhiro Suwa
with Juliette Binoche, Willem Dafoe, Hippolyte Girardot
TOUR EIFFEL
dir-scr Sylvain Chomet
with Paul Putner, Yolande Moreau PARC MONCEAU
dir-scr Alfonso Cuaron
with Nick Nolte, Ludivine Sagnier, Sara Martins

QUARTIER DES ENFANTS ROUGES
dir-scr Olivier Assayas
with Maggie Gyllenhaal, Lionel Dray, Joana Preiss
PLACE DES FETES
dir-scr Oliver Schmitz
with Seydou Boro, Aissa Maiga
PIGALLE
dir-scr Richard LaGravenese
with Bob Hoskins, Fanny Ardant
QUARTIER DE LA MADELEINE
dir-scr Vincenzo Natali
with Elijah Wood, Olga Kurylenko, Wes Craven
PERE-LACHAISE
dir-scr Wes Craven
with Emily Mortimer, Rufus Sewell, Alexander Payne
FAUBOURG SAINT-DENIS
dir-scr Tom Tykwer
with Melchior Beslon, Natalie Portman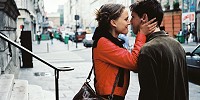 Love is blind: Portman and Beslon

QUARTIER LATIN
dir Frederic Auburtin, Gerard Depardieu
scr Gena Rowlands
with Gena Rowlands, Ben Gazzara, Gerard Depardieu
14e ARRONDISSEMENT
dir Alexander Payne
scr Alexander Payne, Nadine Eid
with Margo Martindale
---
release France 21.Jun.06,
US 4.May.07, UK 29.Jun.07
06/France Canal+ 1h56
---
CANNES FILM FEST
TORONTO FILM FEST
---
See also:




With 18 short films by a variety of filmmakers and actors, there are bound to be segments everyone loves and hates. But taken as a whole, it's a remarkably textured look at the City of Lights.

Each story takes its title from a section of Paris, exploring relationships from every conceivable angle. Many involve encounters with strangers (on the street in Montmartre and in a shop in Le Marais), others feature longer-term relationships (love lost in Bastille, older-younger in Parc Monceau, professional-personal in Pigalle, an engaged couple in P'àö√£re-Lachaise, the embers of marriage in Quartier Latin), and some explore people who are building something unusual (mimes in Tour Eiffel, vampires in Quartier de la Madeleine, opposites in Faubourg Saint-Denis).

Two of the most entertaining shorts focus on tourists interacting with the city itself (Buscemi in Tuileries and Martindale in 14e Arrondissement), while others tellingly address social issues (bigotry in Quais de Seine, class in Loin du 16e, culture in Porte de Choisy, grief in Place des Victoires, drugs in Quartier des Enfants Rouges, violence in Place des FÍtes).

The technically most audacious are Cuar√õn's single take (of course!) and Natali's striking comic-book sheen. The most engaging are Chadha's French-Arab teen romance, Assayas' what-if look at an intriguing relationship, and Payne's wacky-then-moving travelogue. The most powerful is Schmitz's swirling look at the aftermath of a crime. The simplest and best segment is Salles and Thomas' gentle and touching cross-town vignette, hinging on a knock-out performance from Sandino Moreno.

On the other hand, some of them don't really work, such as Doyle's goofy romp between a businessman and a hairdresser, Suwa's overemotional look at a mother's extreme pain, and Craven's slightly silly visit to Oscar Wilde's grave. Although even those segments feature strong acting.

What's intriguing is how well they flow together. Each element is short enough to tell its little story and get away, so even if we're annoyed or bored, we don't have to wait long. It's like a series of little discoveries, each observing something about the city and human nature.
| | | |
| --- | --- | --- |
| | themes, language, drugs, some violence, sexuality | 13.Feb.07 |


monica parreiras, brazil:

"Paris, je t'aime! Also love the people involved in this venture - actors, screen writers, directors, cinematographers, editors. They managed to capture poignancy, bliss, pain, bewilderment, infatuation and whatever else it takes to be alive. My six favourites are: Tuileries, Place des Victoires (Buscemi and Binoche superb), Place des Fetes, Faubourg Saint-Denis (brief encounters), Quartier Latin, 14th Arrondissement (falling out of and in love respectively)." (24.Jul.07)