dir-scr Karl Markovics
prd Dieter Pochlatko, Nikolaus Wisiak
with Thomas Schubert, Karin Lischka, Gerhard Liebmann, Georg Friedrich, Stefan Matousch, Georg Veitl, Klaus Rott, Luna Mijovic, Reinhold G Moritz, Martin Oberhauser, Magdalena Kronschlager, David Oberkogler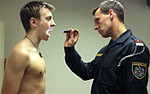 release UK 20.Apr.12
11/Austria 1h30

---
CANNES FILM FEST
TORONTO FILM FEST


With elusive writing and directing, actor-turned-filmmaker Markovics inventively lets his story unfold with honest, natural pacing that quietly draws us in. It's a remarkably thoughtful, complex approach to an important subject.

Roman (Schubert) grew up as an orphan and has been in detention for the past four years. Now 19 and on day-release to find a job, his mentor (Liebmann) worries that he'll never be able to sustain a normal life. But it's the new job that begins to get to Roman: he's working for a company that transports human corpses. And as he starts to think about mortality, he decides to track down his birth mother (Kischka) to get some answers about who he really is.

With a beautifully internalised performance, Schubert lets us see into Roman's soul. He quietly submits to a full-body search each time he returns to his prison, and hides from the other inmates while he thinks about his future. Or rather whether he has a future at all. There are moments when his spiky humour and surly stubbornness reveal themselves, as well as a tenacious yearning to make the awkward interaction with his mother mean something. And both Schubert and writer-director Markovics make sure we understand and feel every pang of his emotional journey.

But there isn't a moment in this film that's obvious; Markovics assembles each scene in a matter-of-fact way that relies on the tiniest details to give us the information we need. The filmmaking is subtle and expressive, full-on and unblinking and yet also intriguingly enigmatic. And you could describe the work of the entire cast in the same way. It's mesmerising to watch Roman quietly discover his way in life and find a bit of badly needed confidence, even though everyone in the prison continues to torment him as usual.

Along the way, there are some stunningly moving sequences that draw out the tenderness in characters who are trying to be tough. Markovics proves to be seriously adept at catching moods and telling an involving story without relying on dialog or movie manipulation. So as the plot fills in details and moves forward, he doesn't need sentiment to make us see ourselves in the characters and situations.
15 themes, language, nudity, grisliness
---
10.Jan.12

R E V I E W B Y R I C H C L I N E
Café de Flore


dir-scr Jean-Marc Vallee
prd Pierre Even, Marie-Claude Poulin
with Vanessa Paradis, Kevin Parent, Helene Florent, Evelyne Brochu, Marin Gerrier, Alice Dubois, Evelyne de la Cheneliere, Michel Dumont, Linda Smith, Joanny Corbeil-Picher, Rosalie Fortier, Caroline Bal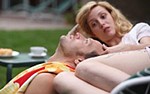 release Can 18.Nov.11,
US Nov.11 afi, UK 11.May.12
11/Canada 2h00

---
VENICE FILM FEST
TORONTO FILM FEST

The emotional resonance of this lush collage of a movie is almost overwhelming, as filmmaker Vallee inventively digs deeply into the souls of his characters, helping us see ourselves more clearly in the process. It's not always easy to watch, but it packs a potent punch.

In present-day Montreal, Antoine (Parent) has a happy life with his sexy girlfriend Rose (Brochu) and his two daughters (Corbeil-Picher and Fortier) from his ex Carole (Florent). But Carole finds herself unable to get over him, haunted by dreams and the feeling that they should be together. Meanwhile in 1969 Paris, Jacqueline (Paradis) is determined to give her Down's son Laurent (Gerrier) a full, happy life. But when he becomes attached to classmate Veronique (Dubois), who also has Down's, she finds it impossible to let go.

The film's main focus is on the intense emotional bond we have with those we love, sometimes to the point where we jeopardise our relationships when we refuse to let them evolve properly. This is a hugely complex topic, and Vallee explores it artfully by cross-cutting between the two stories while imaginatively exploring the characters' internal struggles. He also takes his time revealing links between the two strands, which is sometimes frustrating for audiences trying to keep up with things.

But as we let the film wash over us, our own emotional engagement is startlingly intense. Not only can we identify with the characters' complex reactions, but events draw on our own memories. Which makes it feel like a film about us. Vallee combines emotions pungently: joy and hope and fear and regret mingle together in ways they rarely do in cinema, but always do in real life. So the film sometimes feels like an epic romance and other times like terrifying horror.

The cast members play it transparently, with especially notable turns from Parent and Gerrier in the pivotal roles. As the story progresses, and Carole seeks answers in an unusual place, the film encourages us to stop analysing relationships and emotions and just live in them. This may not sound like a revolutionary message, but the way Vallee conveys it is so inventive that we feel like we've been cleansed from the inside out.
15 themes, language, sexuality
---
14.Feb.12

R E V I E W B Y R I C H C L I N E
Delicacy


La Délicatesse
dir David Foenkinos, Stephane Foenkinos
scr David Foenkinos
prd Xavier Rigault, Marc-Antoine Robert
with Audrey Tautou, Francois Damiens, Bruno Todeschini, Melanie Bernier, Josephine de Meaux, Pio Marmai, Monique Chaumette, Marc Citti, Alexandre Pavloff, Ariane Ascaride, Christophe Malavoy, Audrey Fleurot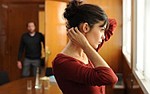 release Fr 21.Dec.11,
UK 13.Apr.12
11/France StudioCanal 1h48


This light-handed French film uses comedy, drama, tragedy and romance to tell a remarkably engaging story. The approach to the story is a bit off-centre, but it's the kind of film that surprises us all the way through and then leaves us with a smile on our faces.

Nathalie (Tautou) has a perfect life with her childhood sweetheart Francois (Marmai). And with a new job and a decision to start a family, the future looks bright. So when Francois dies in a sudden accident, Nathalie throws herself into work to cope. Three years later, while fending off the advances of her lecherous boss (Todeschini), she inexplicably kisses dorky coworker Markus (Damiens). And without really trying, they embark on a tentative, unexpected relationship.

A lot of the plot is fairly inexplicable, actually, as people constantly do something without thinking, reacting to some sort of internal emotional urge. Some of these things are positive, but others are much darker, and the filmmakers somehow manage to blend a wide variety of emotional tones into the story while making it feel effortless and breezy. The heavier notes never take anything away from scenes that are lighter and sweeter, but rather deepen everything along the way.

Tautou is terrific in the central role, which is a clever twist on her usual movie persona, allowing her to give a much more layered performance than we usually see. And her chemistry with Marmai, Damiens and Todeschini is simply wonderful, as each actor brings a specific hangdog charm to the screen. But what's most intriguing is the way Damiens cleverly reveals Markus' inner soul, letting us see why Nathalie is unable to resist him when everyone else is baffled.

It's rare for a film to maintain a light tone while grappling with issues of grief and public pressure. Watching Nathalie's best friend (de Meaux) react to Markus is seriously chilling, mainly because it's so beautifully underplayed. And this kind of subtlety infuses the entire film, worming under our skin to let us see ourselves in each character. So even if the plot feels far too constructed and obvious (a typical novelist-turned-filmmaker error), the characters keep us entertained and challenged.
15 themes, language, some violence
---
8.Mar.12

R E V I E W B Y R I C H C L I N E
Le Havre


dir-scr-prd Aki Kaurismaki
with Andre Wilms, Kati Outinen, Jean-Pierre Darroussin, Blondin Miguel, Elina Salo, Evelyne Didi, Quoc-Dung Nguyen, Jean-Pierre Leaud, Francois Monnie, Pierre Etaix, Vincent Lebodo, Roberto Piazza

release US 21.Oct.11,
Fr 21.Dec.11, UK 6.Apr.12
11/France 1h33

---
CANNES FILM FEST
TORONTO FILM FEST

Finnish filmmaker Kaurismaki heads to France for this marvellously askance comedy-drama, for which he again uses a genre style with only a tentative connection. Although shot like a 1940s spy movie, the story's actually about present-day class issues.

Marcel (Wilms) is an ageing shoe-shiner in the port city Le Havre, getting no respect from anyone. After his doting wife Arletty (Outinen) ends up in hospital for cancer treatment, Marcel encounters young refugee Idrissa (Miguel), who has escaped from Gabon on his way to meet his mother in London. While hiding Idrissa from a nosey cop (Darrousin) and a meddling neighbour (Leaud), Marcel gets help from his friends (Salo, Didi, Monnie and Nguyen) and his faithful dog Laika.

Despite the rather serious subject matter, the film has a whimsical quality that feels rather surreal, especially as events play out in the final act. But the plot isn't the point: this is a story about how people from different backgrounds interact in often surprising ways. Despite his loser-like status, everyone knows that Marcel is a good guy. He doesn't see race or nationality as issues, so helping Idrissa comes naturally to him, even if it means breaking the law.

As usual, Kaurismaki uses with vividly colourful sets, characters, camerawork and music that feel like a period film. But the story is hugely current, looking at immigration in Europe from a variety of angles while pitting human compassion against officious border controls and deep-seated prejudice. We never understand why Leaud's neighbour is so tenaciously determined to have Idrissa deported, but we do understand the cop's reluctance to do so. So as we root for Marcel, we hope he'll get some good news from the doctor as a kind of karmic payback.

The film is also extremely mannered, filling the screen with random characters and hilariously strange moments (it opens with an abrupt shooting that's never referred to again). The acting style is deadpan and often monotone; indeed, Laika is the most expressive performer. And no one seems particularly surprised by the twists and turns of fate that come along, taking things in stride, good with bad, while doing the best they can to help each other and perhaps make the world a bit better in the process.
PG themes, some language
---
2.Apr.12


< < F O R E I G N > >
See also: SHADOWS FILM FESTIVAL

© 2012 by Rich Cline, Shadows on the Wall


HOME | REVIEWS | NEWS | FESTIVAL | AWARDS | Q&A | ABOUT | TALKBACK