dir George Clooney
scr George Clooney, Grant Heslov, Beau Willimon
prd George Clooney, Grant Heslov, Brian Oliver
with Ryan Gosling, George Clooney, Philip Seymour Hoffman, Paul Giamatti, Evan Rachel Wood, Marisa Tomei, Jeffrey Wright, Max Minghella, Jennifer Ehle, Gregory Itzin, Michael Mantell, Yuriy Sardarov
release UK 28.Oct.11
11/US 1h41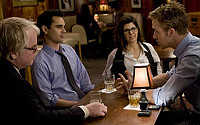 Think tank: Hoffman, Minghella, Tomei and Gosling



---
VENICE FILM FEST
TORONTO FILM FEST

R E V I E W B Y R I C H C L I N E
As a writer-director, Clooney delivers another complex exploration of American politics in this lively drama about the pressures of the campaign trail. The plot is somewhat theatrical, but the stellar cast brings it to life.

Steve (Gosling) is working with campaign director Paul (Hoffman) on the presidential campaign of Pennsylvania Governor Mike Morris (Clooney), and the current focus is the pivotal Ohio primary. As Steve starts to fall for young intern Molly (Wood), he is invited to meet with rival campaign manager Tom (Giamatti). And soon he finds his idealistic world disintegrating around him: Molly reveals information that could destroy Morris' campaign, while meeting with Tom jeopardises Steve's job. Meanwhile, backroom deals with an ambitious senator (Wright) call everyone's integrity into question.

Adapted from Willimon's play Farragut North, this is about how integrity in politics is actually a myth. Merely surviving at this level of power requires compromise, deception and dirty tricks. And as the story progresses through a series of tough plot points and emotional carnage, these blurred ethics begin to infect everyone on screen. Oddly, and a little bit obviously, the most moral character is the one the press would label as the villain of the piece.

Yes, it's all rather stagey and constructed, but Clooney and his cast breathe life into each scene, drawing out tiny details that continually send chills up our spines. The interplay between Gosling, Hoffman and Giamatti is riveting, with a certain West Wing-like zing of intelligence that forces us to sit up and pay attention. As an actor, Clooney glides around the edges of the film like an adored guru, present more often in hopeful campaign posters than in person.

A smart approach to the material makes this film thoroughly gripping, especially as it continually challenges Steve's (and our) ideas of right and wrong. With forceful political statements peppered throughout the script, the film has a complexity that's rare in Hollywood movies. As a result, we never feel like we're being preached at. Instead, we are forced to examine our own opinions. And we can't help but conclude that the American political system is essentially a sham. Not that we ever thought otherwise.
| | | |
| --- | --- | --- |
| | themes, language | 29.Sep.11 lff |