dir-scr Michelangelo Frammartino
prd Philippe Bober, Marta Donzelli, Elda Guidinetti, Gabriella Manfre, Susanne Marian, Gregorio Paonessa, Andres Pfaffli
with Giuseppe Fuda, Bruno Timpano, Nazareno Timpano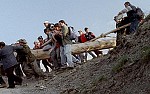 release It 28.May.11,
US 30.Mar.11, UK 27.May.11
10/Italy 1h28

---
CANNES FILM FEST
TORONTO FILM FEST


Italian artist Frammartino creates an offbeat cinematic experiment with this film, which surprises us by refusing to play by the rules as it explores the cycles of life in rural Calabria. It's also perhaps best seen as a museum piece.

In a small village in southern Italy, an old goatherd (Fuda) tends to his goats as he struggles with a crippling cough. Perhaps it's because he makes his nightly tea with dust swept from the local church. Meanwhile, his faithful dog tenaciously guards the goats, even from a colourful Easter procession. When one goat gives birth, the kid struggles to take its first steps, but on his first trip out with the flock, he gets lost and takes refuge under a large tree that, in the spring, has a key part to play in village life.

The film's lead role shifts as the narrative continues from the goatherd to the dog, the kid, the tree, a crowd of villagers and finally to the men who run the kiln that turns the tree into charcoal. Clearly there's a circle-of-life theme here, as the events cover a full year in a place where life probably hasn't changed much in hundreds of years. There are only a few signs of modernity in this place.

Frammartino shoots this with an artist's eye, using striking angles that capture the light, shadows and colours in intriguing ways. Sometimes we're not quite sure what we're looking at, as the camera observes the most minute details of each scene as well as showing us the bigger picture. Some scenes are shot in long, complex takes that are so elaborate it's impossible to know how the filmmaker managed it. And yet the movie has an essential simplicity that's utterly disarming.

There is no background music and no dialog at all (beyond some random overheard phrases). Actually, the biggest speaking roles belong to the dog and the kid, and no one else understands or even hears what they have to say. It's absolutely mesmerising to watch, with moments of deep emotion and earthy humour. It's also a very sleepy, slow movie that feels like a moving painting, a portrait of life in a variety of forms, connected in space and time.
U some themes
---
17.Mar.11

R E V I E W B Y R I C H C L I N E
Julia's Eyes


Los Ojos de Julia MUST

SEE
dir Guillem Morales
scr Guillem Morales, Oriol Paulo
prd Mercedes Gamero, Joaquin Padro, Mar Targarona, Guillermo del Toro
with Belen Rueda, Lluis Homar, Pablo Derqui, Francesc Orella, Julia Gutierrez Caba, Daniel Grao, Boris Ruiz, Andrea Hermosa, Joan Dalmau, Clara Segura, Mia Esteve, Jordi Llordella


release Sp 29.Oct.10,
UK 20.May.11
10/Spain Universal 1h52

---
TORONTO FILM FEST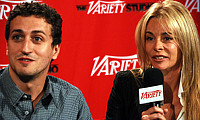 Facing real fears
INTERVIEW:
Morales & Rueda >>
It's rare to find a horror movie as bracingly original as this, so see it quickly before the requisite watered-down American remake. Not only is it genuinely unsettling, but it's full of clever nods to horror masterpieces.

When her twin commits suicide, Julia (Rueda) finds the official story hard to believe. Her husband (Homar) goes along with her secret investigation, mainly because she's suffering from the same degenerative eyesight that left her sister blind. But Julia sees conspiracies and danger everywhere, all of which is dismissed by the local cop (Orella). Then more people start dying, and Julia continues to have trouble accepting the police's version of events. She finds some comfort from her doctor (Grao) and a hospital aide (Derqui). But the truth is worse than she imagined.

The film is immaculately constructed to put us right into Julia's perspective, seeing everything through shadows, hearing strange noises and catching glimpses of someone pulling the strings behind the scenes. And there's a breathtaking shift in the story's second half that makes this even more enthralling. Like Julia, we want to turn and run away, but we're drawn into danger because we want to know what has really happened. And the final act is a stunner.

Rueda delivers a harrowing central performance with which we can identify at every step. Even when everyone else thinks she's a paranoid nutcase, we know she's telling the truth. Which of course means that we can't trust anyone either, especially as the other actors give wonderfully shaded turns that imply all kinds of subtext and keep us guessing.

Filmmaker Morales has a sure hand, using Hitchcock-style directorial touches to build suspense, twist it and then tighten it until it's almost unbearable. There are inventively direct references to Psycho, Rear Window and Vertigo, with creepy houses, freaky characters and most notably a gleefully jarring approach to light and sound. And it's great to be in the hands of an expert filmmaker who knows how to take us on a genuinely unnerving journey. These aren't cheap scares; they'll keep you on edge even after the cinema lights come up.
15 themes, violence, language
---
10.May.11

R E V I E W B Y R I C H C L I N E
Life, Above All


dir Oliver Schmitz
scr Dennis Foon
prd Oliver Stoltz
with Khomotso Manyaka, Keaobaka Makanyane, Harriet Manamela, Lerato Mvelase, Tinah Mnumzana, Aubrey Poolo, Mapaseka Mathebe, Thato Kgaladi, Kgomotso Ditshweni, Rami Chuene, Jerry Marobyane, Johanna Refilwe Sihlangu

release SA Jul.10 diff,
US Jan.11 psiff, UK 27.May.11
10/South Africa 1h45

---
CANNES FILM FEST
TORONTO FILM FEST

Taking on some big issues, this gorgeously shot drama explores African life and culture with honesty, emotion and hope. And it's almost overpoweringly involving due to an amazing central performance.

After her infant sister dies, 12-year-old Chanda (Manyaka) becomes the de facto head of the household in a dusty South African village. Her mother (Mvelase) is shattered by emotion and illness, the baby's father (Poolo) is a drunk, and her younger siblings (Kgaladi and Mathebe) don't understand what's happening. As rumours spread about the affliction in their home, Chanda also struggles to help her friend Esther (Makanyane), who has turned to prostitution because everybody thinks she's doing it anyway. Can Chanda turn to her judgmental neighbour (Manamela) for help?

First-time actress Manyaka's performance is a gritty, raw depiction of courage and compassion. Through her expressive eyes, we experience each wrenching scene, knowing that her intelligence offers a tiny sliver of promise in a desperate situation. She's the only person who realises that her mother and stepfather are suffering from Aids; no one else will even utter the word, preferring to ignore it or indulge in a pseudo-magical treatment. But Chanda knows what that means, and tenaciously tries to keep the people she loves alive.

Schmitz directs the film with an intensely personal touch, using Bernhard Jasper's lush cinematography to create a sensitive mood. Everything is grounded in real life as seen through the eyes of this alert, expectant pre-teen. So there's earthy humour, painful awkwardness, callous cruelty and abject despair, and not always where we expect to find them. And the film so cleverly addresses these urgent topics that it takes the breath away, catching us up in the human drama rather than any moralising.

Yes, this is a tough, unflinching, often harrowing story, but through warm relationships, loyal friendship and compassionate humanity, the film also finds reasons to be hopeful, boldly standing up to misinformation and folktales that can be so deeply damaging. Sure, the filmmakers might be preaching to the choir — how many villagers will get a chance to see this? But by taking such a bold stand against ignorance, this film's importance can't be underestimated.
12 themes, some violence
---
23.Mar.11

R E V I E W B Y R I C H C L I N E
A Screaming Man


Un Homme qui Crie
dir-scr Mahamat-Saleh Haroun
prd Florence Stern
with Youssouf Djaoro, Diouc Koma, Emile Abossolo M'bo, Hadje Fatime N'Goua, Marius Yelolo, Djeneba Kone, Li Heling, Remadji Adele Ngaradoumbaye, John Mbaiedoum, Sylvain Mbaikoubou, Abdou Boukar, Fatime Nguenabaye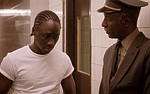 release US 13.Apr.11,
UK 13.May.11
10/Chad 1h32

---
CANNES FILM FEST
TORONTO FILM FEST
SUNDANCE FILM FEST

This sensitive, beautifully made drama from Chad tells a story that's increasingly painful to watch. But the filmmakers and actors never over-play the emotions, keeping each scene so grounded that we can't help but identify with everything that happens.

As rebels march through the country killing innocent people, life seems normal at a resort hotel in the city. Former swimming champion Adam (Djaoro) has attended the pool for 30 years, now working alongside his 20-year-old son Abdel (Koma). But the new boss (Li) is sacking long-time employees, moving Adam to work as gatekeeper and promoting Abdel into his old job. This causes tensions with his wife (N'Goua), which are made worse by pressure from the local chief (M'bo). Then Abdel is drafted into the army, followed by the arrival of his pregnant 17-year-old girlfriend (Kone).

Of course, the series of personal ordeals inflicted on Adam are paralleled in the escalating violence of the civil war, which ultimately results in martial law in the city. But the filmmaker keeps the focus so intimate that we feel every event with quiet blunt force. And it's made even more moving by the way Adam never loses his cool; his gentle reactions are full of dignity, even as things become unbearable for this 55-year-old whose career, family and nation are all under attack.

Adam, his friends and family all have the same aspirations as anyone on earth, dealing with issues of class and economy even as they hope that things get better. But circumstances keep setting them back, and their oasis of calm is being invaded by outside events. Yet even amid these soul-destroying situations, the film never has a single emotional manipulative moment. Writer-director Haroun's approach to these big issues is honest and introspective.

In addition, everything happens in the context of the community, the natural setting and the bigger picture of life in war-torn Africa. It's almost unbearably downbeat to watch all of this happen to such a nice man, but the film is so warm and humane that we feel every wrenching, earthy emotion, impeccably conveyed by the entire cast. And the result is a powerful, thoughtful, challenging exploration of the tenacity of the human spirit.
PG themes, violence
---
7.May.11


< < F O R E I G N > >
See also: SHADOWS FILM FESTIVAL

© 2011 by Rich Cline, Shadows on the Wall


HOME | REVIEWS | NEWS | FESTIVAL | AWARDS | Q&A | ABOUT | TALKBACK