dir Pablo Giorgelli
scr Pablo Giorgelli, Salvador Roselli
prd Pablo Giorgelli, Ariel Rotter, Alex Zito
with German de Silva, Hebe Duarte, Nayra Calle Mamani

release UK 2.Dec.11
11/Argentina 1h24

---
CANNES FILM FEST
TORONTO FILM FEST


Artful and engaging, but also extremely slow, this Argentine road movie centres on an intriguing relationship between two strangers. It's finely shot and edited, and extremely well-observed, but its low-key style will probably only engage adventurous filmgoers.

Ruben (de Silva) is driving a load of acacia wood from Paraguay to Buenos Aires, and he has been asked by a friend to give a lift to Jacinta (Duarte). What he doesn't expect is that Jacinta has her 5-month-old daughter Anahi (Mamani) with her. Without a clue what to say, they set off in silence. But Ruben begins to bond with Anahi, who's impossibly cute and curious, except when she's screaming. And Jacinta is so friendly that she can't help but crack Ruben's tough shell.

The film's first half is virtually wordless, as Ruben and Jacinta cross the border into Argentina, take a few rest stops and run a couple of errands. Their initial interaction is limited to brief glances that reveal a growing curiosity about each other. But then, over such a long drive, there's nothing else to do but talk. Their dialog starts out sleepy and halting before they start to relax in each others' presence. You couldn't really call this bonding, but they're definitely warming to each other. And by the end we vividly feel the tentative connection between them.

The performances are terrific. De Silva has a superbly rough exterior but betrays an inner softness in the way he interacts with Anahi. Watching him slowly open up is wonderful. Jacinta is more interested in interacting from the start, but bides her time and tries to remain silent even though she clearly has something to say. Meanwhile, Mamani is one of the most expressive infants in film history: she completely wins us over, just as she does Ruben.

Filmmaker Giorgelli observes the tiniest details of their interaction with subtle skill. This is a film about the irresistible need to connect with other people, even when we don't really want to. Ruben is happiest when he's alone in his truck, so watching him struggle to cope with these invaders is hilariously prickly and also startlingly sweet. And as they continue along the road, the effect they have on each other is a small miracle.
12 themes, language, some violence
---
5.Oct.11

R E V I E W B Y R I C H C L I N E
Dreileben: Beats Being Dead


Etwas Besseres als den Tod
dir-scr Christian Petzold
prd Florian Koerner von Gustorf, Michael Weber
with Jacob Matschenz, Luna Zimic Mijovic, Vijessna Ferkic, Rainer Bock, Konstantin Frolov, Florian Bartholomai, Stefan Kurt, Kirsten Block, Jeanette Hain, Eberhard Kirchberg, Frank Kessler, Philipp Oehme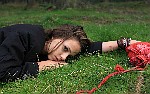 release Ger 29.Aug.11,
UK Oct.11 lff, US Oct.11 nyff
11/Germany 1h28

---
BERLIN FILM FEST
TORONTO FILM FEST


Dreileben (three lives) is a trilogy of German films telling three stories in the same time and place. This well-produced first instalment seems to play around the edge of a central narrative, with a rather light romantic drama that gets increasingly complicated.

Bored young trainee doctor Johannes (Matschenz) makes a mistake that allows a killer (Kurt) to escape from his hospital. Perhaps he was distracted seeing his girlfriend (Ferkic) with his boss (Bock). In this state, he also notices the biker chick Ana (Mijovic), rescuing her from her gang. As they start hanging out, they begin to fall for each other, ditching work to spend time together. But his unresolved relationship with Sarah is going to cause problems. Meanwhile, the police seem unable to track down the escapee.

This is an highly polished production, skilfully shot and edited with a strong cast. Matschenz gives a superbly introspective performance as Johannes bumbles his way through his attraction to the sexy, independent Ana. And Mijovic is engagingly tetchy as the bad girl of his dreams. Their interaction is quite sweet, stirred in with wit and endearing awkwardness that wins us over as they bounce off each other.

The film is also a bundle of insinuation, as the police action interrupts the romance. Busy-looking strangers constantly throw knowing glances, while everyone seems to be carrying a gun. Meanwhile, Johannes' and Ana's work responsibilities also get in the way, as does the seemingly omnipresent motorcycle gang. But as sexy and enjoyable as the central love story is, we're distracted by the more-interesting mystery that seems to be taking place outside the frame.

The film kind of runs out of steam in the second half, as we wait for the other shoe to drop. The relationship gets increasingly complicated, but it starts feeling like a red herring, and we're not sure what the real story might be. Indeed, there are a few surprises to come, including some big jolts as the love triangle builds to a head of steam and then the two separate stories brush against each other in a haunting way.
15 themes, language, violence, nudity
---
22.Oct.11

R E V I E W B Y R I C H C L I N E
Dreileben: Don't Follow Me


Komm Mir Nicht Nach
dir Dominik Graf
scr Markus Busch, Dominik Graf
prd Andreas Bareiss, Sven Burgemeister, Gloria Burkert
with Jeanette Hain, Susanne Wolff, Misel Maticevic, Malou, Lisa Kreuzer, Rudiger Vogler, Stefan Kurt, Luna Mijovic, Jacob Matschenz, Eberhard Kirchberg, Frank Kessler, Philipp Oehme

release Ger 29.Aug.11,
UK Oct.11 lff, US Oct.11 nyff
11/Ger 1h29

---
BERLIN FILM FEST
TORONTO FILM FEST


This intriguing second film in the Dreileben trilogy looks at the central story from a perspective that starts to reveal what's really going on. It's a darker, grittier film with older, life-worn characters exploring the ways people interact.

Psychologist Jo (Hain) has a political discussion over breakfast with her young daughter (Malou) and parents before driving to another city on business. Her hotel is overbooked, so she goes to stay with her friend Vera (Wolff) and her boyfriend (Maticevic) in a rambling old house that's being refurbished. Johanna's job is to help the police track an escaped killer (Kurt), but the work progresses slowly and she's instead caught up in a massive corruption scandal among the local cops.

Starting with a jazzy overture, this Hitchcock-style film is packed with leading dialog, telling visuals and suggestive musical cues, plus some lively black comedy. All of the characters seem to have full lives outside this story, which means that every scene reveals something about each person. The conversations between Jo and Vera centre on past decisions and the attitudes and actions of the men in their lives, both echoing Jo's job and revealing layers of intrigue in their long friendship.

As skilfully arch as the camerawork is, the performances are earthy and grounded. Jo, Vera and Bruno are enjoying each others' company regardless of the nature of Jo's work, and the police officers on the case are pretty ridiculous. But the dark reality continually rears its head. And Jo and Vera's conversations continually touch on important topics like regrets about life choices they've made, including a common past boyfriend. These make the film surprisingly involving.

Besides being set in the same town and buildings as the first chapter, the film reveals reverse angles on scenes we've watched before, adding context that fills in gaps and deepens the suspense of the overarching narrative. Like part 1, this film feels a little incomplete: a personal drama with a thriller taking place off-screen. So while there is a contained plot here, it's also clear that we'll need to see the concluding chapter to get the whole picture.
15 themes, language, violence, nudity
---
23.Oct.11

R E V I E W B Y R I C H C L I N E
Dreileben: One Minute of Darkness


Eine Minute Dunkel
dir Christoph Hochhausler
prd Bettina Brokemper
scr Christoph Hochhausler, Peer Klehmet
with Stefan Kurt, Eberhard Kirchberg, Imogen Kogge, Timo Jacobs, Joan Pascu, Holger Doellmann, Paraschiva Dragus, Jacob Matschenz, Luna Mijovic, Isabel Bongard, Ben Posener, Felix Romer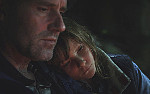 release Ger 29.Aug.11,
UK Oct.11 lff, US Oct.11 nyff
11/Ger Bavaria 1h32

---
BERLIN FILM FEST
TORONTO FILM FEST


The conclusion of the Dreileben trilogy is a darker, grittier movie following a killer on the run from the police as well as the detective hunting him. Watching it is involving and unsettling, and it stands its own even as it adds layers to the two previous films.

The convicted killer Molesch (Kurt) is allowed to visit his dying mother in hospital, then inadvertently discovers a back way out. Mentally unable to cope with her illness, or much of anything else, he is however pretty good at eluding the systematic police manhunt led by Detective Kreil (Kirchberg). But as Kreil revisits the facts of the case, he begins to have new suspicions about what really happened five years earlier. Meanwhile, Molesch befriends a little girl (Dragus) who has run away from home.

Finely shot and edited, the film is a series of quietly intense encounters that hinge on the tiniest action, often sending chills down the spine. At the centre, Molesch is a simple-minded man who continually talks to himself, while Kreil isn't much better, obsessed by his work and oblivious to responsibilities and people in his personal life. These characters are especially well-played by Kurt and Kirschberg as flip sides of the same coin.

Along the way the film grapples with the nature of Molesch's crime: not whether or not he was guilty, but whether he has any real moral understanding of what he did. And this is further complicated by a series of nasty police mistakes and Kreil's emerging revisionist theory about the original murder. As a thriller, it's elusive in a way that keeps us thoroughly gripped right up to a shocking final scene.

It's also fascinating to see how this story crosses paths and affects the other two films, sometimes filling in details and taking us in directions we don't expect. The three chapters have echoing images, such as the vulnerability of being naked outside or the potential danger of leaving an unattended door open. And in the end, it's a haunting story that might make it a bit more difficult to sleep at night.
15 themes, language, violence, sexuality
---
24.Oct.11


< < F O R E I G N > >
See also: SHADOWS FILM FESTIVAL

© 2011 by Rich Cline, Shadows on the Wall


HOME | REVIEWS | NEWS | FESTIVAL | AWARDS | Q&A | ABOUT | TALKBACK