SHADOWS ON THE WALL | REVIEWS | NEWS | FESTIVAL | AWARDS | Q&A | ABOUT | TALKBACK

Shadows off the beaten path
Indies, foreigns, docs, videos, revivals and shorts...
On this page: THE ARBOR | COLLAPSE
OVER YOUR CITIES GRASS WILL GROW | ROBINSON IN RUINS
< < D O C S > >
last update 12.Oct.10
See also: SHADOWS FILM FESTIVAL

R E V I E W B Y R I C H C L I N E
The Arbor


MUST

SEE
dir-scr Clio Barnard
prd Tracy O'Riordan
with Manjinder Virk, Neil Dudgeon, Monica Dolan, Danny Webb, Christine Bottomley, Kathryn Pogson, Natalie Gavin, Jonathan Jaynes, Jimi Mistry, George Costigan, Kulvinder Ghir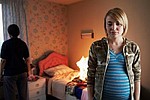 release UK 22.Oct.10,
US 29.Apr.11
10/UK 1h34

---


With this bracingly original debut feature, artist Barnard creates one of the most involving and moving documentaries in memory. Stylistically mixing filmmaking approaches, she engulfs us in a fiercely inventive movie experience.

Andrea Dunbar wrote her first play, The Arbor, at age 15. Named after the street where she grew up in Bradford's rough Buttershaw Estate, it was a national sensation, leading to her second play Rita, Sue and Bob Too, which was adapted into an Alan Clarke film. But Andrea's life didn't get much better, with a string of rocky relationships, three children from three men and a terrible alcohol problem. And her snappy, astute writing came to an end at only age 29 when she died of an embolism.

Barnard reveals this story in several visceral ways. First, she interviews Dunbar's friends and family, then uses actors (some with connections to Dunbar's work) to lip-sync to the real audio tracks, blurring fact and fiction and drawing us into the events with startling resonance. She also re-enacts jinglingly witty scenes from The Arbor on Brafferton Arbor itself, with residents gathering to watch the actors. And finally there's archive material of Dunbar herself, which blends with The Arbor as the lead actress (Gavin) looks eerily like Dunbar and is essentially playing out scenes from Dunbar's life.

These elements are expertly filmed and woven together to thoughtfully and frankly explore the legacy of life on a poor housing estate, from the poverty and alcohol of the 70s to drugs and prostitution in the 90s. The strongest focus here is Dunbar's eldest daughter Lorraine (Virk), a mixed-race child who had a very different life than her two all-white siblings. As we follow her complex, difficult story, we see Andrea's own life in striking clarity.

It's rare to find a filmmaking voice as strong as Barnard; Steve McQueen's Hunger is the only comparison for its immersive cinematic ingenuity. Not only is the story compelling and important, but the direction and editing are sharp and revelatory. There's also the real sense that this pure talent, which emerged briefly from the most unlikely of places, was taken away too soon. And that there perhaps have been thousands of others like Dunbar who have never had a chance.
15 themes,strong language, violence
---
23.Jul.10

R E V I E W B Y R I C H C L I N E
Collapse


dir Chris Smith
prd Kate Noble, Chris Smith
with Michael Ruppert

release US 4.Nov.09,
UK 1.Oct.10
09/US 1h22

---
TORONTO FILM FEST

One of the most sobering and depressing documentaries in recent memories, this film feels like a conspiracy theorist gone mad even though we understand the much larger point. But the ultimate hopelessness is more than a little grim.

Michael Ruppert has been shouting about this for decades, but no one listens. His books sell very few copies, he's dismissed as a nutcase by critics and this film was seen by hardly anyone in America. And yet what he has to say is backed up by some pretty firm facts. His main point is that, since the world's oil reserves are essentially exhausted, there's nothing left to fuel capitalism's mythical dream of "infinite growth". As he predicted in 2005, the world financial system had no choice but to collapse. And it's never going to fully recover.

Filmmaker Smith delves deeply into his portrait of this man whose life story sounds like a thriller. The child of intelligence agents, he claims he was approached by the CIA to run drugs but refused and that he's been dogged by the system ever since. While this may seem like the perfect beginning for a paranoid madman, Ruppert is reasoned and sensible. Even though what he says isn't very far from "The end of the world is nigh!" he says it with a matter-of-fact honesty that urges us to just get on with it.

The facts and figures flow extremely freely in this film, as virtually everything the chain-smoking Ruppert says is backed up with a statistic. And everything he recounts is eerily confirmed by historical events, including the way various presidents have reacted to the fact of declining oil production, from Carter's initiatives pushing solar power to Cheney's task force to find oil reserves to supply America (in Iraq of course).

As the film progresses, Ruppert talks about alternative energy, global food production, government scandals, financial chaos and the emotional reaction we have to all of this. But this isn't a barrage of information, doom and gloom. It's a lucid and engaging film that lets Ruppert clearly explain the issues and speak the hard truth in a way no one ever does. Whether he's a crazy alarmist or not is beside the point; it's pretty obvious that we are facing a shift in the way the world economy works. And nothing grows forever.
15 themes, language
---
25.Aug.10

R E V I E W B Y R I C H C L I N E
Over Your Cities Grass Will Grow


dir Sophie Fiennes
prd Emilie Blezat, Sophie Fiennes, Kees Kasander
with Anselm Kiefer, Klaus Dermutz, Lior Gal, Boualem Moudjaoui, Alain Moittie, Antonio Fernandes, Vincent Adriaens, Philippe Ville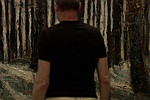 release UK 15.Oct.10,
US 12.Aug.11
10/France 1h45

---
CANNES FILM FEST
TORONTO FILM FEST
A fascinating, offbeat portrait of a distinctive artist, this film offers very little commentary, merely observing the work as well as the creative process. It's not a hugely engaging film, but it's an important, beautifully assembled document.

German painter and sculptor Anselm Kiefer has spent the last two decades building elaborate, oversized art at his studio, La Ribaute, in southern France. Previously a silk factory, the derelict buildings are now both a massive studio space and an elaborate network of underground tunnels and chambers. And above the surface there are astonishing tower blocks built from pre-fab concrete slabs. Some of the spaces feel like churches or secret hideouts, others like archaeological digs. Scattered throughout are Kiefer's distinctive sculptures and paintings. And watching him create them is almost like performance art.

Kiefer's work is a genuinely fascinating expression of civilisation, using construction materials in extreme ways that make the environment look like a collage of historical ruins, abject poverty, natural destruction and even futuristic architecture. Built on a huge scale, they are absolutely enthralling, evoking thoughts and feelings in unexpected ways. Combined with the setting, the film feels almost like an exploration of the remnant of some future human civilisation.

Beautifully shot in Cinemascope, Fiennes' camera glides simply through these spaces, capturing the textures and depth, the rough materials and the ways everything interacts with the natural landscape, both above and below ground. After about 15 minutes of observation, we finally get a glimpse of the artist and his assistants at work with metal, glass, ash and a variety of debris he uses to create his large-scale artwork. He also has a casual and very open chat in a library with Dermutz about the inspiration and meaning of his work.

The sound is minimalistic as well, with atonal musical chords and, besides the interview, occasional instructions from Kiefer to his assistants. What makes it watchable is the constant variety of imagery and the continually moving camerawork, which plays with light, colour, reflections and depth of field to make the site itself seem like it's in motion. Essentially this is the kind of film that plays on a loop in an art gallery. And without saying anything overtly, it says rather a lot about the creative process.
U some themes
---
1.Oct.10

R E V I E W B Y R I C H C L I N E
Robinson in Ruins


dir-scr-prd Patrick Keiller
narr Vanessa Redgrave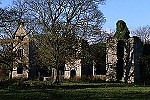 release US Sep.10 nyff,
UK 19.Nov.10
10/UK 1h41

---
VENICE FILM FEST


A sequel to Keiller's London (1994) and Robinson in Space (1997), this is a witty and sharply observant exploration of the English landscape. It's also a fiercely artistic film that's impossible to categorise.

The premise is that several cans of film and a notebook were found in a crumbling caravan in Oxfordshire, and as we watch the footage a narrator (Redgrave) guides us through the story of the mysterious Robinson. He shot these static scenes of civilisation and nature, noting how businesses and cultures have come and gone in these places, leaving small reminders behind. In addition, the narrative includes the fact that the film was shot during the financial turmoil of 2008, which Robinson can't help but link with various uprisings that have taken place since the dawn of capitalism in the 16th century.

Robinson's theory is that, by examining the landscape closely enough, he can understand the "molecular basis of historical events". And the film is packed with startling observations about human progress, clashes and the fact that nature will always win in the end, no matter how we destroy ourselves. Many of the locations are sites of former military operations, nuclear research, missile silos and even a cement factory, all of which have fallen into disrepair. And the point is that this pattern is as old as the world itself.

While the narration is packed with vivid stories, quotes and some hilarious commentary, there are also long moments of utter silence. Well, not complete silence, as the film is accompanied by a soundtrack of quiet ambience. The camera never moves, but the editing provides inventive perspectives on each location over the course of nearly a year through all four seasons (small changes that echo much larger shifts through the centuries).

And while it's really only for adventurous filmgoers, there are some wider observations that eerily important. Early on, we hear a telling quote from Frederic Jameson: "It seems to be easier for us today to imagine the thoroughgoing deterioration of the earth and of nature than the breakdown of late capitalism; perhaps that is due to some weakness in our imaginations." Of course, it's nature that will survive long after our civilisation has turned to rubble. And it's impossible to escape the overriding theme that humans are essentially writing themselves into extinction both by constantly fighting and by refusing to face the truth.
U some themes, language, violence
---
24.Sep.10


< < D O C S > >
See also: SHADOWS FILM FESTIVAL

© 2010 by Rich Cline, Shadows on the Wall


HOME | REVIEWS | NEWS | FESTIVAL | AWARDS | Q&A | ABOUT | TALKBACK