dir John Hillcoat
scr Joe Penhall
prd Paula Mae Schwartz, Steve Schwartz, Nick Wechsler
with Viggo Mortensen, Kodi Smit-McPhee, Charlize Theron, Robert Duvall, Guy Pearce, Molly Parker, Michael Kenneth Williams, Garret Dillahunt, Brenna Roth, Matt Reese, David August Lindauer, Bob Jennings
release US 25.Nov.09, UK 8.Jan.10
09/US Weinstein 1h59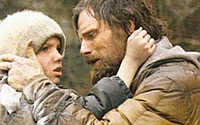 In survival mode: Smit-McPhee and Mortensen



---
VENICE FILM FEST
TORONTO FILM FEST

R E V I E W B Y R I C H C L I N E

As relentlessly grim as this story is, the film has a remarkable inner life to it thanks to vividly atmospheric direction and performances that are packed with raw honesty. It also examines important issues in an unexpected way.

In the years after a natural calamity has destroyed civilisation, America has descended into an animal-like existence. One man (Mortensen) is travelling across the countryside with his young son (Smit-McPhee) on the way to the sea. Along the way, they encounter violent thugs, cannibals, an old man (Duvall), a young thief (Williams) and more, all desperately looking for their next meal. But the father refuses to give into his darker human instincts, and instils in his son a yearning for right moral choices even in a world as hopeless as this.

Based on the Cormac McCarthy novel, the film has an elegiac quality that really gets under the skin. Despite the overpowering gloom, we are drawn into these characters and their journey, seeking glimmers of hope along with morsels of food. Penhall's script and Hillcoat's direction both managing to convey lightness within the heavy narrative while staying strongly grounded. The sparse dialog lets the actors work within the setting to express themselves with their entire physicalities.

Of course, Mortensen throws himself into the role, and delivers a riveting, gripping turn that's packed with tiny revealing touches. He also has astounding chemistry with Smit-McPhee, who sharply lets us see beneath the surface of this terrified kid. Theron also adds a strong punch as the man's pre-apocalypse wife, whom the boy barely remembers. And gritty one-scene roles for Duvall, Pearce, Parker, Williams and Dillahunt add layers of texture that shrewdly keep us unsettled.

The plot may be episodic, but it never repeats itself. Each set piece is beautifully crafted, adding to the overall picture of life after the collapse of civility. A stunning scene on a high overpass, a horrifying earthquake in a forest, encounters with people who have been stripped completely of their humanity--these things are unforgettable. As is the urgent, beautifully understated message that, like the boy, we need to keep asking the question: "Are we the good guys?"
| | | |
| --- | --- | --- |
| | themes, language, violence | 16.Oct.09 lff |