dir-scr Todd Solondz
prd Derrick Tseng, Christine K Walker
with Shirley Henderson, Allison Janney, Ally Sheedy, Ciaran Hinds, Michael Lerner, Paul Reubens, Michael Kenneth Williams, Charlotte Rampling, Dylan Riley Snyder, Chris Marquette, Rich Pecci, Gaby Hoffman
release US Sep.09 tff, UK Oct.09 lff
09/US 1h36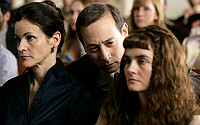 Dark whispers: Sheedy, Reubens and Henderson



---
VENICE FILM FEST
TORONTO FILM FEST

R E V I E W B Y R I C H C L I N E

Solondz takes a sideways approach to this sequel to his 1998 hit Happiness. With an all-new cast, it feels almost like a jazz riff, playing with the characters and themes and sending them in new directions. And it's both hilarious and clever.

When she realises that her husband (Williams) hasn't overcome his urge to make obscene phone calls, Joy (Henderson) heads to Florida to see her sister Trish (Janney), who has told everyone that her husband Bill (Hinds) has died. But he's actually in prison for abusing a young boy. Trish is now seeing a nice Jewish man (Lerner) and being a bit too honest with her son Timmy (Snyder). She's also pretty useless to Joy, who heads to California to see their other sister Helen (Sheedy), who's now a Hollywood screenwriter.

Solondz shoots this as if it was a wholesome family TV movie, even though the topic of conversation is never remotely innocent. These people talk about all the things you're not supposed to talk about, and the cast plays it dead straight, which makes it all the funnier to watch. Almost everything each person says touches a nerve, both with the other characters and with us in the audience. Much of this has to do with taboos, but between the sisters there's a constant stream of passive insults (edgier variations on "You're not that fat").

This kind of razor sharp dialog gives the actors plenty to play with, and they're utterly fantastic. Janney and Sheedy get the best lines, while Hinds lurks around the edges of the film, getting his own subplot (including an amazing sequence with the fabulous Rampling) and ultimately reuniting with his eldest son (Marquette). At the centre, Henderson is a superb wallflower, trying to imagine a world in which no one pretends.

As the story progresses, there are moments of aching sadness along with the raucous comedy. And the dialog cleverly touches on some huge issues along the way, most notably an outrageous conversation on forgiveness and terrorism that turns into a funny and profound comment on 9/11. In the end, the plot feels a bit meandering, but with a script and cast this strong, that's minor criticism.
| | | |
| --- | --- | --- |
| | themes, language, sexuality | 19.Oct.09 lff |