dir Steven Soderbergh
scr Peter Buchman, Benjamin A van der Veen
with Benicio Del Toro, Franka Potente, Lou Diamond Phillips, Edgar Ramírez, Joaquim de Almeida, Jordi Mollá, Carlos Bardem, Demián Bichir, Rodrigo Santoro, Catalina Sandino Moreno, Benjamin Bratt, Matt Damon
release US 12.Dec.08, UK 20.Feb.09
08/US 2h06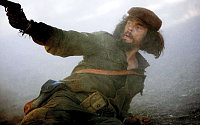 Freedom fighter: Del Toro



---
Best Actor:
CANNES FILM FEST
TORONTO FILM FEST


---
See also:
THE MOTORCYCLE DIARIES (2004)

Companion film:


R E V I E W B Y R I C H C L I N E

Based on The Bolivian Diary of Ernesto "Che" Guevara, this film picks up where The Argentine ends with a more linear narrative of Guevara's final year. The slow pace may try the patience of some viewers just as strongly as it does the rebels.

In 1965, Che vanished in Cuba, hiding out with his wife (Sandino Moreno) while planning a Castro-style revolution to overthrow Bolivia's US-backed dictator (de Almeida). As in Cuba, his goal is to provide education and health care to the neglected poor, and when he arrives in Bolivia, he heads for the jungles to raise and train his army. But even as things begin to come together, it's very tough going. The peasants don't trust him and the Americans are training commandos to kill him.

The setting and structure of this film are thoroughly earthy in a Terrence Malick sort of way (he apparently wanted to make this film at one point). Nature itself seems to be conspiring against the rebels; they're clearly in the right ideologically, but the realities of life in the woods, and the people of the earth who live around them, constantly present challenges that keep them from moving forward. And yet they persevere. The film is a series of skirmishes, betrayals, confrontations and dislocations that Soderbergh directs with a matter-of-fact understatement and real cinematographic artistry. Even major action scenes feel eerily authentic, never like a big movie.

This plays effectively on our expectations, building a slow-burning, relentless tension. And it also creates a hero who's amazingly grounded. Del Toro's performance is finely measured, as if Guevara is absolutely exhausted, never mind his paralysing asthma. And yet he's also tenaciously hopeful, sure that once the people see that he's offering liberty from tyranny, they'll join in the cause. But he badly underestimates the counteractions of a government determined to stay in power.

We watch the story from both sides, seeing the president's back-room negations and public propaganda on one hand and Guevara's training camps and medical missions on the other. And as little power struggles break out in the rebel camp--rule infractions and general restlessness--we fear that Guevara is holding onto false hope. Most scenes have very little dialog, relying on the expressive faces of the strong cast, and when things begin to truly slip away, it's utterly wrenching.
| | | |
| --- | --- | --- |
| | themes, language, violence | 29.Oct.08 lff |