R E V I E W B Y R I C H C L I N E
dir Tom Kalin
scr Howard A Rodman
with Julianne Moore, Stephen Dillane, Eddie Redmayne, Hugh Dancy, Elena Anaya, Unax Ugalde, Anne Reid, Barney Clark, Simón Andreu, Abel Folk, Belén Rueda, Peter Vives Newey
release US 30.May.08,
UK 11.Jul.08
07/Spain Killer 1h29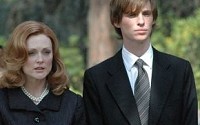 A loving mother: Moore and Redmayne


Based on the gonzo true story of the Baekeland family, heirs of the inventor of plastic, this film has plenty of strong performances and provocative themes, but is too episodic to come together.

Barbara Baekeland (Moore) is an actress and painter who loves the high life and doesn't let the birth of Tony slow down her drama-queen ways. Her aloof husband Brooks (Dillane) keeps her in check in untraditional ways as they move to Paris and the Mediterranean, while Tony grows from a precocious pre-teen (Clark) to a standoffish young man (Redmayne) who has both a lovely girlfriend (Anaya) and a rough boyfriend (Ugalde), not to mention being rather too close to both his mother and her style consultant (Dancy).

Director Kalin shoots this as a romanticised ode to a goddess mother, following the family from 1946 to 1972 while adding nary a speck of age make-up to Moore's face. In some ways, this cleverly maintains her as the idealistic beauty in her son's eyes, but it also makes the entire film feel like a false memory. Especially as Tony's mind clearly starts losing sync with reality.

Moore is terrific--fearsome and fragile at the same time, hogging the spotlight and yet hiding behind her colourful persona. Even as events get increasingly yucky, she maintains Barbara's singular sense of dignity. Not many actors could hold their own opposite this level of subtlety, especially when the script is so fragmented. Dillane is fine as the detached Brooks, while Redmayne puts his clever casting to good use, but is somewhat overwhelmed by the character's jarring personality shifts, which would be virtually impossible to play convincingly.

There's also the problem of structure, as the film feels like Scenes From the Life of a Tormented Gay Man, progressing through all the usual cliches without bothering to link it together in a meaningful way. There are terrific moments along the way that are funny, emotive and provocatively shocking, but even the stylish direction and vivid acting can't make up for a story that's ultimately just a grisly re-enactment of the Philip Larkin poem: "They f**k you up, your mum and dad. They may not mean to, but they do..."
| | | |
| --- | --- | --- |
| | themes, language, sexuality, grisliness, drugs | 18.Oct.07 lff |