R E V I E W B Y R I C H C L I N E
dir John Madden
scr David Auburn, Rebecca Miller
with Gwyneth Paltrow, Anthony Hopkins, Jake Gyllenhaal, Hope Davis, Roshan Seth, Gary Houston, Colin Stinton, Anne Wittman, Leigh Zimmerman, Leland Burnett, John Keefe, Chipo Chung
release US 16.Sep.05,
UK 10.Feb.05
05/US Miramax 1h40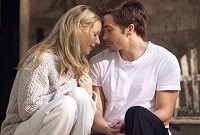 Prove it: Paltrow and Gyllenhaal




• BEST ACTOR Jake Gyllenhaal
• READER CHOICE:
ACTOR Jake Gyllenhaal


Despite a stage-bound script, this story of family politics and mathematical genius is intriguing and fairly involving. A couple of lively performances help raise it out of the mopey mire.

Catherine (Paltrow) has spent five years caring for her recently deceased father Robert (Hopkins), a maths legend whose encroaching senility ended his career. Her can-do sister Claire (Davis) flies in from New York for the funeral and to sort her out, and immediately rekindles old hostilities. Meanwhile, one of Dad's students (Gyllenhaal) is poking around for signs of lucidity in Robert's journals. And the discovery of a potentially revolutionary maths proof causes major ripples.

Beautifully filmed and scored with a warm Hollywood glow that instantly tells us we're in Important Film Land, this is an intensely dramatic story that hinges on whether we can suspend our disbelief and accept the fact that nobody actually talks to each other like this. The dialog is hideously theatrical; arch and loaded with meaning, wallowing in a psychological funk and hinting at relational horrors. This pointed, layered wordiness is interesting to listen to, but so unrealistic that we never really let it carry us away. And the maths stuff is so superficial that it seems more like a McGuffin than a literary device.

Of course, Paltrow is perfect for this kind of gloomy character, with her furrowed brow telling us she's not quite sure if she too is loosing her mind. What saves the performance is her interaction with Gyllenhaal (offhanded, sweet and sparky) and Davis (sarcastic and loaded). In flashback scenes, Hopkins never really seems to be in this movie. It's like a half performance, on the edge of sanity and madness but never putting his feet down on either side.

That said, it's still a surprisingly involving story. And Madden really works to broaden it beyond the stage, drawing out universal themes that let us identify with the family and romantic connections, especially at their most dysfunctional. He helps us look beyond the contrived plot points to the natural, funny and occasionally genuine emotions of the character interaction. Even if it is rather dreary.
| | | |
| --- | --- | --- |
| | themes, language, sexuality | 5.Oct.05 |