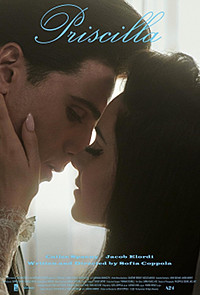 dir-scr Sofia Coppola
prd Sofia Coppola, Youree Henley, Lorenzo Mieli
with Cailee Spaeny, Jacob Elordi, Tim Post, Dagmara Dominczyk, Ari Cohen, Lynne Griffin, Dan Beirne, Rodrigo Fernandez-Stoll, Dan Abramovici, Matthew Shaw, Tim Dowler-Coltman, Olivia Barrett
release UK Oct.23 lff,
US 3.Nov.23
23/US 1h53



---
VENICE FILM FEST

---
Is it streaming?

---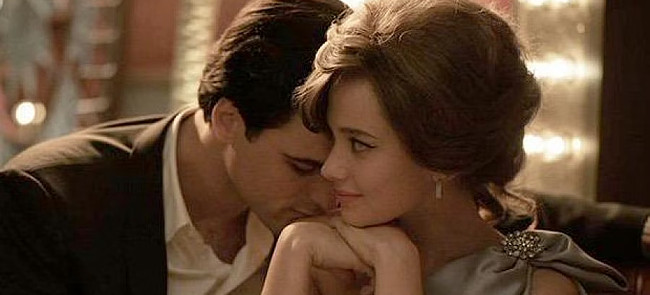 Maintaining a sharp perspective from start to finish, Sofia Coppola explores the relationship between Priscilla and Elvis Presley with strikingly intimacy. The film digs under the surface to explore much more than the familiar story of a teenager who married the world's most famous singer. The anecdotal structure sometimes feels a bit jarring, and the ending is abrupt, but the narrative offers a remarkably involving exploration of gender politics.
---
On a US Air Force base in 1960 Germany, 14-year-old Priscilla (Spaeny) meets Elvis (Elordi) at a party. She's starstruck and he's smitten. Her parents (Dominczyck and Cohen) are reluctant, but Elvis promises to be respectful. Two years later, he invites her to Graceland, introducing her to a lifestyle involving pills to both sleep and stay awake. And they marry in 1966. Over the years, Elvis' mood swings scare her, although he returns to the caring man she fell in love with. But Priscilla hates the gossip columns scandalising his frequent flings with movie costars.
---
Sticking closely to Priscilla Presley's own account, events unfold as a series of short sequences seen through her observant eyes. Coppola fills the frame with knowing details and sensual touches, bringing a fairy tale to pointed life. While each scene is involving and revelatory, the choppy structure begins to feel repetitive, with Priscilla alone again at Graceland followed by another montage of her partying with Elvis and his Memphis Mafia. So while we identify with her thoughts and feelings, it's tricky to engage with the film itself.

Looking tiny and vulnerable alongside her taller castmates, Spaeny gives a steely performance that's superbly internalised. Priscilla may look like a little doll, but she knows what's going on around her. She beautifully plays each moment of confrontation, challenging this larger-than-life man. Elordi is riveting as Elvis, nicely balancing the public and private sides of his persona. He creates terrific chemistry in the warmly loving moments with Priscilla as well as his laddish behaviour with his pals.

Because it skips over some well-known events, and also because there are no Elvis songs in the movie, there's an odd sense that this account is incomplete. Key elements of the story remain off-screen, leaving questions that linger. But this is a remarkably personal telling of an often-told story, specifically through a female point of view. The period may depict many of the attitudes as archaic, of their time, but there's also a strongly important kick in the fact that women rarely get to tell these stories themselves.
| | | |
| --- | --- | --- |
| | themes, language, violence | 9.Oct.23 lff |
R E A D E R R E V I E W S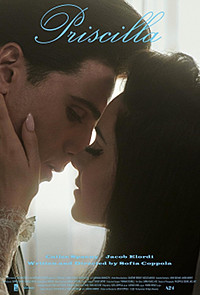 Still waiting for your comments ... don't be shy.