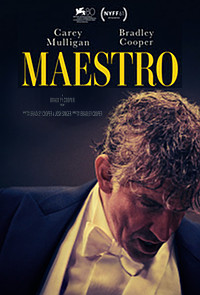 dir Bradley Cooper
scr Bradley Cooper, Josh Singer
prd Martin Scorsese, Steven Spielberg, Bradley Cooper, Fred Berner, Amy Durning, Kristie Macosko Krieger
with Bradley Cooper, Carey Mulligan, Matt Bomer, Maya Hawke, Michael Urie, Sarah Silverman, Josh Hamilton, Miriam Shor, Gideon Glick, Sam Nivola, Alexa Swinton, Brian Klugman
release US 22.Nov.23,
UK 20.Dec.23
23/US Netflix 2h09



---
VENICE FILM FEST

---
Is it streaming?

---
Taking an ambitious approach to the life of Leonard Bernstein, Bradley Cooper provides ravishing stylistic period flourishes while going deep into the music itself. The introspective approach allows the adept cast to create complex characters that defy stereotypes. But this begins to feel gimmicky as the decades whiz past, mainly because relationships remain sketchy. So there are punchy emotional moments along the way, but the bigger picture remains unfocused.
---
In 1943, Leonard (Cooper) makes his professional conducting debut at Carnegie Hall wioth only a few hours' notice, launching his stellar career. Living with his musician boyfriend David (Bomer), he is also working on projects as a composer with choreographer Jerome Robbins (Urie). Then he meets actress Felicia Montealegre (Mulligan), marries and has three children. As his career takes off, she is patient with his constant flings with various men, including a long affair with music scholar Tommy Cothran (Glick). Even after they separate, he returns to care for Felicia when she's diagnosed with cancer.
---
Each section of Leonard's life is shot in the cinematic style of that decade, although this striking visual approach adds little to a narrative that skips along briskly through intriguing dramatic scenes without addressing deeper issues. Most perplexing is how Bernstein is presented as straight man who occasionally had flings with men, when he actually had extended gay relationships. So he comes across here as flirty but sexless. But then, everyone on-screen seems to have only the personality the script requires, revealing either sparkling wit or mopey gloom, with little in between.

That said, Cooper and Mulligan have terrific presence in these roles as they vie against each other to be the hero of the piece. Cooper comes particularly to life in the conducting sequences, most impressively in an extended high-energy number in a church with full orchestra and choir. By contrast, Mulligan shines brightest in the quieter moments, finding empathy in Felicia's experiences, even if the script seems to simplify her reactions.

Clearly the real-life relationship between Leonard and Felicia was far, far more nuanced than its depiction here, which relies essentially on a basic kind of jealousy. In the end, the question lingers as to whether this account has been simplified in an attempt to appeal to broader audiences or because the Bernstein family prefers a less textured legend. Because there are glimpses in this finely made film of someone much more interesting than we ever see here.
| | | |
| --- | --- | --- |
| | themes, language | 9.Oct.23 lff |
R E A D E R R E V I E W S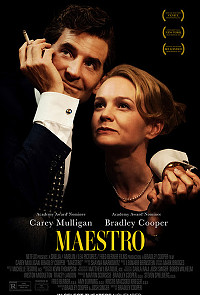 Still waiting for your comments ... don't be shy.