---
American Symphony
Review by Rich Cline |

MUST

SEE

dir Matthew Heineman
prd Matthew Heineman, Lauren Domino, Joedan Okun
with Jon Batiste, Suleika Jaouad
release US 24.Nov.23,
UK 28.Nov.23
23/US Netflix 1h44

---
Now streaming...

---
Filmmaker Matthew Heineman is known for his intuitive approach to making documentaries, following stories intimately wherever they lead, often amid military and political conflicts. This one takes him in a new direction, beginning as the account of award-winning musician Jon Batiste's groundbreaking eponymous concert before layering in a powerfully moving love story between Batiste and Suleika Jaouad. So it becomes a lovely film about the healing power of creativity.
---
During the pandemic, Jon is putting the finishing touches on his first orchestral work, American Symphony, a magnum opus that will blend various styles of music and musicians for one night at Carnegie Hall. As he gathers a diverse collection of artists for collaborative rehearsals, his wife Suleika has a recurrence of leukaemia, restarting chemotherapy treatment. And it's at this moment that Jon's career explodes with 11 Grammy nominations for his album We Are and his Oscar-winning music for the animated feature Soul. Now he's riding high with triumphant performances while also tending to Suleika.
---
Batiste and Jaouad are extraordinarily positive people who turn to art to express themselves. Batiste speaks about how he feels he merely captures music that's always there, while Suleika writes and paints expressively about her life. The way they allow Heineman's cameras into their lives is astonishing, opening up their most private moments to allow the audience to take this intense journey alongside them. Most impressive is how the film includes some very dark emotions without ever wallowing in them. It remains earthy and honest, often funny and soaringly empowering.

Batiste is a master at improvisation, which parallels the way Heineman follows this story where it goes. The film features a remarkable range of scenes that capture the creative process, most notably as Batiste works with his carefully curated orchestra on a performance that is simply stunning, especially when technical issues threaten to derail it, forcing a moment of sudden invention. All of this is beautifully shot and edited, interwoven with archival photos and footage, including several fantastic performances.

Speaking about composing his symphony, Batiste notes the need to confront the difficult truths while at the same time maintaining an unwavering faith in where things will go. Of course, this also applies to the experience he is going through with Jaouad. And indeed making this movie as well. As these various layers work with each other, the film transcends genres, becoming entertaining, gripping and profoundly moving.
| | | |
| --- | --- | --- |
| | themes, language | 13.Nov.23 |
---
Anselm
Review by Rich Cline |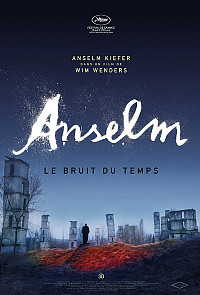 dir Wim Wenders
prd Karsten Brunig
with Anselm Kiefer, Daniel Kiefer, Anton Wenders, Paul Celan, Martin Heidegger, Joseph Beuys, Ingeborg Bachmann
release UK Oct.23 lff,
Ger 12.Oct.23, US 8.Dec.23
23/Germany 1h33

---
CANNES FILM FEST

---
Now streaming...

---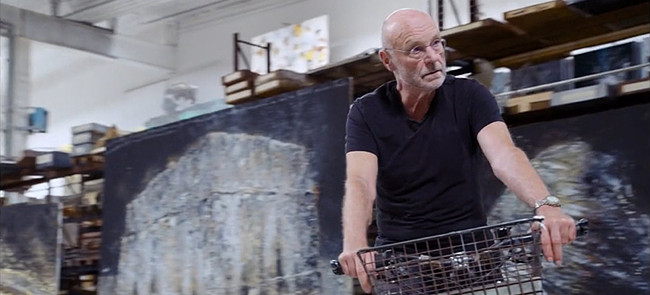 German maestro Wim Wenders composes an artfully lyrical 3D documentary about artist Anselm Kiefer. Instead of the usual biographical approach, this film traces Kiefer's artistic voice from childhood to the present in a swirl of memory, using locations and archival footage to contextualise drawings, paintings, sculptures, installations and performances. Watching it is a fascinating, moving experience, and it makes us feel that the whole world is a gallery.
---
Born in 1945, Kiefer is seen as a young boy (played by Anton Wenders) drawing things he sees, then as a teen winning awards and later as a young artist (Daniel Kiefer) whose reputation grows globally, expanding his work beyond painting as he moves to ever larger workshops that become installation art of their own, most notably his small city La Ribaute in southern France. His paintings are vast, requiring warehouses the size of aircraft hangers. And as he approaches 80 his work continues to confront the world about history that is being forgotten.
---
Kiefer's life story is revealed in circular motion, out of order, as the camera glides through his working spaces into his artwork and then recreations and echoes of it. The 3D imagery vividly captures the depth and scale of his paintings. And the artist himself appears frequently, silently working, speaking, cycling through an atelier or lounging on the ground. Recurring images of dead sunflowers, teetering towers, starry skies and fallow fields fill the screen, rendered in various ways to evoke a history of Europe that is rarely discussed, and which has led many to consider him controversial.

Intriguingly, he never seems to be trying to provoke his audience, even when he shoots a series of photos in which he gives the banned Nazi salute in various locations. Instead his work is a set out as a striking reminder, evoking images of events that we neglect to talk about and even try to block from our minds. So there's also a bit of mischief in his work, which Wenders captures with some amusing juxtapositions.

Kiefer's inspirations are largely in poets and philosophers, who turn up on screen as he speaks about their work. And as he creates projects around them, their words are able to carry the meanings further. It's such a dreamlike film that it will be interpreted differently by everyone who watches it, because at its core this is an odyssey about human nature itself, as seen through the eyes of this singular artist. Love or hate his work, the film lets you see through his eyes.
| | | |
| --- | --- | --- |
| | some themes | 12.Oct.23 |
---
Chasing Chasing Amy
Review by Rich Cline |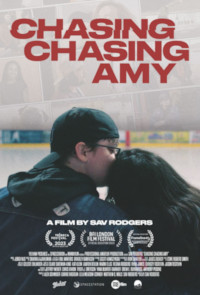 dir-scr Sav Rodgers
prd Alex Schmider, Carrie Radigan, Lela Meadow-Conner, Matthew C Mills, Sav Rodgers
with Sav Rodgers, Kevin Smith, Joey Lauren Adams, Jason Lee, Guinevere Turner, Scott Mosier, Andrew Ahn, Kevin Willmott, Princess Weekes, Trish Bendix, Shana Lory, Bob Hawk
release US Jun.23 tff,
UK Oct.23 lff
23/US 1h35

---

---
Now streaming...

---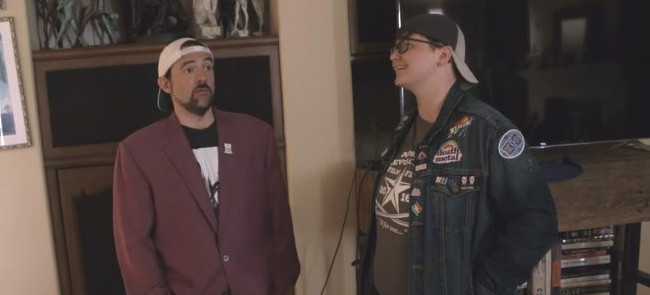 Kevin Smith's 1997 comedy Chasing Amy stars Ben Affleck as a comic writer who falls in love with a lesbian played by Joey Lauren Adams. It's been considered problematic for its gender politics, but filmmaker Sav Rodgers found it inspiring because of its honest depiction of openly queer people. So he made this documentary both to say thank you and to understand why the movie generated so much controversy.
---
Growing up in Kansas, Rodgers felt hope because this movie depicted queer people as positive, living their lives. So he starts visiting the film's locations. Then after giving a Ted Talk, Smith himself reaches out. This is the film that cemented Smith's career, a critical and box office hit. Ironically, while rooted in his own relationships, the film sparked the end of his romance with Adams. He was taken aback when gay audiences turned on the film. But he was able to give the characters a proper ending in 2019's Jay and Silent Bob Reboot.
---
With a comic book motif, this film has wonderfully geeky enthusiasm, even if it's a fairly standard talking-heads doc featuring interviews with Chasing Amy's cast and crew, plus many others who share their thoughts. This material explores the movie in depth, including its inspiration, context and legacy. While fascinating, these opinions feel a bit repetitive, and sometimes unnecessary in light of Rodgers' own story, which has real power and resonance.

Between the interviews, Rodgers recounts his journey. In the absence of other gay-themed films, this one helped him realise he wasn't alone in the world, and that maybe he could hope for love one day. As he talks to Adams, he explores how the role helped him understand himself for the first time. And at one point during an interview, Smith further inspires him to be more open about his identity as a trans man, leading to a satisfying relationship with his wife Riley.

Importantly, the doc also grapples with the film's connection to Harvey Weinstein. And it comes at a time when more young people are coming out as pansexual, so are able to more strongly identify with Chasing Amy's plot. While there are many things about the film that wouldn't be acceptable today, the dialog addresses sexuality in an unusually honest and complex way, including some characters who are deliberately provocative. And in the end, there's a pointed, moving discussion of how the film is actually about dealing with insecurity.
| | | |
| --- | --- | --- |
| | themes, language | 14.Oct.23 |
---

< < D O C S
See also: SHADOWS FILM FESTIVAL

© 2023 by Rich Cline, Shadows on the Wall


HOME | REVIEWS | NEWS | FESTIVAL | AWARDS | Q&A | ABOUT | TALKBACK