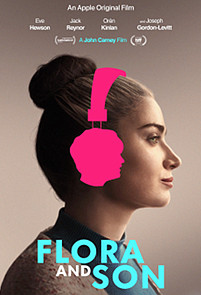 dir-scr John Carney
prd Anthony Bregman, John Carney, Peter Cron, Rebecca O'Flanagan, Robert Walpole
with Eve Hewson, Oren Kinlan, Jack Reynor, Joseph Gordon-Levitt, Marcella Plunkett, Marcus Lamb, Amy Huberman, Keith McErlean, Alex Deegan, Sophie Vavasseur, Aislin McGuckin, Don Wycherley
release US 22.Sep.23, UK 29.Sep.23
23/Ireland 1h37




---
SUNDANCE FILM FEST
TORONTO FILM FEST
---
Is it streaming?

---
Superbly jagged dialog brings characters to vivid life in the latest music-infused gem from John Carney (see Once, Begin Again and Sing Street). This makes these people hugely engaging, even if they're driven by their own anger and impatience. They're also remarkably easy to identify with, played with earthy honesty by a terrific cast. And Carney fills the story with fantastic songs. Yes, this film is a proper charmer.
---
In Dublin, single mother Flora (Hewson) has no idea what to do with her spiteful 14-year-old son Max (Kinlan). She finds a guitar in a skip and fixes it up, hoping he'll show interest because his dad Ian (Reynor) is a musician. But Max dismisses it, so Flora decides to learn to play herself, taking online lessons from Jeff (Gordon-Levitt) in Los Angeles. As she begins to find a voice she never knew she had, she discovers that Max has his own musical ambitions as a rapper, and they begin to collaborate on new songs.
---
In their first lesson, Jeff asks Flora why she wants to learn to play the guitar. She answers bluntly: "Sex and company". And he challenges her to use music to reveal her own textures. Their ongoing barbed banter digs meaningfully into the creation and impact of music. Carney inventively directs their scenes so that, when they connect musically, the computer screen between them artfully disappears. And Flora's interaction with both Max and Ian also shifts through a series of superbly observed scenes together.

Hewson has terrific energy as the quick-witted Flora, so sparky that we can instantly see where Kinlan's Max gets his defiant attitude. They make superb antagonists, and it feels wonderfully organic that, even as they clash, they find common ground making music together or shooting a music video to help Max express himself to a girl (Deegan). While the film belongs to the magnetic Hewson, Kinlan's role is also skilfully textured. And both Gordon-Levitt and Reynor find superbly unexpected layers.

It's wonderful to watch Flora become a force of nature, inspiring Max and Jeff while unearthing her own talent. In one particularly gorgeous moment, she feels the power of Joni Mitchell's Both Sides Now, which Carney holds from start to finish. Meanwhile, Max takes his own journey, running afoul of the law and finding his own voice, leading to a punchy but wonderfully low-key climax in which he performs with his parents in a Dublin pub accompanied by Jeff online. We want to sing along.
| | | |
| --- | --- | --- |
| | themes, language | 24.Sep.23 |
R E A D E R R E V I E W S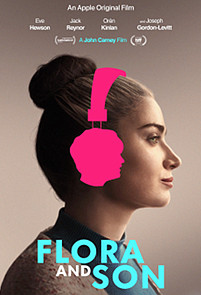 Still waiting for your comments ... don't be shy.