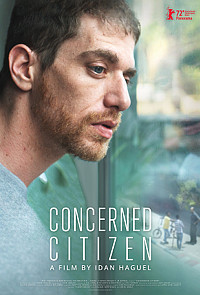 dir-scr-prd Idan Haguel
with Shlomi Bertonov, Ariel Wolf, Lena Fraifeld, Uriah Jablonowsky, Ilan Hazan, Yshelu Gebremkiel, Flora Bloch, Idan Hubel, Yaeli Rozenblit, Or Butbul, Aram Rabinovitch, Shahaf Ifhar
release Isr 8.Dec.22,
US Jan.23 psiff, UK 27.Jan.23
22/Israel 1h22

---
BERLIN FILM FEST
---
Is it streaming?

---
Shot and performed with an offhanded authenticity, this Israeli drama takes a slice-of-life approach to its narrative. While the general tone is low-key and personal, the film is packed with sparky moments, from a lively night in with friends to a massive Pride celebration in the streets. Even as the film grapples with big themes, writer-director Idan Haguel refreshingly avoids melodrama, keeping the characters and situations solidly grounded.
---
In Tel Aviv, Ben (Bertonov) and his boyfriend Raz (Wolf) have decided to have a baby with a surrogate. As they navigate this process, Ben is worrying about roughhousing young people around the sapling he has planted on the street in an effort to improve to his multi-ethnic neighbourhood. As their friends move away to more upscale areas, Ben sees them as part of the problem, almost as bad as racist police officers who violently beat immigrant suspects. So when he puts their flat up for sale, the guilt begins to eat away at him.
---
Clever cinematography, editing and sound reveal scenes through Ben's deeply conflicted perspective. It's unsettling to watch as his preoccupied mindset barely allows himself to be present during important or intimate moments with Raz. Meanwhile, there's some askance irony in the fact that Ben and Raz are using a Filipino surrogate, because they are living in an area that is full of sidelined economic migrants from all over the world. Where the story goes is intriguing and engaging, largely because it's so deeply human.

As Ben, Bertonov has a superb hangdog vibe. He's a smart man who simply can't get out of his head, and he knows that this obsession is beginning to jeopardise his relationship with Raz. Bertonov and Wolf have a vividly strong camaraderie that's relaxed and engaging. So even as the strain begins to show, it's clear that their connection is resilient and open enough to get through this. And while the film is tightly focussed in on Ben and Raz, the smaller side characters feel bracingly realistic around them.

The enormous ideas swirling through the film's narrative are handled by Haguel with remarkable subtlety, remaining largely seen through Ben's eyes as he contemplates the attitudes of people in his neighbourhood in relation to the wider culture. This is a gentle reminder that there is aways a need to have a sense of perspective and context when facing the momentous things that happen both within our lives and in the world around us. And remaining open and connected is the most important thing.
| | | |
| --- | --- | --- |
| | themes, language, violence, sexuality | 25.Jan.23 |
---
Nostalgia
Review by Rich Cline |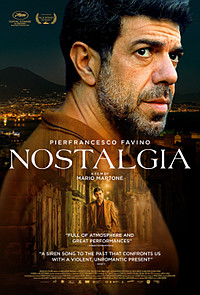 dir Mario Martone
prd Roberto Sessa
scr Mario Martone, Ippolita Di Majo
with Pierfrancesco Favino, Francesco Di Leva, Tommaso Ragno, Aurora Quattrocchi, Sofia Essaidi, Nello Mascia, Emanuele Palumbo, Artem, Virginia Apicella, Salvatore Striano, Daniela Ioia, Luciana Zazzera
release It 25.May.22,
US Nov.22 fliff, UK 10.Feb.23
22/Italy 1h57

---
CANNES FILM FEST
---
Is it streaming?

---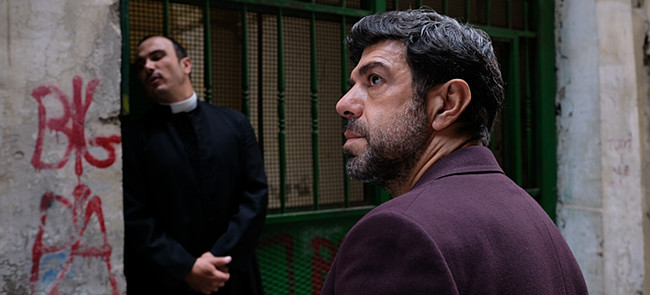 Beautifully shot in a style that captures realistic rhythms of life, this film is a refreshing twist on the Italian crime drama. Even if it's too long, with observational details that perhaps aren't strictly necessary, the film finds surprisingly personal ways to approach the usual cliches. Filmmaker Mario Martone is particularly adept at depicting the community in an almost documentary style, layered with riveting performances from a fine cast.
---
Returning home to Naples from Cairo, Felice (Favino) is concerned about his ageing mother (Quattrocchi). As he sorts out her life, he begins to think about his childhood friend Oreste (Ragno), who's now a feared crime boss in the neighbourhood. As 15-year-olds, Felice and Oreste (then Palumbo and Artem) were fearless and inseparable, up until a momentous event sent Felice abroad for 40 years. To confront his past, the now-Muslim Felice turns to local Catholic priest Luigi (Di Leva), who is shocked to discover that Felice has such a close bond with his mortal enemy.
---
Martone's cameras reveal a side of Italy rarely captured on-screen, as twisty alleyways seem like an underworld in contrast to the hilltop houses and tower blocks rising above. Down here, Oreste is king, although he rules from squalid hiding, and his paranoia has left him a cornered, vicious animal. This creates a remarkable contrast with the confident Felice, who realises he belongs to this place when he rediscovers the happiness it brings him.

Performances beautifully echo these feelings, with Favino's thoughtful Felice facing each situation with an almost uncanny grace. The film occasionally flickers to Oreste's point of view, which is a polar extreme, although Ragno reveals some intriguing parallels. Both men are thinking deep thoughts about their shared past, and each is having his own internal reactions. Characters around them add colour and knowing detail, most notably Di Leva's complex, involved priest. Others provide sharp glimpses of history through various perspectives.

Flashbacks to Felice and Oreste's lively past are beautifully shot, framed in a home-movie ratio to set them apart alongside the vintage photos Felice flips through. As the title suggests, this is a movie about looking back, as both Felice and Oreste confront at how their similar origin led them to such disparate places in the present day. It's their shared past that raises a sense of nostalgia in a finely played confrontation scene. And perhaps if the film was a little less overpacked with detail it might have carried an even more powerful kick.
| | | |
| --- | --- | --- |
| | themes, language, violence | 13.Feb.23 |
---
The Wandering Earth II
Review by Rich Cline |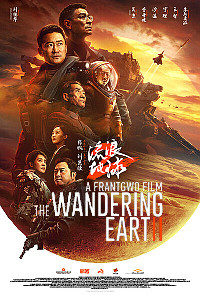 dir Frant Gwo
prd Gong Geer
scr Yang Zhixue, Gong Geer, Frant Gwo, Ye Ruchang
with Andy Lau, Wu Jing, Li Xuejian, Wang Zhi, Zhuyan Manzi, Ning Li, Sha Yi, Andy Friend, Kawawa Kadichi, Vitalli Makarychev, Wang Ruoxi, Zhang Yi
release Chn 22.Jan.23,
UK 27.Jan.23
23/China 2h53

---
See also: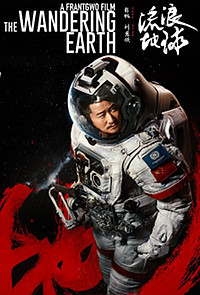 ---
Is it streaming?

---
After 2019's mammoth Chinese sci-fi action epic The Wandering Earth, filmmaker Frant Gwo steps things up with an even bigger follow-up. Despite the titular number, this is actually a prequel set in the decades as humanity transforms Earth into a gigantic spaceship. Continuing the elaborate ticking timebomb set-up, the movie feels brisk even at nearly three hours. And it's packed with impressively enormous effects and even bigger melodrama.
---
With the sun failing, governments draft a millenia-term plan to relocate Earth. Then in 2044, terrorists promoting digitalising humanity attack the pioneering space station. Cadets Peigiang (Wu) and Duoduo (Wang Zhi) interrupt their romance to save the day. About 15 years later, Duoduo is dying as Peiqiang contemplates joining the advance team. A new crisis emerges when scientist Tu (Lau) unleashes his digitally preserved daughter (Wang Ruoxi), knocking the moon from its orbit. Can the world unite, nuke the moon, reboot the internet and fire up the engines early to get out of the way?
---
Both of these momentous events are accompanied by a mind-boggling collection of characters desperately seeking solutions while dealing with personal issues. Family connections continually tug at the heartstrings, while propulsive action takes place on land, in the air, underwater and on the moon. There are so many people and so much going on that it's sometimes tricky to find a personal connection that will carry us through the mayhem. It's easier to just enjoy the wild ride.

The drama is carried adeptly by Lau as a father using technology to keep his late daughter alive, knowing this will cause problems with the all-important supercomputer. Even though he's conflicted, he literally dives in to save the bigger project. Wu's Peiqiang is also strongly engaging, awkwardly romancing Wang's razor-sharp Duoduo before leaping into the chaos, then later finding more emotional resonance. Li Xuejian is also magnetic as a venerable leader in the United Earth Government, working with his sparky assistant (Manzi) to fend off those shouty Yanks.

Thankfully, the filmmakers deliberately have quite fun with these kinds of playful stereotypes, throwing these disparate people into several hilarious moments that are carefully placed to elicit big laughs. But the main focus here is on the massive action sequences, which involve expansive settings, thousands of extras and jaw-dropping effects that deserve to be seen on a very big screen. So even if the film feels a bit relentless in its pacing and silly in its drama, it's thumpingly entertaining.
| | | |
| --- | --- | --- |
| | themes, language, violence | 22.Jan.23 |
---

< < F O R E I G N > >
See also: SHADOWS FILM FESTIVAL

© 2023 by Rich Cline, Shadows on the Wall


HOME | REVIEWS | NEWS | FESTIVAL | AWARDS | Q&A | ABOUT | TALKBACK