---
Blue Bag Life
Review by Rich Cline |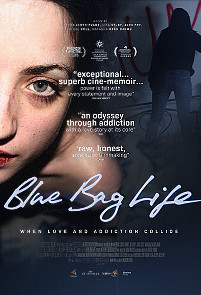 dir Rebecca Lloyd-Evans, Lisa Selby, Alex Fry
scr Josie Cole, Lisa Selby
prd Natasha Dack Ojumu
with Lisa Selby, Elliot Murawski, Paul Selby, Rose Morley, Helen, Nev
release UK 7.Apr.23
22/UK BBC 1h32

---

---
Now streaming...

---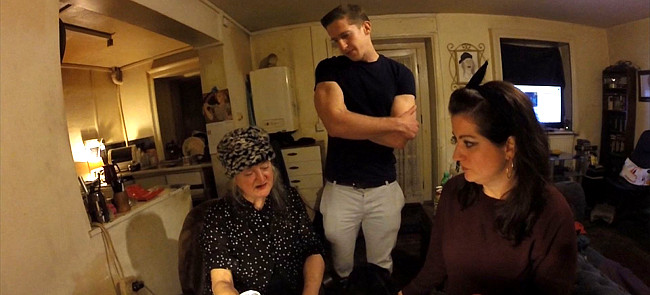 Trying to make sense of her upbringing, artist-filmmaker Lisa Selby delves deeply into her past. Assembled from fragments of footage she shot mainly on her phone, this film is intimate and almost startlingly confessional. It's also a work of art. Because its central themes circle around addiction and death, the film maintains a grim tone. But there's a warm current of humanity running through it that's unusually involving.
---
Raised by single dad Paul, Lisa Selby has never liked the word "mum". And it's clear why, since her mother Helen dropped her off with a babysitter at 10 months old and never came back. All she has left of Helen now are a few fragmented videos she shot about 10 years ago in which she asked a series of probing questions. In these scenes, Helen speaks of her ongoing love of heroin and openly admits, "I'm not a responsible parent." Then after Helen dies in 2017, Lisa tries to make sense of their connection.
---
With a visceral style of shooting and editing, Selby explores her childhood, when she idolised the mother who didn't raise her. This glamorous image, seen in vintage snapshots, is ironically juxtaposed with the squalor of Helen's home, littered with drug paraphernalia, including torn blue bags that once held her drugs. And there's also Selby's romantic relationship with Elliot, a sexy and smart musician she met at an addiction group. Later, his heroin use lands him in prison, forcing Selby to repeat history.

Selby's footage recounts a tough journey out of sequence, capturing events and conversations that have momentous impact. She documents a trip to Hong Kong to work on an art project, during which she can't stop worrying about both Elliot and her dying mother. Eventually, she has to confront becoming a mother herself, which leads her and Elliot into a whole new set of feelings. And even if her emotions are mixed, it seems cruel that she is unable to get pregnant. These contradictory feelings are what makes the film vibrant and almost overpoweringly moving.

As she goes through this process, Selby finds moments of absurd humour, cycling back and forth in time along with her thoughts and feelings. This allows the film to become unexpectedly uplifting even as it grapples with such weighty issues as drug addiction and child abandonment. Selby's willingness to put her kaleidoscopic emotions on-screen like this will help all of us better understand that what we are experiencing and feeling isn't as unusual as we think: we're not alone in this.
| | | |
| --- | --- | --- |
| | themes, language, drugs | 6.Apr.23 |
---
A House Made of Splinters
Review by Rich Cline |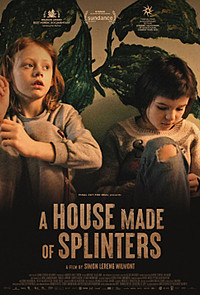 dir Simon Lereng Wilmont
prd Monica Hellstrom
with Marharyta Burlutska, Anjelika Stolyarova, Olga Tronova, Irina, Eva, Sasha, Kolya, Alina, Yulia, Zhenya, Maksim, Kristina
release UK 8.Nov.22,
US 24.Feb.23
22/Ukraine 1h27

---
SUNDANCE FILM FEST
---
Now streaming...

---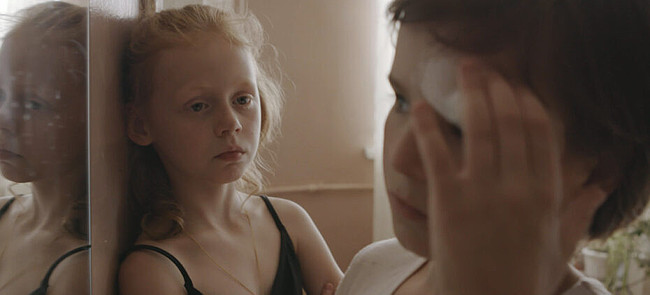 Set in the wake of Russia's 2014 invasion of Ukraine, this documentary was shot before the 2022 assault began. Its focus is on families that are broken due to warfare, homelessness and alcoholism, and the system that is trying to help children survive and thrive. Emotions run high from the opening scenes, as Danish director Simon Lareng Wilmont takes an observational fly-on-the-wall approach that astutely captures the deeper dramas.
---
In Priyut, 12 miles from the front line, a large group of children whose parents are unable to care for them live in a shelter awaiting court decisions that will decide their future. Friendly house mother Irina gets them up with the sun each morning and puts them through an exercise routine, while the whole staff works to make sure they are fed and educated, and given a chance to be kids. But they are only allowed to remain here for a few months, then need to either return home or find a foster family.
---
Cameras observe care workers dealing with these big decisions, while the children are desperate for news about parents who have let them down and essentially vanished. They understand the nature of the legal issues surrounding their young lives, and that they will be sent to an orphanage if their family can't take them in after their limited stay here. In voiceover, the carers describe the wider picture, including the fact that this is a cycle with kids growing up and then having their own children placed here when they can't care for them.

In her second stint in Priyut, Eva wishes her irresponsible mother would stop drinking so she could return home, and the only alternative for her is that her grandparents can take her in. Kolya has learned to be a tough guy at a far-too-young age, sneaking off for a smoke with an older boy. He has also bonded with other kids, and struggles to hide his pain when they leave. All of these children know only too well how destructive alcohol can be, and yet most will fall right into its trap.

Beautifully photographed through a child's curious perspective, the film's loose structure allows us to observe extended interaction between the children, including play time, deep discussions and fantasising about the future. This reveals unsettling truths about how they have been forced to grow up far too early. And as one worker notes that the shelter is full of sorrows, she also sees that there is still hope. "Hope dies last," she says.
| | | |
| --- | --- | --- |
| | themes, language | 23.Feb.23 |
---
Who I Am Not
Review by Rich Cline |

MUST

SEE

dir-scr Tunde Skovran
prd Andrei Zinca
with Sharon-Rose Khumalo, Dimakatso Sebidi, Khanyisile Patricia Ngobeni, Abram Khame Sebidi, Tebogo Sebidi, Lesego Shele, Shimane Josia Lebethe, Rehauhetswe Moema, Kerusha Kylie Venter, Modie Rachidi, Itumeleng Mokwatlo, Jordan Ndlovu
release UK Mar.23 flare,
US 10.Nov.23
23/South Africa 1h45

---
---
Now streaming...

---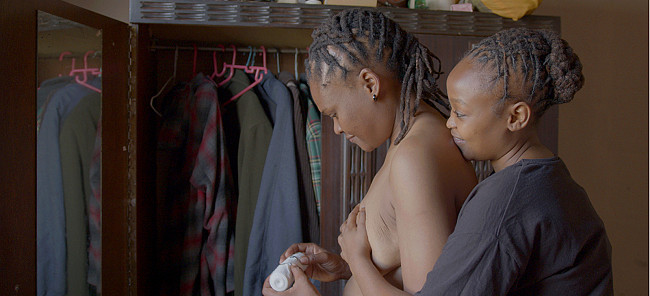 Intersex babies are normal but rare, yet many societies don't accept them. This South African film finds honesty, humour and moving emotions as people describe how it feels to be neither male nor female biologically. Romanian actor-turned-filmmaker Tunde Skovran simply watches them interact with family members, doctors and each other. She also incorporates art and boldly imaginative imagery to meaningfully explore how society can embrace these exceptional people.
---
"Sometimes I wish my life was a movie," Sharon says, because her life often seems overcomplicated. A beauty queen, she lives as female and is attracted to men, but feels uneasy when glammed up. For her, it's easier to lie, pretending to understand what it feels like to be a woman. By contrast, activist Dimakatso was surgically altered at birth and lives as a man with a female partner, but has never felt male or female. "God blessed me with a unique body," they say, "and I want to take care of it."
---
In the opening shot, a classroom is asked to define gender, and students reply with the usual superficial things. Medical professionals seem just as ignorant about intersex people, trying to "cure" them through brutal procedures. But nearly 2 percent (about the same as redheads) of babies are intersex to some degree, sometimes impossible to see and sometimes emerging later in puberty. And these people are continually told that they don't belong anywhere.

Cameras observe both Sharon and Dimakatso as they seek to better understand who they are and how they fit into a society that continually insists that they must be in one box or the other. Entering a pageant, Sharon is pushed to achieve "perfection", which in competition is actually painted and artificial. There are powerful scenes in which Dimakatso confronts their father about the still-painful surgery they endured as a child. And impassioned religious scenes gently note how a limited male-female worldview denies the reality of their God's creation.

This is a remarkably warm and involving film that allows Sharon and Dimakatso to emerge as compelling, deeply likeable figures who are surrounded by people who love them. Their lives are full, and it's great that Skovran made sure to include scenes of them having fun, flirting and joking around in between more serious interaction and darker soul-searching. Through all of this, both have something vitally important to say. It's the kind of film that, by simply revealing the gloriously complex reality, can change the world.
| | | |
| --- | --- | --- |
| | themes, language | 22.Mar.23 flare |
---

< < D O C S > >
See also: SHADOWS FILM FESTIVAL

© 2023 by Rich Cline, Shadows on the Wall


HOME | REVIEWS | NEWS | FESTIVAL | AWARDS | Q&A | ABOUT | TALKBACK