dir Oskar Roehler
scr Oskar Roehler, Klaus Richter
prd Markus Zimmer, Stefan Arndt, Uwe Schott
with Oliver Masucci, Hary Prinz, Katja Riemann, Felix Hellmann, Anton Rattinger, Erdal Yildiz, Markus Hering, Michael Klammer, Jochen Schropp, Frida-Lovisa Hamann, Lucas Gregorowicz, Simon Boer
release Ger 1.Oct.20,
UK Mar.21 flare
20/Germany 2h14

---
CANNES FILM FEST

---
Is it streaming?

---
See also:
FASSBINDER COLLECTION
on BFI PLAYER
---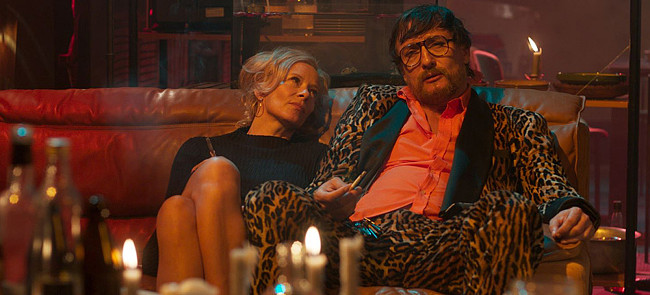 This biopic of live-fast-die-young filmmaker Rainer Werner Fassbinder takes an in-your-face kaleidoscope approach, using heavily stylised scenes that centre on relationships rather than his work. Playing out like a series of disconnected stage sketches, it isn't always easy to watch. But it tells a remarkably intense story about an artist who never quite got to grips with his personal demons, while still leaving an indelible imprint on the world.
---
In 1967 Munich, Rainer (Masucci) brings his idiosyncratic approach from theatre into his work as a filmmaker and soon finds himself taking on the Cannes Film Festival. As he continues to break cinematic boundaries, Rainer builds a loyal team of cohorts around him, including assistant Kurt (Prinz), actress Gudrun (Reimann) and cinematographer Michael (Boer). And every time he falls in love with a random man, he turns him into an actor for his next series of movies. Meanwhile, he increasingly relies on alcohol and drugs, leading to his death at 37 in 1982.
---
The film breezes through his artistic projects, mentioning most only in passing. Instead filmmaker Roehler keeps the focus on his stormy liaisons with both men and women (he came out as gay at 14, although the film sidesteps his straight relationships). Visually, the film adopts elements and imagery from Fassbinder's work, all shot on colourfully hand-painted studio soundstages bathed in artificial light. This approach may add a sense of Fassbinder's own perspective on the world, but it makes scenes difficult to engage with. Still, big ideas come through strongly.

Much older than Fassbinder was, Masucci plays him as an oily, beer-bellied alpha male, chain-smoking in a leather jacket while bossing everyone around, often in full-throated screams. He's energetic and often magnetic. With his all-or-nothing approach, Fassbinder sees each man who comes along as the love of his life. The three who feature most strongly are played with understated skill by Klammer (as Gunther Kaufmann), Yildiz (as El Hedi ben Salem) and Schropp (as Armin Meier) as lovers-turned-actors caught up in a squalid whirlwind.

Filmmaker Roehler's heightened approach is exhausting but fascinating as it plays with Fassbinder's ideas and iconography while painting an impressionistic portrait of a brilliant man who uses people and throws them away, demolishing himself in the process. It's sometimes jarringly choppy, and many scenes and story strands feel frustratingly incomplete. But by linking his work to each successive breakdown, the film makes a powerful comment about the destructive nature of creation.
| | | |
| --- | --- | --- |
| | themes, language, violence, sexuality, drugs | 15.Mar.21 flare |
---
Poppy Field Câmp de Maci
Review by Rich Cline |

MUST

SEE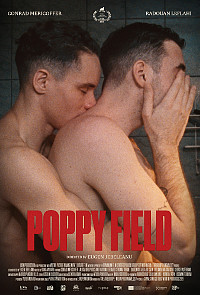 dir Eugen Jebeleanu
scr Ioana Moraru
prd Velvet Moraru
with Conrad Mericoffer, Alexandru Potocean, Radouan Leflahi, Cendana Trifan, Ionut Niculae, Alex Calin, Rolando Matsangos, George Pistereanu, Florin Caracala, Valentina Zaharia, Ela Ionescu, Mihaela Sirbu
release UK Mar.21 flare
20/Romania 1h21

---

---
Is it streaming?

---
Verite filmmaking infuses this Romanian drama with earthy realism. It's a remarkable balance of offhanded wit with the gnawing difficulty of trying to hide who you really are from everyone around you. And this central character is himself unsure what his sexuality means to him. This is a crisp, unblinking look at the very real dangers of both self-loathing and societal prejudice, depicted in a way that's never remotely preachy.
---
In Romania's xenophobic and homophobic culture, young policeman Cristi (Mericoffer) has to keep a visit from his French Muslim boyfriend Hadi (Leflahi) a secret, only expressing their affection in private. At work, Cristi joins in the macho banter as they head to a cinema, where a militant anti-gay group has disrupted a queer film screening. Overwhelmed by the situation, Cristi is further unnerved when a gay man (Caracala) recognises him and threatens to out him to his colleagues. Already on the edge, Cristi loses his cool, and his colleagues must try to calm him down.
---
The film opens with a sequence that feels relaxed and natural, as Cristi and Hadi hang out in the flat and have a couple of pointed and very honest discussions. Then Cristi visibly tenses when his welcoming sister Catalina (Trifan) pays a visit and is exuberantly welcoming to Hadi. Later as the standoff in the cinema escalates, Cristi tries to remain impassive as people spout hateful prejudice, made especially bracing as the incident is shot in a series of expertly staged long takes. Where the story goes is full of surprises, subtle points that have a strong impact.

Mericoffer gives a powerhouse performance that's understated and sympathetic. His relaxed, down-to-earth scenes with Leflahi beautifully capture the warm curiosity between Cristi and Hadi, made awkward because their common language is broken English. Then things shift dramatically to Cristi's heated interaction with fellow cops played with layered meaning by Potocean, Niculae, Calin, Matsangos and Pistereanu. The extended theatre sequence bristles with energy that feels like it could veer off in any direction. Their various conversations are expertly written and played.

The filmmakers clearly understand the irony that this movie is precisely the kind of film that small-minded protesters will try to stop. Meanwhile, the journey Cristi takes is staggering, a rollercoaster of emotions that's packed with larger resonance even as it holds us riveted to his internal odyssey of thoughts and feelings. And even though it never shouts a message, this film has a lot of urgent things to say.
| | | |
| --- | --- | --- |
| | themes, language, violence | 19.Mar.21 flare |
---
Tove
Review by Rich Cline |


dir Zaida Bergroth
scr Eeva Putro
prd Andrea Reuter, Aleksi Bardy
with Alma Poysti, Krista Kosonen, Shanti Roney, Joanna Haartti, Kajsa Ernst, Robert Enckell, Jakob Ohrman, Eeva Putro, Wilhelm Enckell, Liisi Tandefelt, Emma Klingenberg, Juhana Ryynanen
release Fin 2.Oct.20,
UK Mar.21 flare
20/Finland 1h43

---

---
Is it streaming?

---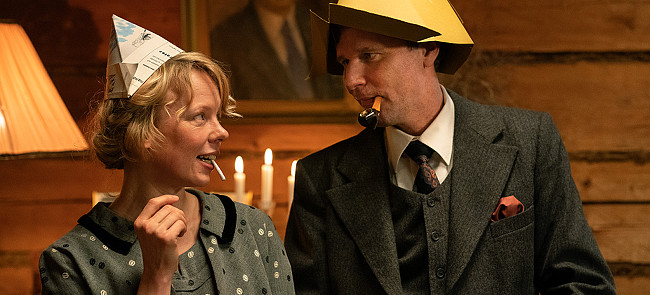 Lushly designed with a darkly intriguing storytelling style, this biopic traces the life of the Finnish creator of the iconic Moomins. Director Zaida Bergroth and writer Eeva Putro recount the story using an intimate perspective, getting under the skin to highlight unexpected feelings, cultural context and wider issues that add strong resonance. It's an involving, pointed dive into the art world, and it carries a nice personal kick.
---
In war-torn 1944 Helsinki, artist and writer Tove Jansson (Poysti) is known for her brave anti-Nazi cartoons. But she defies the art world, including her sculptor father (Enckell), which tries to push her into a box. Tove is relaxed and happy in her affair with married journalist Atos (Roney), and flirtation with her wealthy patron Vivica (Kosonen) leads to a more passionate relationship. Both of them inspire the hippo-like trolls called Moomins, whom Tove sees as hobby. So she's surprised then they take on a life of their own, winning over audiences around the world.
---
As the film carefully traces Tove's story across just over a decade, it never feels rushed, and it never gets bogged down in too many details. Production design is excellent, with sets and costumes that use colours and shadows to evoke underlying feelings. Meanwhile, the story encompasses Tove's varied work, including paintings, books and stage productions at the theatre run by Vivica, whose free-loving approach catches Tove off-guard and causes her to reevaluate her relationship with Atos. At least until she meets her soulmate Tuulikka (Haartti).

With a mischievous smile, Poysti plays Tove as a woman unusually open to the joys of life and aware that others won't understand. Her willingness to embrace flights of fancy and the various people around her is powerfully engaging, as are her more mercurial moods. Through her eyes, her friends and lovers are both muses and provocateurs, and they're played by a uniformly excellent ensemble with just the right whiff of enigma. Kosonen and Roney are particularly strong in complex roles.

Refreshingly, the filmmakers never try to force Jansson's story into the usual Hollywood movie structure, instead allowing it to find offbeat angles and textures as it meanders through both personal relationships and the complexities of the artist's creative processes. Most potently, the film sharply highlight's the need for affirmation from critics, fans and especially close friends and family who can see the work for what it is rather than what's expected. This film astutely captures this side of Tove's life, offering remarkable thematic depth.
| | | |
| --- | --- | --- |
| | themes, language, sexuality | 19.Mar.21 flare |
---

< < F O R E I G N > >
See also: SHADOWS FILM FESTIVAL

© 2021 by Rich Cline, Shadows on the Wall


HOME | REVIEWS | NEWS | FESTIVAL | AWARDS | Q&A | ABOUT | TALKBACK