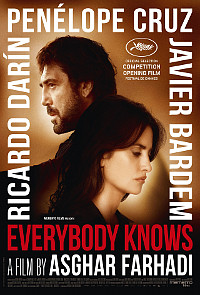 dir-scr Asghar Farhadi
prd Alexandre Mallet-Guy, Alvaro Longoria
with Penelope Cruz, Javier Bardem, Ricardo Darin, Barbara Lennie, Eduard Fernandez, Elvira Minguez, Ramon Barea, Carla Campra, Sergio Castellanos, Inma Cuesta, Sara Salamo, Jose Angel Egido
release Sp 14.Sep.18,
US 8.Feb.19, UK 8.Mar.19
18/Spain 1h12



---
CANNES FILM FEST
TORONTO FILM FEST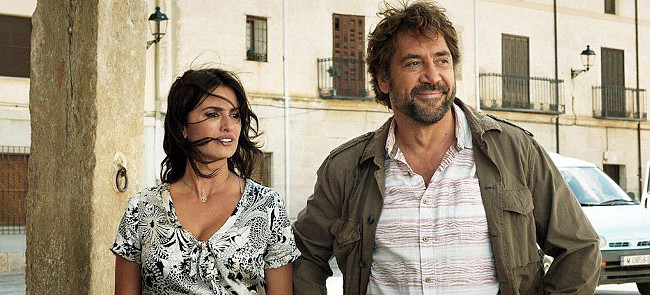 Iranian filmmaker Asghar Farhadi brings his astute observational skills to Spain in this twisty, involving drama, which weaves in elements of a mystery thriller as it puts its characters through the wringer. A fine cast brings these people to life with a remarkable range of emotions, and the story has a gripping momentum as it explores complex ideas about connections between family, friends, community and the land itself.
---
Laura (Cruz) travels home from Argentina to rural Spain for the wedding of her sister Rocio (Salamo), happily reuniting with her cranky father Antonio (Barea), older sister Mariana (Minguez), brother-in-law Fernando (Fernandez) and various cousins. Laura has brought 16-year-old daughter Irene (Campra) along, and she instantly rekindles her romance with local boy Felipe (Castellanos). Then during the wedding Irene is kidnapped, and Laura's husband Alejandro (Darin) flies in to try to help. And when Laura's lifelong friend and ex Paco (Bardem) becomes involved in the situation, tongues begin wagging.
---
The film's opening section is a bustling, lively explosion of joy as old relationships are rekindled and the marriage ceremony and party unfold. This shifts jarringly to wrenching confusion with Irene's disappearance, as darker feelings within this group of people begin to emerge, including old grudges, closely held secrets and local gossip. Intriguingly, the point is that everyone knows the truth even if they are afraid to say it out loud. And the most deeply guarded secrets aren't as hidden as people think they are.

Performances are very big, swerving between heightened happiness and devastating pain. Cruz and Bardem adeptly navigate this while keeping their characters bracingly grounded and easy to identify with. And their chemistry has a terrific sense of time to it. Darin has a trickier role as the stoic Alejandro, an outsider with his own issues. And Lennie is sharply memorable as Paco's wife, drawn reluctantly into the events in ways she could never begin to predict, starting with a dress that no longer fits.

Farhadi is an expert at exploring the wrinkles of everyday life interrupted by unexpected events. This story sometimes feels overwrought in its emotional intensity, both the highs and the lows, but it's also strikingly realistic. This means that the audience is able to fully experience the rollercoaster of feelings, from the giddy happiness of family reunions and revisited friendships to the crippling fear of revealed secrets and potential tragedy. And what the film has to say about community is quietly profound.
| | | |
| --- | --- | --- |
| | themes, language, violence | 6.Feb.19 |
R E A D E R R E V I E W S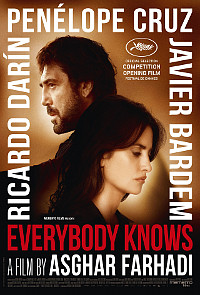 Still waiting for your comments ... don't be shy.