dir Nick Hamm
scr Colin Bateman
prd Brad Feinstein, Luillo Ruiz, Piers Tempest
with Jason Sudeikis, Lee Pace, Judy Greer, Corey Stoll, Justin Bartha, Isabel Arraiza, Michael Cudlitz, Erin Moriarty, Iddo Goldberg, Tara Summers, Jamey Sheridan, Yuji Okumoto
release US 16.Aug.19,
UK 1.Nov.19
18/UK 1h48




---
VENICE FILM FEST
TORONTO FILM FEST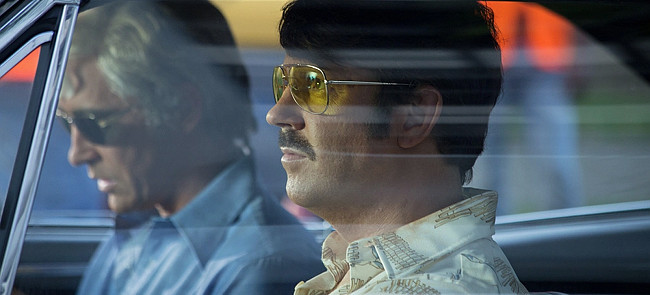 An entertaining journey behind the headlines, this comedy-drama recounts the true story of car-designing genius John DeLorean through the eyes of the neighbour who was instrumental in his demise. It's a twisty, crazy story that would be hard to believe if it didn't really happen. British filmmakers Nick Hamm and Colin Bateman never quite make it feel like a California story, but they give the film a terrific disco vibe.
---
In 1977, Jim and Ellen Hoffman (Sudeikis and Greer) move to a Los Angeles suburb. Ellen doesn't know that Jim has been coerced into working as an informer for FBI Agent Benedict (Stoll), who wants dirt on smuggler Morgan (Cudlitz). Then Jim and Ellen befriend famous car-designer neighbour John (Pace) and his glamorous wife Christina (Arraiza). So when John's new project hits money problems, he asks Jim to hook him up with Morgan to make a quick profit on a drug run. And Benedict perks up at the thought of taking down both men.
---
The story is framed with DeLorean's court case, at which prosecutor Howard Writzman (Bartha) questions Jim about the events. But Jim's a slippery fast-talker who disarms everyone with his dopey awkwardness. So his account is both engaging and deeply unreliable. So even if it's obvious that this wasn't shot anywhere near desert-like Southern California (it was filmed in tropical Puerto Rico), the costumes, sets and of course cars are particularly groovy.

The actors have fun with their colourful roles. Sudeikis and Pace are a superb contrast, Jim's shaggy-dog clumsiness set against John's cool genius. Both actors play superbly with their physicalities in this sense, offering witty angles on these men simply through the way they dress and move. They're also remarkably complex, flawed but smart (in very different ways), remaining remarkably endearing when they're cornered. Meanwhile, Stoll gets some terrific moments of his own as the sardonic FBI man, while both Greer and Arraiza offer more than the usual wife-sidekick role.

The film's scrappy approach nicely catches Jim's opportunistic personality, veering wildly through the story with a sequence of enjoyable set-pieces and no real sense of depth. It's difficult to escape the feeling that the movie is telling the wrong story altogether, even if Jim's sleaziness is far more cinematic than John's tragic genius. So in the end, it kind of leaves the audience wanting to know more about John. And in the mean time, we've had rather a lot of messy fun with Jim.
| | | |
| --- | --- | --- |
| | themes, language | 20.Aug.19 |
R E A D E R R E V I E W S

Still waiting for your comments ... don't be shy.