dir Michael Noer
scr Aaron Guzikowski
prd Ram Bergman, Roger Corbi, David Koplan, Joey McFarland
with Charlie Hunnam, Rami Malek, Yorick van Wageningen, Roland Moller, Tommy Flanagan, Michael Socha, Joel Basman, Eve Hewson, Veronica Quilligan, Brian Vernel, Nikola Kent, Christopher Fairbank
release US 24.Aug.18, UK 21.Dec.18
17/US 2h13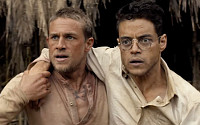 Get me out of here: Hunnam and Malek



---
TORONTO FILM FEST
EDINBURGH FILM FEST
R E V I E W B Y R I C H C L I N E

This remake of the iconic 1973 biopic, based on Henri Charriere's books recounting his real-life experiences, takes a gritty, detailed approach that feels perhaps more tied to the true events than was necessary. This means that the actors have complex roles to play, but the movie itself feels oddly restrained. Filmmaker Michael Noer creates a vivid sense of authenticity, but there never seems like there's much to it.

Known as Papillon (butterfly), Henri (Hunnam) is a safecracker in 1930s Paris arrested on trumped-up murder charges and sent to Devil's Island in colonial French Guiana. In brutal conditions, he connects with petty thief Julot (Socha), then teams with brainy counterfeiter Louis (Malek) to survive. After two years in solitary for defending Louis from a beating, Henri then gets caught up in Louis' elaborate plan to escape, working with fellow inmates: the hotheaded veteran Celier (Moller) and the bright young Maturette (Basman). They make it to mainland Colombia, but certainly aren't home free.

All of this is a bit dry, with a continual stream of whispered plotting followed by nasty clashes with the guards and other prisoners. There are some harrowing sequences along the way, including a shower brawl and a guillotine execution. And the solitary sequence is especially gruelling, as Henri struggles through madness and Hunnam method-acts himself into a bag of bones. However finely staged, the escape sequence may not be hugely thrilling, but at least it offers a change of scenery.

Hunnam has plenty of intensity in the role, from the freewheeling prolog with his Parisian girlfriend (Hewson) to the way he squares off against the dandy warden (van Wageningen). What's missing is a sense of his connection with other prisoners, most notably Malek's bookish Louis. Malek is solid, also playing the role with his entire physicality, but he never transcends his terrified field-mouse persona. And Hunnam's Henri never seems to soften to him at all. So while their friendship is the core of the film, it's perhaps the least compelling thing on-screen.

Even without a visceral punch of present-day resonance, this is still a skilful depiction of a staggeringly cruel system. The film may be dull, but it's never boring, with a series of set-pieces that have little twists and turns to hold the interest. Still, there's so little human connection on display, and the friendship between Henri and Louis is so underplayed, that there's nothing that grabs hold to make this version memorable.
| | | |
| --- | --- | --- |
| | themes, language, violence | 19.Dec.18 |