SUNDANCE FILM FEST


This chilling documentary features a town re-enacting the darkest chapter in its history 100 years later to the day. Filmmaker Robert Greene ambitiously overlays history in the present-day town, which has struggled with the horrific truth of these events. It's strikingly well shot and edited, and performed full-on by the townsfolk with an undercurrent of quiet contemplation.

In the summer of 1717, Bisbee, Arizona, seven miles from Mexico border, was the site of a copper mine crucial to the war effort. But the working conditions were unsafe, and immigrant miners faced rampant discrimination. When an international union called a strike, residents of Bisbee had to choose between the company and the miners. On July 12th, an armed posse of 2,000 men illegally rounded up some 1,300 strikers and their supporters, deporting them in boxcars for 16 hours into the New Mexico desert, where they were left to die. This event has haunted the town for a century.

Greene's approach here is a little indulgent.His surreal juxtapositions are visually fascinating, while some more adventurous flourishes are distracting. Even so, each telling moment captures the town's quaint charm and haunted emptiness, a mining town without a mine. And older residents still hold out hope that it will come back to life and save them. The film could use some trimming, as it seems to drift into odd details that feel like sideroads. But the central thrust is both riveting and packed with insight.

There are also plenty of superb anecdotes, including the chilling story of a police deputy who deported his own brother, told and re-enacted by their descendants. Amid personal accounts are tales of betrayal, subversion of justice, callous corporate cruelty and even a ghostly haunting. It's clear that everyone in Bisbee knows the history, but never speaks of it. And the partisan feelings have been passed down, taking side with the company or the miners, even as everyone sees that the deportations had a racial bias.

Set at a pivotal point in world history, this a cautionary tale about the dangers of repressing painful memories and refusing to own up to what actually happened, which here included the horrific violation of moral, ethical and legal principles. It's also a fascinating look at how false perspectives cause rippling problems. Yes, the salient point is a well-worn one: those who ignore history are fated to repeat it. All of which, of course, makes this film painfully relevant today.
12 themes, language, violence
---
7.Sep.18

R E V I E W B Y R I C H C L I N E
Nothing Like a Dame

aka: Tea With the Dames
dir Roger Michell
prd Karen Steyn
with Judi Dench, Maggie Smith, Eileen Atkins, Joan Plowright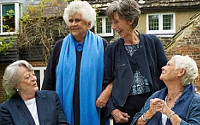 release UK 2.May.18,
US 21.Sep.18
18/UK BBC 1h24


Since starting out in the business together in the 1950s, four of Britain's pre-eminent stage and screen actresses have maintained a close friendship. Here they let Roger Michell's camera crew invade their space, allowing the audience to eavesdrop on their conversation. It's light and funny, and very nostalgic, carefully avoiding anything too controversial.

At 89, Joan Plowright is five years older than Judi Dench, Maggie Smith and Eileen Atkins. But all emerged around the same time, forming a bond as they worked with each other (and with each others' husbands) and raised their children together. They gather at the Sussex home Plowright shared with her husband Laurence Olivier ("I was more nervous about your husband than about the critics," Smith says. "Everybody was!"), talking about their lives, roles, the industry and their families, frequently dissolving in fits of giggles at decades-long running jokes.

There are glimpses of Michell's crew here and there, filming these four icons in the gardens and, when it starts raining, at a few places inside the house. So basically the film is just an extended conversation, dropping names of friends and colleagues, including some catty gossip. They also recount their childhoods and how they got into acting, learning which kinds of roles they were suited to as they were starting out. "I played a Chinese boy in an opium den," Smith recalls. "Of course you did," Dench laughs.

Yes, their hilarious banter is what makes this film essential, especially as they gently dip into politics of the various eras (protesting with Vanessa Redgrave or feeling invisible as seniors) and recall receiving their damehoods (they tease Plowright because she's both a dame and a lady). Each reminiscence is accompanied by vintage photos and terrific clips, including their early performances on both stage and in movies. And it's fun to see them working together over half a century.

The film is packed with verbal gems, from the advice they would offer to their younger selves ("Don't be so very bad tempered and confrontational," Atkins says) to the fact that even today each of them gets nervous before a performance. They have no time for people who complain that their versions of Shakespeare are old fashioned ("Shakespeare is poetry," says Plowright. "You bring it down to your size instead of reaching up"). They tease Smith about her roles in Downton Abbey and Harry Potter. And when asked if they plan to work forever, they all say of course they will, as long as someone asks them. "Although Jude gets all the parts," Smith laughs.
12 themes, language
---
15.Sep.18
---

R E V I E W B Y R I C H C L I N E
Ruminations


dir Robert James
prd Robert James, Nick Blond
scr Robert James, Nick Blond, Rudy Behrens
with Rumi Missabu, Cindy Williams, Bill Bowers, Tahana, Scrumbly Koldewyn, Donna Personna, Carl Linkhart, Toots Taraval, Sebastien Cheron, Stefan Lefferts, Eric Schum, Dan Nicoletta, VinC, Joe E Jeffreys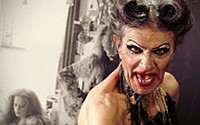 release US 25.Jan.18,
UK Oct.18 rff
18/US 1h19

---

In search of stories about gay hippies in San Francisco, filmmaker Robert James contacts Rumi Missabu, the iconic self-proclaimed "male actress" and notorious raconteur. The tales he tells are wildly entertaining, as are those of others who speak to James' camera. A superb companion to David Weissman's classic 2002 doc The Cockettes, this film is an important exploration of a pioneer who has fiercely rejected society's ideas of gender and sexuality.

Born James Bartlett, Rumi was an original member of the Cockettes in 1969 and has spent decades archiving the drag/art group's history. Many of his stories are outrageously entertaining, involving the biggest names of the era, from Tina Turner to Andy Warhol. He moved to the Bay Area to be himself, taking the name Rumi from the Asian mystic. And his goal was to entertain gay men who were depressed about being thrown out by their families. The Cockettes emerged to celebrate gender fluidity, inviting the audience to join in the mayhem.

Missabu's collection of Cockettes' history has helped the members reconnect, and his archive is now housed at Lincoln Center. He recounts his own story from an abusive childhood to life among Hollywood stars with lively anecdotes about his racist father and chubby-slutty sister. Meanwhile, James uses witty animated segments or comical re-enactments to illustrate these frankly jaw-dropping stories. This includes Missabu's saga about dating three brothers subsequently, only one of whom was gay.

The doc overflows with lurid photos and home movies, including clips from Maissabu's movie Elevator Girls in Bondage (clearly a must-see). Among the interviewees are several Cockettes, including the snarky Tahara, who loves to criticise everyone. His story sounds pretty outrageous too, as the son of a rodeo clown who was dragged into the act. The Cockettes only existed for two years, ending when members left to get real jobs, while others were victims of drugs or diseases. As one friend comments, "Being avant garde takes a heavy toll on the soul."

Mussabu's own story twists in both both offbeat and upbeat directions. His friends recount how they had to intervene to help him rebuild his legal identity after more than 30 years off the grid. A chain smoker since age 14, his health has suffered in later years, but he continues to travel, preferring to stage his florid shows for mainstream rather than just gay audiences. Although he still loves being surrounded by beautiful young dancers.
15 themes, language, nudity
---
30.Aug.18

R E V I E W B Y R I C H C L I N E
Won't You Be My Neighbor?


MUST

SEE
dir Morgan Neville
prd Caryn Capotosto, Nicholas Ma, Morgan Neville
with Fred Rogers, Joanne Rogers, Jim Rogers, John Rogers, Francois Clemmons, Joe Negri, David Newell, Elizabeth Seamans, Margy Whitmer, Junlei Li, Tom Junod, Nick Tallo, Yo-Yo Ma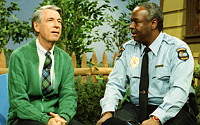 release US 8.Jun.18,
UK Oct.18 lff
18/US Focus 1h34

---
SUNDANCE FILM FEST


Warm and engaging, this documentary lets the iconic TV personality Fred Rogers narrate his own story using extensive archival interviews and a wide range of clips. Director Morgan Neville skilfully crafts a film that's both fast-paced and deeply personal, exploring exactly what made Rogers such a one-off. It also vividly captures his message that the essentials in life are invisible to the eye.

In mid-60s Pittsburgh, Rogers felt children deserved more from television. Instead of merely being turned into consumers, they needed to see "an adult who cares". So in 1968 he launched Mister Rogers' Neighborhood. "We had low production values, a simple set and an unlikely star," laughs producer Whitmer, but the show caught on as it addressed real-world worries through a child's eye. Defiantly slow-paced, the show was radically honest, using educational principles to build relationships with viewers. It ran for 33 years.

The doc goes behind the scenes to reveal Rogers as a gutsy man who addressed children with humility and respect, never taking his role for granted. An ordained minister (who never identified himself as such), he was dedicated to inclusion, repeating the refrain "I like you as you are / you really turned out nicely", echoing the Golden Rule to love your neighbour as yourself. This led to criticism that he created a generation of entitled children, but he always stressed personal responsibility.

Neville also includes superb interviews with Rogers' family members and the show's cast and crew, relating hilarious backstage anecdotes (when he was teased, Rogers have back as good as he got). They also comment on his unique depiction of masculinity: a straight man who was resolutely kind, gentle and accepting, telling children they deserved to be loved without needing to do anything to earn it. The film also includes clips of his remarkable testimony to Congress when funding for public television was under threat.

Right up until his death from cancer in 2003, Rogers took on political issues. The neighbourhood's King Friday was the model of a "benevolent despot", an authoritarian leader intent on building a wall. He made programmes in which he addressed, death, divorce, political assassinations, terrorism, prison and missing children. And his best on-screen friend was pointedly a black, gay police officer (Clemmons). As it traces these and many other things, this documentary is hugely moving. And as it challenges us to remember the people who helped and encouraged us, it's simply beautiful.
12 themes, language
---
16.Sep.18
---


< < D O C S > >
See also: SHADOWS FILM FESTIVAL

© 2018 by Rich Cline, Shadows on the Wall


HOME | REVIEWS | NEWS | FESTIVAL | AWARDS | Q&A | ABOUT | TALKBACK