dir Yorgos Lanthimos
scr Deborah Davis, Tony McNamara
prd Ceci Dempsey, Ed Guiney, Yorgos Lanthimos, Lee Magiday
with Olivia Colman, Emma Stone, Rachel Weisz, Nicholas Hoult, Joe Alwyn, James Smith, Mark Gatiss, Jennifer White, LillyRose Stevens, Edward Aczel, Carolyn Saint-Pe, Jenny Rainsford
release US 23.Nov.18, UK 1.Jan.19
18/Ireland Film4 1h59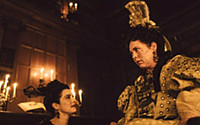 Who's the boss: Weisz and Colman





• TOP 5 FILM
• BEST ACTRESS:
Olivia Colman
VENICE FILM FEST

R E V I E W B Y R I C H C L I N E

A fiendishly witty script and blazing performances bring this historical piece to riotous life as it delves into the political machinations of the British royal household. Anchored by riveting, awards-worthy lead performances by Olivia Colman, Emma Stone and Rachel Weisz, the film looks terrific thanks to Yorgos Lanthimos' offbeat direction and Robbie Ryan's inventive cinematography.

In the early 18th century, Queen Anne (Colman) relies heavily on her assistant Lady Sarah (Weisz), whose cousin Abigail (Stone) arrives in need of a job. Educated but disgraced, Abigail knowingly sets out to climb the ranks in the palace and restore her aristocratic standing. And this pays off when she is noticed by the queen herself. But Sarah is rather annoyed by this encroachment on her carefully controlled turf. Meanwhile, Prime Minister Godolphin (Smith) and opposition leader Harley (Hoult) are jostling for Anne's ear, while Harley's friend Masham (Alwyn) is smitten by Abigail.

Lanthimos restrains his usual surreal plotting, but expands as a director by breathing new life into the period drama genre. Along with inventively colourful production design, the tone is so bracingly outrageous that the film never stops surprising the audience, continually adding witty narrative wrinkles, unusual character details and eye-catching visuals. The dialog is fiendishly clever, packed with barbed insults and lacerating observations that reveal a lot about both the society and the people.

All three of the leading ladies are simply amazing, offering fresh approaches to their characters. Each manages to take the breath away as she veers from broad comedy to wrenching emotion. The central plot is Abigail's arc, which Stone plays beautifully to slowly reveal this young woman's true nature. Weisz's Sarah takes a different journey, grasping to maintain her influence while concealing her true feelings. And Colman's turn is so towering that the entire film seems to exist in her shadow. Anne is intelligent, petulant, bereft and hilariously mad.

Watching these three women jostle for control really shouldn't be this entertaining. And it's made even more fun by the hapless men swirling around them. Hoult gives a career-best performance as the preening, overconfident Harley, while Alwyn offers a privileged young man who never quite figures out what's going on. That all of these people are recognisable and sympathetic is no mean feat. And the ultimate emotional kick, in which these people all begin to understand the personal cost of their machinations, is a stunner.
| | | |
| --- | --- | --- |
| | themes, language, sexuality, violence | 18.Oct.18 lff |