dir Christopher Guest
prd Karen Murphy
scr Christopher Guest, Jim Piddock
with Jane Lynch, Ed Begley Jr, Zach Woods, Tom Bennett, Christopher Moynihan, Parker Posey, Chris O'Dowd, Don Lake, Michael Hitchcock, John Michael Higgins, Fred Willard, Christopher Guest
release US/UK 13.Oct.16
16/US Netflix 1h29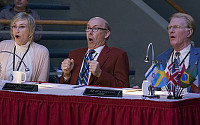 Wowing the judges: Lynch, Lake and Begley



---
TORONTO FILM FEST

R E V I E W B Y R I C H C L I N E
Using his improvisational mock-doc style, Christopher Guest takes on the world of sports mascotery. As in films like Best in Show and A Mighty Wind, Guest's gifted ensemble provides a constant flow of verbal and visual gags, playing up the wackier aspects of this subculture. There's nothing particularly new here, no innovation to the format, but the movie is consistently hilarious.

Hopefuls are assembling for the World Mascot Association's Fluffy Awards in Anaheim. Mike (Woods) from Kansas is in hot water because he once had a fling with competitor Cindi (Posey), who feels this is her last year to make her mark. Owen (Bennett) is a third-generation mascot from South London who is mercilessly bullied and yet determined to go ahead with a perilous ladder stunt his dad (Piddock) doesn't approve of. And from Canada, Tommy (O'Dowd) is a hard-partying, short-tempered rocker who dresses up as The Fist.

The judges (Lynch, Begley and Lake) watch all of this with barely concealed glee, including Phil (Moynihan), whose routine as a plumber includes a dancing poo sidekick. Naturally Phil struggles to understand how to perform in costume for a group of blind school kids. In a related gag, Coach Greg (Willard) fires a barrage of inane questions at a little-person mascot (Brad Williams). And there's also a cameo from Guest regulars Jennifer Coolidge and Bob Balaban as club owners who pop in to support their competitors.

Every moment of this film is packed with double entendres and hilarious malapropisms, plus glimpses of ridiculous things in the backgrounds. The plot may be paper thin, but it spirals out into all kinds of directions, with a wide range of supporting characters. The WMA president (Hitchcock) reminds judges not to confuse mascots with the festishistic furries who "yip and skiff and all that stuff". He also spends a lot of time kissing up to a potential sponsor (Higgins).

Meanwhile, the competition acts are simply jaw-dropping, as the performers try so hard to be clever that they end up being sublimely preposterous. There's also some surprising emotion in what the acts bring out within families, plus a bit of resonance in the tradition-versus-innovation theme. But Guest's real genius in assembling these films is in creating an absurd setting in which awkward people display recognisably real flaws to the camera despite their efforts to hide them. And frankly, there's no end to the ways his troupe of awesome performers can play with that idea.
| | | |
| --- | --- | --- |
| | themes, language, innuendo | 15.Oct.16 |