dir-scr Damian Szifron
prd Agustin Almodovar, Pedro Almodovar, Esther Garcia, Matias Mosteirin, Hugo Sigman
---
Pasternak
with Maria Marull, Carlos Alberto Vavassori, Monica Villa, Diego Starosta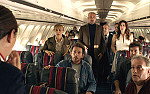 ---
The Rats [Las Ratas]
with Julieta Zylberberg, Rita Cortese, Cesar Bordon, Juan Santiago Linari
---
The Strongest
[El Más Fuerte]
with Leonardo Sbaraglia, Walter Donado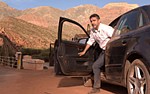 ---

Little Bomb [Bombita]
with Ricardo Darin, Nancy Duplaa, Camila Sofia Casas, Andrea Garrote
---
The Proposal
[La Propuesta]
with Alan Daicz, Oscar Martinez, Osmar Nunez, German de Silva
---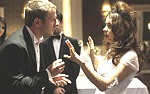 Until Death Parts Us [Hasta Que la Muerte
Nos Separe]
with Diego Gentile, Erica Rivas, Liliana Weimer, Claudio Delan
---
release Arg 21.Aug.14,
US 20.Feb.15, UK 27.Mar.15
14/Argentina 2h02

---
CANNES FILM FEST
TORONTO FILM FEST

R E V I E W B Y R I C H C L I N E

Bracingly well made, this collection of six shorts explores the violent impulses all of us feel every day, and what might happen if we let them out. It's blackly hilarious, jarringly honest and superbly well-played by an solid cast that never drifts over the top. And it leaves us both raucously laughing and badly shaken.

In the prologue Pasternak, passengers on a jet are shocked to discover that they all have a connection to Gabriel Pasternak, and they have no way of knowing what that will mean. In The Rats, highway cafe waitress Moza (Zylberberg) recognises a customer (Bordon) as the loan shark who ruined her family, so the chef (Cortese) suggests poisoning his food. The Strongest centres on Diego (Sbaraglia), who becomes increasingly annoyed while driving his posh car when Mario (Donado) won't let him pass his wheezing junker. Zooming by with a loud insult, Diego later has a flat tyre, and knows who's coming down the road.

In Little Bomb, demolition expert Simon (Darin) launches an escalating war with the city's parking officials when his car is wrongfully towed away from outside a bakery. The most serious segment, The Proposal centres on a wealthy man (Martinez) who reacts unnervingly after his teen son (Daicz) hits a pregnant woman in the street. And finally, Until Death Parts Us is an unforgettable wedding reception at which the bride (Rivas) challenges her husband (Gentile) about his infidelity.

As with most anthology movies, there are some startling shifts in tone between the shorts, but with razor-sharp performances, camerawork and editing, writer-director Szifron keeps the black comedy gurgling throughout. It sometimes gets rather bleak (The Proposal) before veering back to cartoonish macho slapstick (The Strongest) or heightened madcap mayhem (Until Death Parts Us, the film's terrific climax). Several of the clips have the distinct flavour of early Almodovar (who produces here), combining sex, violence and strong emotion to make a killer point.

Watching people get what they deserve is hugely satisfying, especially when it happens in a hilariously outrageous way we don't quite see coming. Each of these bold, punchy shorts is a superb exploration of vengeance dished out in the least acceptable way imaginable. It's a blast of vicarious pleasure, something we wish we could get away with. Or at least witness firsthand. It's a combination of horror and raucous humour that feels unnervingly liberating.
| | | |
| --- | --- | --- |
| | themes, language, violence, sexuality | 10.Dec.14 |