dir-scr James Vanderbilt
prd Brad Fischer, Doug Mankoff, Brett Ratner, William Sherak, Andrew Spaulding, James Vanderbilt
with Cate Blanchett, Robert Redford, Topher Grace, Dennis Quaid, Elisabeth Moss, Bruce Greenwood, Stacy Keach, John Benjamin Hickey, David Lyons, Rachael Blake, Andrew McFarlane, Dermot Mulroney
release US 16.Oct.15, UK 4.Mar.16
15/US Warner 2h01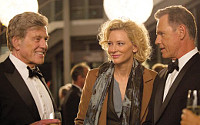 Corporate pressure: Redford, Blanchett and Greenwood



---
TORONTO FILM FEST

R E V I E W B Y R I C H C L I N E
Cate Blanchett gives yet another storming performance in this smart, enlightening backstage drama about the 2004 scandal at CBS News, which ended the career of iconic newscaster Dan Rather. Like a populist blending of The Newsroom with Good Night and Good Luck, the film is talky and a bit too obvious in the points it makes, but it's also important.

Just a couple of months before the 2004 presidential election, news producer Mary Mapes (Blanchett) has finally cracked the story of President George W Bush's mysterious National Guard service during the Vietnam War. With an investigative team (including Grace, Quaid and Moss), plus leading news anchor Dan Rather (Redford), Mary gets the story ready for broadcast on 60 Minutes. But after it airs, she is attacked with questions about the authenticity of a series of memos that explain irregularities in Bush's service record. And the controversy takes some nasty turns.

The ensuing media storm sparked an internal investigation, during which CBS forced Rather to recant the story and essentially sacked everyone involved. Since this is based on Mapes' memoir, it's not exactly (ahem!) journalistic about the way it approaches the events, hinting heavily at government and corporate pressure to discredit the story in any way possible. But the message is clear: the memos were real, and the way the story was smothered by misdirection casts serious doubt on the role of news media.

Blanchett brings layers of interest to Mary, including her true-believer passion for telling an important story, her offhanded connections with her son and husband (Hickey), and the way she grapples with her inner demons. It's a fierce performance that makes the film riveting, papering over any niggling doubts. Around her, the supporting cast is smart and witty, including her rather weaselly bosses (Greenwood and Lyons). Redford beings his slightly too-easy charm to Rather, Mary's main confident and champion.

The film's script is pithy and sharp, nicely capturing the gallows humour journalists need to get through the day. It sometimes gets trapped between the various political angles, clearly taking sides even though that isn't necessary. A real journalist will report the truth regardless of whether it agrees with their personal agenda, so writer-director Vanderbilt makes this film into an urgent lament for old-school ethical journalism in a day when news programmes must turn a profit by entertaining rather than informing their viewers.
| | | |
| --- | --- | --- |
| | themes, language, brief nudity | 15.Oct.15 |