dir Peter Bogdanovich
scr Peter Bogdanovich, Louise Stratten
prd George Drakoulias, Logan Levy, Louise Stratten, Holly Wiersma
with Imogen Poots, Owen Wilson, Kathryn Hahn, Will Forte, Rhys Ifans, Jennifer Aniston, Austin Pendleton, Illeana Douglas, Debi Mazar, Cybill Shepherd, Richard Lewis, Lucy Punch
release UK 26.Jun.15, US 14.Aug.15
14/US 1h33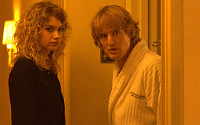 Ilicit encounter: Poots and Wilson



---
VENICE FILM FEST

R E V I E W B Y R I C H C L I N E

Amusing but never very funny, this screwball comedy has a wacky slapstick tone as it plays with the tangled connections between several neurotic people. Yes, it feels like a 1970s Woody Allen comedy (or maybe a 1970s Peter Bogdanovich comedy), as it centres on a collection of desperate but hopeful losers.

When New York hooker Isabella (Poots) meets her john Arnold (Wilson), he offers her $30,000 if she stops streetwalking and pursues her dream to become an actress. Then he's shocked when she auditions for the broadway show he's directing, which stars his wife Delta (Hahn) and the leery Seth (Ifans), who knows her secret. Then the playwright Joshua (Forte) falls for Isabella, not realising that she's a client of Jane (Aniston), the psychologist he's been dating. Jane's also counselling Judge Pendergast (Pendleton), who is now obsessing because his favourite hooker has quit the game.

This story is told in flashback as hot new thing Isabella is interviewed by a cynical reporter (Douglas). Since the conclusion is known, the entertainment value sits with the feisty actors. While Aniston is hilarious as the quick-tempered, frankly awful therapist and Hahn balances Delta's feistiness hilariously, the rest of the cast is rather uneven. Poots is lively but unconvincing (it was risky to make a Breakfast at Tiffany's reference), while Wilson barely breaks a sweat and Forte feels oddly reined in.

All of them dive gamely into each farcical encounter. This is one of those movies set in a huge city in which nobody seems to know anyone else, and there seems to be just one restaurant and a single hotel in all of Manhattan. Surprises come from the manic performances and a series of starry cameos that add some more riotous attitude to each sequence. Even so, for all of this brio the film feels oddly lifeless.

The production values are partly to blame, as sets are overlit like a TV sitcom. Still, every character's storyline hinges amusingly on an odd quote ("instead of feeding nuts to the squirrels, feed squirrels to the nuts") about not letting someone else tell you what makes you happy. Yet while there are some moments of hysterical mayhem and even a bit of rather sweet romance, the increasingly messy interaction between these people has us bracing for the next explosion rather than laughing at anything happening on-screen.
| | | |
| --- | --- | --- |
| | themes, language, innuendo | 15.Jun.15 |