dir-scr Carol Morley
prd Cairo Cannon, Luc Roeg
with Maisie Williams, Maxine Peake, Florence Pugh, Monica Dolan, Greta Scacchi, Anna Burnett, Joe Cole, Rose Caton, Mathew Baynton, Morfydd Clark, Elizabeth Marsh, Hannah Stokely
release UK 24.Apr.15
14/UK BBC 1h42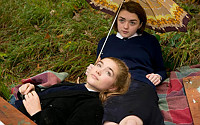 Inseparable: Pugh and Williams

---
TORONTO FILM FEST

R E V I E W B Y R I C H C L I N E

There's a fiercely original sensibility to this film, which boldly explores adolescence through a series of rather outrageous events. By combining life and death with sexuality, writer-director Morley is definitely courting controversy, and some of the plot points seem to go a step too far. But it's so strikingly intimate and fiercely artistic that it can't be ignored.

At an isolated British girls' school in 1969, 16-year-old Lydia (Williams) feels like her best friend Abbie (Pugh) is drifting away from her just as a bizarre fainting epidemic hits the students and even spreads to the teachers. But the headmistress (Dolan) and her deputy (Scacchi) refuse to give into this mass hysteria. While her mother (Peake) remains oddly aloof, Lydia turns to fellow students Susan and Titch (Burnett and Caton) for support, while her older brother Kenneth (Cole) believes ancient occultism can explain the mix of mystery and tragedy that's surrounding them.

Morley lets this play out in an engulfing swirl of emotions, as the film layers in power struggles, music (the girls play in an "alternative orchestra"), mysticism and female sexual awakening, from menstruation to pregnancy. Meanwhile, the actors adeptly create characters who are both earthy and heightened at the same time. That Williams can hold this together so solidly is no mean feat; she's thoroughly engaging in a very difficult role.

Much of the ethereal and, yes, hormonal atmosphere is due to Agnes Godard's luxuriant cinematography, which catches visual echoes of internalised feelings, private thoughts and subtle acts of rebellion along with the brooding impact of nature itself. The film is also beautifully edited by Chris Wyatt to contrast the lush landscapes with the harsh environment of the school, with its lively combination of serious, stern, open-minded and smirking students and teachers.

Many of the events remain elusively evocative rather than clearly explained, which effectively makes the film darkly creepy and very funny at the same time. But even with this ambiguity, the emotion, humour and even horror are powerful, especially as events intensify. The story also takes some seriously dark turns as Lydia tries to figure out who she is and what's wrong with her. And some late revelations reveal rather a lot about her stiff relationship with her mother. This is not only an unforgettable freak-out, but it's also a remarkable exploration of how self-discovery only starts during puberty. It never ends.
| | | |
| --- | --- | --- |
| | themes, language, sexuality, violence | 10.Oct.14 |