dir Tom Hooper
scr Lucinda Coxon
prd Tim Bevan, Eric Fellner, Tom Hooper, Anne Harrison, Gail Mutrux
with Eddie Redmayne, Alicia Vikander, Matthias Schoenaerts, Ben Whishaw, Amber Heard, Sebastian Koch, Adrian Schiller, Pip Torrens, Sophie Kennedy Clark, Richard Dixon, Emerald Fennell, Jake Graf
release US 27.Nov.15, UK 1.Jan.16
15/UK Focus 2h00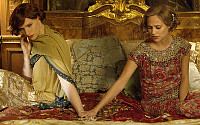 A modern marriage: Redmayne and Vikander



---
VENICE FILM FEST
TORONTO FILM FEST
R E V I E W B Y R I C H C L I N E

The true story of the first man to undergo gender-reassignment surgery, there's plenty to admire in this beautifully produced and finely acted film. It's an intriguing exploration of a variety of gender roles, but Hooper's fragrant filmmaking continually threatens to undermine the knowing, moving performances. So it ends up as something lovely to look at but never very challenging.

In 1926 Copenhagen, painters Einar and Gerda Wegener (Redmayne and Vikander) are trying to start a family. Gerda talks Einar into putting on a dress and stockings for a painting she's working on, then encourages him to attend a party in drag. He does it as a lark, but it awakens a strong childhood feeling that he suppressed over time. As her painting career takes off, they move to Paris, where they run into Einar's childhood friend Hans (Schoenaerts). As his urges increase, a doctor (Koch) in Germany offers him a never-tried treatment.

Hooper directs with virtually the exact same aesthetic he used for The King's Speech, with off-centre compositions, painterly set design and lots of introspective close-ups. It's also another story of a person who takes something most would define as a disability and turns it into triumph with the help of a supportive wife. But Hooper's strikingly too-pretty style swamps the deeper themes, emphasising the social/relational melodrama, which makes the film feel rather thin. Surely a darker, more provocative approach would have had a stronger impact.

Fortunately, both Redmayne and Vikander bring beautiful layers of detail to their performances, especially in their subtly shifting interaction. Redmayne lets Einar/Lili's lusty admiration of Gerda reflect strongly in his thoughts about himself, while Vikander gives Gerda a fiery intelligence that makes her independence almost thrillingly sexy. This couple's willingness to embrace something so transgressive is bravely depicted as an expression of their love rather than a fetish.

Along the way, there are all kinds of issues that could have been explored, such as Einar being diagnosed as schizophrenic or the male-female power balance. A brief flare of clever Hitchcockian tension reveals what this might have been with an edgier approach. And it's fascinating to see that, as Lili finds her voice, Einar begins to vanish, so Gerda has to grieve the loss of her husband long before the series of dangerous, untested operations. And in the end, their shifting but undying love for each other is involving even amid Hooper's soapy excess.
| | | |
| --- | --- | --- |
| | themes, violence, nudity | 5.Dec.15 |