The simplest kind of documentary imaginable - a man sitting in a chair telling his story - is turned into a riveting thriller with a powerfully emotional kick by director David Sington. Using impressionistic imagery and a gently non-linear structure, the filmmaker lets the story unfold from the central figure's perspective, hinting at but not quite revealing the meaning of the title until the very end.

Arrested at 20 in 1982, Nick Yarris spent two decades on death row in Pennsylvania for a crime he claimed he didn't commit, battling through appeals and trying to have the evidence re-examined using newly developed DNA tests. He describes years of solitary confinement in an area of the prison where the guards demanded complete silence. An escape attempt is chaotic and suspenseful. And he even falls in love and marries his chief advocate. But with the court dragging its heels, Nick finally petitions the judge to stop dithering and carry out his death sentence.

Sington wisely lets Yarris' words narrate the events without adding any other interviews. He's a superb storyteller who recounts every anecdote with vivid literary detail and raw emotion, so the audience hangs on every word. Even brief sideroads carry a real punch, such as an incident in which two fellow inmates were painfully separated by a change in prison policy. Yarris uses music and books as key references in his life, so Sington brings both into the film, beautifully augmenting Yarris' words.

There are also artful re-enactments of the events, including the various crimes that resulted in Yarris' imprisonment. But these are shot with remarkable sensitivity, never showing faces while drawing out details in Nick's narration. Combined with dream-like imagery of himself as a younger man and boy, the audience is allowed right into Yarris' mind to experience his memories firsthand. This sets us up for a series of twists and turns later on that completely redefine everything that's gone before.

The film is elegantly shot and edited, with an emotive score by Philip Sheppard. Most of the screen-time centres on Yarris' expressive face as he tells his frankly astonishing story, and it's impossible to look away. With its surprising series of events, the film brings to mind recent documentaries like The Imposter and Searching for Sugarman, which also recound true stories in ways that are mesmerising and deeply affecting. And without ever shouting its themes, the film has a lot to say about a justice system that plays to prejudices and expectations rather than the truth.
12 themes, language
---
20.Oct.15

R E V I E W B Y R I C H C L I N E
Listen to Me Marlon


dir Stevan Riley
scr Stevan Riley, Peter Ettedgui
prd John Battsek, George Chignell, RJ Cutler
narr Marlon Brando
with Stella Adler, Francis Ford Coppola, Elia Kazan, Al Pacino, Robert Duvall, Vivien Leigh, Frank Sinatra, Jean Simmons, Martin Sheen, Sophia Loren, Rod Steiger, Liv Ullmann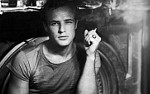 release US 31.Jul.15,
UK 23.Oct.15
15/UK 1h35

---
SUNDANCE FILM FEST


Expertly edited together from archival footage and never-released private recordings, this documentary offers a startlingly intimate look into the mind of an iconic actor. Marlon Brando reveals himself to be a fascinating character full of wit, passion and artistic insight. And defiantly unlike his public image.

The film opens as Brando explains that he has had his face 3D digitised, and this spectral image offers a variety of monologs along the way. The film also returns repeatedly to news clips from the notorious 1990 shooting at Brando's Los Angeles mansion. In between, Brando narrates his life story to himself in private cassette recordings. He discusses his troubled childhood, marriages and children, and shares anecdotes from several film sets. He also discusses bigger philosophical issues and his strongly held political views, which led to activism on civil rights and native American issues.

The most interesting topic Brando discusses is film history, exploring the changing nature of movies through his career and how acting itself has shifted. He trained in Stanislavski's Method with Stella Adler, and notes that this raw new style changed cinema permanently, ushering in much more realistic performances. Indeed, Brando was continually criticised for his too-honest acting, and the press often confused his believable roles with who he was in real life.

But he opens up about his mercurial personality, including loud disagreements with everyone he worked with. He loved the rush he got from acting, women and travelling the world, including his beloved adopted home in Tahiti. All of this is accompanied by a blinding array of stills and clips that show the articulate Brando charming (and flirting shamelessly with) journalists. And he also examines acclaimed classics like A Streetcar Named Desire and The Godfather; bombs like Candy and A Countess From Hong Kong; and challenging productions like Last Tango in Paris and Apocalypse Now.

The course of Brando's life has been public record, but this is the first chance to see it through his eyes. The most notable nuance is Brando's easy humour, refusing to take himself seriously even as he throws himself into a series of heated causes. Brando made these recordings for himself, as a sort of therapy. So even if filmmaker Riley has extensively edited the material (which is audible as the quality and tone shifts), there's a sense that Brando's real thoughts are finally being heard.
15 themes, language, violence
---
5.Oct.15

R E V I E W B Y R I C H C L I N E
Live from New York!


dir Bao Nguyen
prd JL Pomeroy, Kimmie H Kim, Sarah Cowperthwaite, Owen Moogan
with Lorne Michaels, Chevy Chase, Bill Murray, Jane Curtin, Garret Morris, Laraine Newman, Tina Fey, Amy Poehler, Will Ferrell, Chris Rock, Julia Louis-Dreyfus, Jimmy Fallon, Al Franken, Alec Baldwin, Steve Martin, Paul Simon


release US 12.Jun.15,
UK Oct.15 lff
15/US 1h22

---


This documentary explores a show that has reflected and influenced American culture for 40 years. The film takes a serious look at an iconically hilarious programme that's well-known for its political parody and brightly talented cast. It's a surprisingly balanced, in-depth documentary, although it's likely that only fans of the show will enjoy it.

From the screen tests of the original Not Ready for Prime Time Players, the film traces four decades of Saturday Night Live, which wasn't expected to last six weeks. But it hit a nerve right from the start, becoming the first truly unmissable TV show. After five years, the exhausted cast left. So over the years the show has refreshed its ranks, moving through several highs and lows. Today it's a global franchise. It still has the same format, but is less homespun and raw, more institutionalised and sponsored. And the biggest change is that now you don't have to watch it live. Today the good sketches go viral on YouTube, and anyone can make their own Wayne's World.

Director Nguyen includes interviews with cast members, hosts and public figures, plus lots of hilarious clips. SNL was aimed at the first generation to grow up with television. So it could tackle gender and racial barriers in unusual ways, even though it was controversially sexist at times and always had a diversity problem. It has also steadily celebrated female comics and gave the world Eddie Murphy.

The documentary emphasises the show's political sketches. It was born just after Vietnam and Watergate, when people wanted to hear from voices who weren't in the establishment. Weekend Update countered the establishment way of reporting the news long before The Daily Show. Throughout SNL's tenure, the goal has been to comment on society in ways that are smart and funny while avoiding partisan politics. And the show has changed the way people see public figures. Yes, Chase's Gerald Ford is more memorable than the actual man.

While it concentrates on the classic sketches, the film is also critical, diving into on-air controversies, clashes with censorship and pressure from social critics and network executives. It's a striking depiction of the challenges and chaos of live TV and the extended family that puts Saturday Night Live together. The show's strength has always been its ability to joke about issues people are afraid to laugh at, so it has had a strong impact on both television and society. Four decades later, it's still relevant. Which is why it's still here.
12 themes, language
---
11.Oct.15


< < D O C S > >
See also: SHADOWS FILM FESTIVAL

© 2015 by Rich Cline, Shadows on the Wall


HOME | REVIEWS | NEWS | FESTIVAL | AWARDS | Q&A | ABOUT | TALKBACK