dir-scr Hayao Miyazaki
prd Toshio Suzuki
voices Hideaki Anno, Miori Takimoto, Hidetoshi Nishijima, Masahiko Nishimura, Mansai Nomura, Steve Alpert, Mirai Shida, Morio Kazama
English cast Joseph Gordon-Levitt, Emily Blunt, John Krasinski, Martin Short, Stanley Tucci, Werner Herzog, Mae Whitman, William H Macy
release Jpn 20.Jul.13, US 8.Nov.13, UK 9.May.14
13/Japan Studio Ghibli 2h06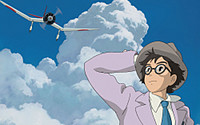 Jiro dreams of flying



---
VENICE FILM FEST
TORONTO FILM FEST
R E V I E W B Y R I C H C L I N E

This fictionalised biopic of aviation engineer Jiro Horikoshi works on so many levels that we know we're watching a classic as its story unfurls. The story is told with staggeringly gorgeous animation as both epic romance and momentous history. And beyond that, this is a beautiful ode to creativity.

In the 1920s, young dreamer Jiro (Anno/Gordon-Levitt) opts to study aeronautics because his poor eyesight won't allow him to become a pilot. With a creative approach to design, he is snapped up by Mitsubishi and starts working on secret military projects, travelling the world to see how Japan's allies like Nazi Germany work. Meanwhile, he falls in love with Nahoko (Takimoto/Blunt), and their romance blossoms as she tries to recover from tuberculosis and he works out the kinks in his design for the perfect airplane.

Jiro and Nahoko aren't the usual animated movie characters; these are complex people who make difficult decisions and don't always do the right thing. In other words, this isn't remotely the usual formulaic animated movie we're used to seeing from Hollywood studios. This is more like a proper movie that just happens to be rendered with some of the most imaginative animation we've ever seen, as characters, events and settings are packed with details that continually take our breath away, both visually and emotionally.

Even the side characters are vivid, from Jiro's pug-nosed boss (Nishimura/Short) and his straight-talking colleague Honjo (Nishijima/Krazinski) to the Italian aviator (Nomura/Tucci) who haunts Jiro's dreams and the suspicious foreigner (Alpert/Herzog) who seems to be following him. All of this weaves into a story that pulls us in because it's told from such a personal perspective: the film's most audacious, resonant touches are in the flights of fancy we take into Jiro's imagination.

Of course, the central conflict Jiro has, which is cleverly understated by masterful writer-director Miyazaki, is that he knows his beautiful planes are intended for use as killing machines. And yet he still strives for perfection as a matter of personal integrity. This is a very bold touch, and Miyazaki plays it so elegantly that we understand the point perfectly even without having it spelled out explicitly. If our lives aren't lived with passion and creativity, they're not lived at all.
| | | |
| --- | --- | --- |
| | themes, | 25.Feb.14 |