dir-scr Xavier Dolan
prd Xavier Dolan, Nancy Grant
with Anne Dorval, Antoine-Olivier Pilon, Suzanne Clement, Patrick Huard, Alexandre Goyette, Viviane Pascal, Natalie Hamel-Roy, Michele Lituac, Isabelle Nelisse, Pierre-Yves Cardinal, Vincent Fafard
release US Aug.12 tff, UK Oct.14 lff
14/Canada 2h19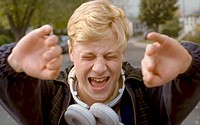 Pushing the frame: Pilon



---
CANNES FILM FEST
TORONTO FILM FEST

R E V I E W B Y R I C H C L I N E

With his most audacious film to date (which is saying something for the 25-year-old writer-director of films like I Killed My Mother and Laurence Anyway), Canadian filmmaker Dolan creates a whole new cinematic language to explore the beguilingly complex relationship between a mother and son. The film is difficult, confounding and sometimes maddeningly honest.

Three years after her husband died, Diana (Dorval) knows what it takes to survive in a man's world. Then 15-year-old tearaway Steve (Pilon) moves home from the institution where she placed him due to his violent, out-of-control hyperactivity. But she can't let him now be transferred to a juvenile prison. So her life goes more than a little nuts, although she gets some help from two neighbours: Paul (Huard) has amorous intentions and can help with Steve's legal problems, and Kyla (Clement) discovers an unusual connection with Steve, who helps with her own troubled emotions.

Dolan raises the abrasive intensity right from the start, building a trashy, shouty tone that is utterly disarming because the characters are actually rather likeable because they say what they mean. The film is photographed lushly in a square aspect-ratio (which expands in moments of bliss), and every scene is infused with clever directing touches that defiantly undermine audience expectations. The use of music is beautifully effective, although one more song would have made a final-act montage much punchier.

Pilon is superb as this demanding attention seeker, youthful and outrageously overconfident, and Dorval never bats an eyelid. Both performances are fearless and electric, making it clear that this mother and son love each other, perhaps dangerously so given their volatile personalities. But each gives as good as the other, so their fiery banter is often hilarious. By contrast, Clement's Kyla is thoughtful and timid, and yet just as strong a personality. All three are such fierce characters that they make most movies feel pale and wispy by comparison.

There are times when everything is a bit too much, as Dolan runs one full-on scene right into the next. But there are constant jabs of raucous comedy and wrenching emotion to keep things in balance. And the swell of underlying meaning gets deep under the skin as Dolan explores the idea that mothers and sons can't help but love each other. The pointed question is whether love is enough, and whether we have the strength to do something much more difficult.
| | | |
| --- | --- | --- |
| | themes, language, violence | 15.Oct.14 |