dir David Gordon Green
scr Gary Hawkins
prd David Gordon Green, Lisa Muskat, Derrick Tseng, Christopher Woodrow
with Nicolas Cage, Tye Sheridan, Gary Poulter, Ronnie Gene Blevins, Adriene Mishler, Brian Mays, Aj Wilson McPhaul, Sue Rock, Heather Kafka, Brenda Isaacs Booth, Anna Niemtschk, Elbert Evan Hill III
release US 11.Apr.14, UK 25.Jul.14
13/US 1h57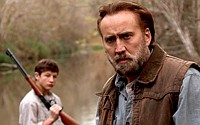 Trouble brewing: Sheridan and Cage


---
VENICE FILM FEST
TORONTO FILM FEST
R E V I E W B Y R I C H C L I N E

Thoughtful filmmaking and solid acting add needed oomph to a rather thin script. This is an observational drama that doesn't have much to say, but the characters are strikingly realistic and their story is involving. So even if the direction is indulgent, it's a beautiful film.

Ex-con Joe (Cage) manages a crew killing trees on land being developed outside a rural Southern town. Respected by his men, he's clearly haunted by his shady past, living on his own with his dog, with a regular prostitute (Mishler) as a makeshift girlfriend. Then he's approached by 15-year-old Gary (Sheridan), who's looking for work. Joe takes him under his wing, recognising his eagerness to do his best. He also identifies with his troubled homelife, squatting in a falling-down house with his waste-of-space dad (Poulter), slaggy mum (Booth) and shell of a sister (Niemtschk).

There's essentially only one major plot point, as Joe engages in an escalating feud with hothead Willie-Russell (Blevins) that pulls him back to his violent past. This also threatens his future, represented by his protege Gary, played with a fierce, open-hearted authenticity by the gifted Sheridan as Gary seeks possibilities in a dead-end situation. Meanwhile, Cage gives a meaty performance as a tightly wound tough guy who doesn't say much.

Director Green has proven himself as a skilful storyteller who can capture the textures and currents of life in the South, both deep natural beauty and rough cultural grit. This town looks like a shadow of its former self, as shattered by past events as Joe is. One of the film's most indelible characters is Joe's loyal dog, adept as both a protector and killer. He of course takes to Gary immediately, and it's no coincidence that Gary's horrific dad is nicknamed G-Daawg.

Intriguingly, it's G-Daawg who gives the film a troubling edge: a drunk who feels entitled to everything. He's played seamlessly by Poulter, a non actor who was actually homeless when Green found him. Poulter also died on the streets a few months after filming finished, confirming the harsh portrait Green paints of this time and place. And perhaps if the film had also put Joe and Gary's story into this kind of context the film itself might carried a more potent punch.
| | | |
| --- | --- | --- |
| | themes, language, violence, sexuality | 20.May.14 |