dir Morten Tyldum
scr Graham Moore
prd Nora Grossman, Ido Ostrowsky, Teddy Schwarzman
with Benedict Cumberbatch, Keira Knightley, Matthew Goode, Mark Strong, Allen Leech, Charles Dance, Rory Kinnear, Matthew Beard, James Northcote, Alex Lawther, Tuppence Middleton, Steven Waddington
release UK 14.Nov.14, US 21.Nov.14
14/UK 1h53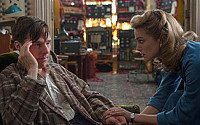 Layers of secrets: Cumberbatch and Knightley



---
TORONTO FILM FEST

R E V I E W B Y R I C H C L I N E

Ripping performances add layers of depth to a script that isn't quite as complex as its secrets-within-secrets structure would suggest. Based on declassified documents, the film is a hugely involving account of how British mathematicians cracked the Nazis' Enigma code and turned the tide of the war. Just as importantly, this is the first proper biopic about the world-changing genius Alan Turing.

When war breaks out in 1939, 27-year-old Cambridge professor Alan (Cumberbatch) is recruited to join the secret operation at Bletchley Park overseen by MI6's Menzies (Strong) and Commander Denniston (Dance). An eccentric genius, Alan struggles to fit in with his team (Goode, Leech, Beard and Northcote), working on alone to construct an unproven machine and consulting with the even smarter Joan (Knightley), who as a woman can't work alongside the men. But Alan has his own secret, and in 1951 he was arrested for his homosexuality and driven to suicide.

The main story about Turing's work to break Enigma is framed by his 1951 interrogation by a detective (Kinnear), and also earlier events from 1928, in which the terrific Lawther plays a school-aged Turing having his first encounter with cryptology, attraction and keeping secrets. Together, the three strands feel somewhat over-constructed, repeating the central theme: "It's people no one imagines anything of who do things no one can imagine." Thankfully, Tyldum finds other ways to bring this important idea out while keeping the pace brisk, cranking up suspense both in the code-breaking intrigue and the interpersonal drama.

Cumberbatch delivers a staggeringly delicate performance that constantly reveals subtle, telling details and makes a prickly character deeply likeable. Without any explicit scenes, he also locates the resonance in the much darker exploration of how gay men were persecuted by Victorian laws. Knightley is superb opposite him, generating unexpected chemistry as well as her own thematic kick. And the supporting cast is first-rate, including Dance in the one thanklessly blunt role.

Because of wartime secrecy, it took a long time to credit Alan Turing with helping to defeat the Nazis. Because of homophobia, it's taken decades to credit him with inventing the modern computer. There aren't many people who have had such a profound impact on human history, and the way he was driven to his death at age 41 is a real tragedy. But this film's sharply written and played monologs, witty banter and wonderfully textured interaction should help set the record straight.
| | | |
| --- | --- | --- |
| | themes, innuendo | 7.Oct.14 |