dir-scr Richard Linklater
prd Richard Linklater, Jonathan Sehring, John Sloss, Cathleen Sutherland
with Ellar Coltrane, Patricia Arquette, Ethan Hawke, Lorelei Linklater, Marco Perella, Tamara Jolaine, Brad Hawkins, Libby Villari, Zoe Graham, Nick Krause, Richard Robichaux, Barbara Chisholm
release US/UK 11.Jul.14
14/US IFC 2h46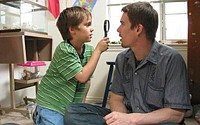 Like father like son: Coltrane and Hawke


---
SUNDANCE FILM FEST
BERLIN FILM FEST
R E V I E W B Y R I C H C L I N E

With an ambitious shooting schedule that spanned 12 years, Linklater finds an all-new way to explore characters and relationships. The film is a masterpiece of writing, directing, acting and seamless editing, and it's much more than a gimmick that allows us to watch the characters grow up before our eyes.

Struggling to make ends meet, a single mother (Arquette) makes the difficult decision to take her young children Mason and Samantha (Coltrane and Linklater) and move home to Houston to be closer to her mother (Villari). When the kids' father (Hawke) reappears, a new rhythm develops, and things continue to shift with a new stepdad (Perella). As years pass, relationships evolve in unexpected directions, Samantha heads to university, and Mason pursues his love of photography. There's also another stepdad (Hawkins), a stepmom (Jolaine) and Mason's first love (Graham).

Mason is the focus here (the hint is in the title), following him from about age 6 to his arrival at university at 18, and it's fascinating to not just watch Coltrane mature physically but to also find Mason's passions along the way, exploring what he thinks about various issues and making big decisions. Alongside him, Arquette, Hawke and Linklater grow as well. But then no one is the static figure we usually see in movies, even in ones set over a long period of time. This film watches them emerge organically through each experience they have.

Linklater shoots in a remarkably fluid way, matching the photography and editing it down smoothly. There isn't much structure, but each scene is utterly riveting, showing what's possible with offhanded performances, loosely improvised dialog and naturalistic acting. In nearly three hours there isn't a single throwaway moment: everything feeds into what follows. So even if it's made up of small episodes, the film has a singular narrative.

Intriguingly, there's never a question about the passage of time, since hairstyles and changing physicality offer plenty of signposts. And current events that place the story in a very specific span of time (mainly due to politics). Along the way this often breathtaking film challenges us to look back on our life as a flow of events that are shaping us into who we are and will become in the future. It's both enlightening and encouraging, and such an explosion of pure humanity that the film is already a classic.
| | | |
| --- | --- | --- |
| | themes, language, innuendo | 19.Jun.14 |