dir-scr Mary Harron
prd Karine Martin, David Collins
with Sarah Bolger, Lily Cole, Sarah Gadon, Scott Speedman, Judy Parfitt, Melissa Farman, Laurence Hamelin, Gia Sandhu, Valerie Tian, Anne Day-Jones, Julian Casey, Kathleen Fee
release Can 6.Apr.12, US 20.Apr.12,
UK 24.May.13
11/Canada 1h22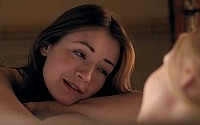 School daze: Bolger and Gadon


---
VENICE FILM FEST
TORONTO FILM FEST
R E V I E W B Y R I C H C L I N E
With its gothic setting and a growing sense of menace, this film cleverly plays out as if it might be in an adolescent girl's troubled imagination. But like the central character, it's difficult to convince ourselves that this sinister nastiness isn't really happening. So we get increasingly unnerved as the story progresses.

After the summer holidays, 16-year-old Rebecca (Bolger) is happy to return to Brangwyn, the all-girl boarding school where she feels safe with her best pal Lucy (Gadon) and their partying friends. All of the girls have a crush on sexy new literature teacher Mr Davies (Speedman), who's a fan of the poetry of Rebecca's late father (Casey). Then lonely new student Ernessa (Cole) reaches out to Lucy for friendship, which worries Rebecca. So she sets out to discover who Ernessa actually is and what she's really doing to Lucy.

From the start, Harron stirs in overtones of supernatural creepiness, as the shadowy Ernessa prowls around the grounds at night, gazing seductively like the lesbian vampire from the classic novel they're studying in Mr Davies' class. She also begins to invade Rebecca's dreams. But it's what happens during her waking hours that really unnerves her. And the script plays on all kinds of preconceptions and suggestions, with hints of eating disorders, petty jealousies and inappropriate teacher-student relationships.

The film has a terrific balance between the thriller elements and the more realistic boarding school drama. Even with the growing freak-out tone, the actors all keep their characters grounded in reality, which makes Rebecca's violent visions that much more unsettling. Is Ernessa really pure evil? Or is she just shaking Rebecca's fragile state of mind? Cleverly, these teens never act like adults: they're confused and shaken and seemingly helpless until they're forced into a corner.

The film is beautifully shot to make the most of the striking settings. Although the moth motif, which swells up every now and then, never quite gels, Rebecca's darker memories are much more evocative, with blood-soaked echoes of Carrie-like despair or The Shining's nastiness. Harron generates a wonderfully shadowy sense of horror, which refreshingly never wimps out to get a PG-13: this is seriously nasty stuff, a profound exploration of grief wrapped in a girls' school nightmare.
| | | |
| --- | --- | --- |
| | themes, language, violence, sexuality | 10.May.13 |