dir Rufus Norris
scr Mark O'Rowe
prd Tally Garner, Bill Kenwright, Dixie Linder, Nick Marston
with Eloise Laurence, Tim Roth, Cillian Murphy, Rory Kinnear Bill Milner, Zana Marjanovic, Robert Emms, Denis Lawson, Rosalie Kosky-Hensman, Martha Bryant, Faye Daveney, George Sargeant
release UK 8.Mar.13
12/UK BBC 1h30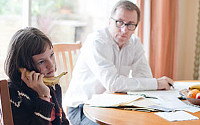 Worried father: Laurence and Roth


---
CANNES FILM FEST

R E V I E W B Y R I C H C L I N E
Dark and increasingly unsettling, this British drama is so relentlessly nasty that it's difficult to see the point the filmmakers are trying to make. Clearly the idea is that coming of age involves discovering that the world isn't as nice as we imagine it to be. But is it really this horrible?

Skunk (Laurence) is a pre-teen happily living in a North London cul-de-sac when everything starts going wrong. Hotheaded neighbour Bob (Kinnear) seems to punch simple-minded neighbour Rick (Emms) for no reason at all, triggering a series of events that she struggles to understand. Bob is a widower with three high-strung daughters, one of whom (Bryant) mercilessly bullies Skunk at school while another (Daveney) is flirting with Skunk's big brother Jed (Milner). Meanwhile, Skunk's dad (Roth) worries that she's endangering her life.

The tendrils of the plot circle around Skunk in a way that's almost fantastical, as her nanny Kasia (Marjanovic) has just broken up with her teacher Mike (Murphy), who's being accused of abusing one of Bob's daughters. And then there's Skunk's tentative boyfriend Dillon (Sargeant), an orphan who might have to move away. In fact, everything is so contained between this small group of characters that it feels like there's no bigger world beyond their street and the junkyard across the field.

All of this makes the film feel eerily contrived, as the filmmakers pile so much death and destruction on this young girl (did we mention that she also has Type 1 diabetes?) that it seems unbearable. Or it would if we could believe it. Instead, the film takes on a mythical quality, as if she's imagining all of this and making things seem much worse than they actually are. And the lush photography and inventively echoing editing add to the surreal tone.

Fortunately, the cast remains anchored in recognisably real emotion. Roth is the calm in the midst of the storm, while Kinnear bravely dives into a difficult role and finds some rugged humanity inside. All of the young performers are excellent, with Laurence thoroughly engaging in the central break-out role. It's the fine younger actors who make this essential viewing, because their raw talent shines even when the filmmakers throw every shape of pretentious narrative insult at them.
| | | |
| --- | --- | --- |
| | themes, language, violence, sexuality | 26.Nov.12 |