dir-scr David Lowery
prd Cassian Elwes, Toby Halbrooks, James M Johnston, Amy Kaufman, Lars Knudsen, Jay Van Hoy
with Casey Affleck, Rooney Mara, Ben Foster, Nate Parker, Keith Carradine, Kennadie Smith, Jacklynn Smith, Rami Malek, Robert Longstreet, Charles Baker, Augustine Frizzell, Kentucker Audley
release US 16.Aug.13, UK 6.Sep.13
13/US 1h45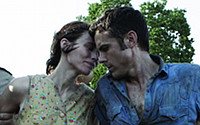 Hopelessly in love: Mara and Affleck



---
SUNDANCE FILM FEST
CANNES FILM FEST
R E V I E W B Y R I C H C L I N E

Moody and evocative, this Western-style dramatic thriller never quite gives us what we expect, continually veering deep into the characters' emotional lives and skipping over the usual action scenes. As a result, the film has a dreamlike tone that's very, very sleepy. But it's also haunting and darkly moving.

In 1970s Texas, Bob (Affleck) and his girlfriend Ruth (Mara) are hopelessly in love. She can't leave him even if she tries. Especially now that she's pregnant. But when they get involved in a botched bank robbery, he ends up in prison. Four years later, she's living with her daughter (played by Kennadie and Jacklynn Smith), watched over by Bob's mentor Skerritt (Carradine). And when Bob escapes from prison, he's shocked to discover that she has befriended the cop, Patrick (Foster), whose gunshot injury is what sent Bob to jail.

In some ways, the film is about young people who throw away the promise of a bright future for a chance to get rich quickly. But it's the deeper resonance that gets under the skin, exploring the connections created by passion, regret, love and guilt. Every link is carefully explored in this subtle, sometimes frustratingly understated film. Often the dynamic is revealed by nothing more than an offhanded glance or a nervous smile. Sometimes its a shaky hand holding a smoking gun.

The actors reveal this through delicate performances centred on thoughts and emotions behind their eyes. Affleck, Mara and Foster are terrific as the three points of an unbalanced triangle, which you couldn't really call a romantic entanglement, although there are hints of that. Meanwhile, Carradine adds both spark and weight to his observant role and Parker quietly holds his own as Bob's reluctantly helpful friend.

Writer-director Lowery is careful never to shout his themes (the title is never explained at all). The film is shot in an unnervingly sensual way, edited to emotional points rather than physical action. So it sometimes judders forwards and backwards, skipping past momentous events (such as the bank robbery itself) to linger on more important joy or pain. If it had a bit more energy, it might be unmissable. But even as it is, the film is very hard to shake.
| | | |
| --- | --- | --- |
| | themes, language, violence | 11.Jul.13 |