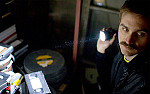 Tape Fifty-six
dir Adam Wingard
scr Simon Barrett
with Calvin Reeder, Adam Wingard, Lane Hughes, Kentucker Audley
---
Amateur Night
dir David Bruckner
scr David Bruckner, Nick Tecosky
with Drew Sawyer, Mike Donlan, Joe Sykes, Hannah Fierman
---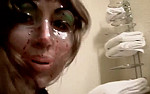 Second Honeymoon
dir-scr Ti West
with Joe Swanberg, Sophia Takal, Kate Lyn Sheil
---
Tuesday the 17th
dir-scr Glenn McQuaid
with Drew Moerlein, Norma Carroll, Jason Yachanin, Janine Yoder
---
The Sick Thing That Happened to Emily When She Was Younger
dir Joe Swanberg
scr Simon Barrett, Joe Swanberg
with Helen Rogers, Daniel Kaufman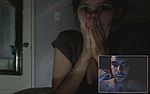 ---
10/31/98
dir-scr Radio Silence
with Matt Bettinelli-Olpin, Tyler Gillett, Justin Martinez, Chad Villella
---
prd Roxanne Benjamin, Gary Binkow, Brad Miska
release US 5.Oct.12,
UK 18.Jan.13
12/US 1h56
---
SUNDANCE FILM FEST


R E V I E W B Y R I C H C L I N E
Rising stars of the horror genre gather together for a crowd-pleasing anthology of found-footage shorts, each of which hinges on a terrifying twist. As with most of these kinds of collections, the results are hit and miss, but there's something to enjoy in each segment.

Wingard's framing story has a group of thugs searching for a videotape in a dark and creepy house that's full of tapes. As they watch them, we do too. First there's Amateur Night, about three chuckleheads (Sawyer, Donlan and Sykes) who get more than they bargained for when they set out to make some porn with an eyeglasses spy-cam. The next is the strongest segment, in which a married couple (Swanberg and Takal) takes a holiday to the Grand Canyon while being stalked by a sinister intruder (Sheil).

Tuesday the 17th follows teens into the woods, where they run into a not-very-scary glitch that was involved in a massacre years ago. This is followed by a skype-style short in which Emily (Rogers) frets about something that happened to her in the past while her boyfriend (Kaufman) tries to calm her down. And finally, 10/31/98 follows four party boys (writer-directors Bettinelli-Olpin, Gillett, Martinez and Villella) in search of a Halloween party, where they discover an unusually realistic haunted house.

The filmmakers have a great time playing with video's technical weaknesses, while encouraging their cast members to give nicely naturalistic performances. Radio Silence adds some terrific effects to very strong performances, while Swanberg's short uses perspective to superb effect. Bruckner's film has an oddly moralistic undercurrent, but West's clip draws us in with the only well-defined characters in the entire collection, which makes what happens that much more chilling.

Less effective is McQuaid's rather sexist piece, which never does anything interesting with the teens-in-the-woods cliche. And while there's plenty of invention on display, every segment betrays the logic of the found-footage genre as we see things no one would ever film as part of a home video, plus flashbacks and gimmicky effects. But there's plenty of gore, nudity and clever visual inventiveness to keep us entertained.
| | | |
| --- | --- | --- |
| | themes, language, violence, sexuality, drugs | 26.Jun.12 |