dir Guy Maddin
scr George Toles, Guy Maddin
prd Jean Du Toit, Lindsay Hamel, Guy Maddin, Jody Shapiro
with Jason Patric, Isabella Rossellini, Udo Kier, Brooke Palsson, David Wontner, Louis Negin, Kevin McDonald, Daniel Enright, Olivia Rameau, Tattiawna Jones, Theodoros Zegeye-Gebrehiwot, Mike Bell
release US 6.Apr.12, Can 13.Apr.12,
UK 14.Sep.12
11/Canada EOne 1h34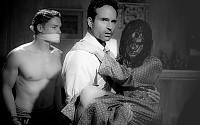 House of horrors: Wontner, Patric and Palsson


---
TORONTO FILM FEST
BERLIN FILM FEST
R E V I E W B Y R I C H C L I N E

Maddin's dreamlike filmmaking style makes this artfully quirky 1930s ghost story so strange that we're not sure if we should laugh or shiver at its bizarre creep-out images. But while it's playfully inventive, it's also aggravatingly elusive.

After a heist goes horribly wrong, a criminal gang holes up in their leader's haunted house. Big Ed (Enright) questions the decisions of the boss Ulysses (Patric), who arrives carrying a drowned girl (Palsson). But he's thinking about his wife Hyacinth (Rossellini), whose father (Negin) is a ghost, chained naked in the attic and merrily tormenting the fidgety gang members as they wait for the police to arrive. Meanwhile, Ulysses is trying to find the key to get back to Hyacinth, and seems aware that something much bigger is going on here.

Shooting in highly dramatised black and white, Maddin lets us know from the start that we shouldn't take anything we see literally. The film is an imaginative collection of light and shadows, with continual shots of clocks even as time seems to mean nothing in this house full of locked doors, where past and present and living and dead merge in freaky ways. Even with such mannered performances and excessive wackiness, the film is easily Maddin's most straightforward narrative. But it's still pretty impenetrable.

Sure, Maddin overloads the film with references to classic theatre and ancient mythologies, but there's also a strongly emotional subtext. Patric and Rossellini evoke the underlying yearning of a disconnected couple, each taking on new priorities while losing their children in the process. Indeed, Ulysses doesn't even seem to realise that their bound and gagged hostage (Wontner) is his only surviving son. And the real question is whether they want revenge or forgiveness.

As the story progresses, Ulysses' interaction with ghosts and gang members gets increasingly fraught, blending a nightmarish haunted house movie with a 1930s crime thriller and a dark satire about family dysfunction, all with a constant stream of black comedy. And while the film is camp and more than a little overwrought, Maddin's attention to detail finds resonance in every corner of this mad house. Yes it's strange, but it's also exhilarating.
| | | |
| --- | --- | --- |
| | themes, language, violence, nudity | 24.Aug.12 |