dir-scr Woody Allen
prd Letty Aronson, Jaume Roures, Stephen Tenenbaum
with Naomi Watts, Anthony Hopkins, Josh Brolin, Gemma Jones, Antonio Banderas, Lucy Punch, Freida Pinto, Pauline Collins, Anna Friel, Fenella Woolgar, Ewen Bremner, Theo James
release US 23.Sep.10, UK 18.Mar.11
10/UK 1h38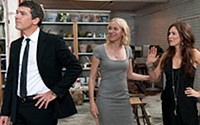 Love triangle: Banderas, Watts and Friel



---
CANNES FILM FEST
TORONTO FILM FEST
R E V I E W B Y R I C H C L I N E

A string of A-list British acting talent adds a zing of interest to this somewhat uneven Woody Allen relationship farce. Yet despite its failings, the film is enjoyably watchable and packed with knowing observations.

After Alfie (Hopkins) leaves his wife of 40 years Helena (Jones), she heads to a fake medium (Collins) for advice while he takes up with a sexy "actress" (Punch). Meanwhile, their daughter Sally (Watts) is having trouble with her husband Roy (Brolin), who's struggling to complete his new novel. Sally's also tempted by her married boss (Banderas), while Roy is distracted by a sexy new neighbour (Pinto). But there are wrinkles galore in the various relationships, as everyone is keeping their eye out for the right partner.

Allen's offhanded filmmaking style gives this a realistic, unfussy tone that keeps it entertaining. And it's nice to see him working in a way that's less talky and more character-based than usual, as each relationship is strained in a variety of way. Although there are moments when each actor is required to spout a string of neurotic Allenesque dialog, and the chatty narration feels tacked on. Also, Allen's loose directing leaves the comedy feeling uneven, removing any real momentum and leaving the characters fairly unsympathetic.

But if we don't like them we at least believe them, thanks to the especially strong cast, including several one-scene star performers. The comedy works best when the actors play the roles straight, which leaves Punch to shine in a hilariously film-stealing role (see also Mira Sorvino in Mighty Aphrodite). Even so, everything these people face seems trivial, which is odd since the central focus is marital infidelity. Allen's main message seems to be that it's impossible to overcome selfish ambition and crippling expectations in any relationship.

In other words, it's yet another Woody Allen movie that doesn't quite work, and yet is still far more interesting than most of what Hollywood churns out. Every scene is packed with telling insights into human interaction, as a gently comical tone belies the essentially sad, cynical theme. Even so, there are flickers of hope everywhere, as if Allen is saying that we find the solution to our problems in the least likely places.
| | | |
| --- | --- | --- |
| | themes, language, innuendo | 20.Feb.11 |