dir Fernando Meirelles
scr Peter Morgan
prd Andrew Eaton, Chris Hanley, Danny Krausz, David Linde, Emanuel Michael
with Rachel Weisz, Anthony Hopkins, Jude Law, Ben Foster, Maria Flor, Gabriela Marcinkova, Lucia Siposova, Jamel Debbouze, Dinara Drukarova, Vladimir Vdovichenkov, Juliano Cazarre, Moritz Bleibtreu, Mark Ivanir, Marianne Jean-Baptiste, Johannes Krisch, Katrina Vasilieva
release UK Oct.11 lff
11/UK BBC 1h55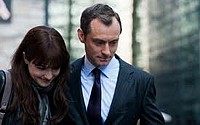 Take a chance: Weisz and Law



---
TORONTO FILM FEST

R E V I E W B Y R I C H C L I N E

Loosely based on Arthur Schnitzler's play La Ronde, this beautifully assembled film is easy to watch. But that's the problem: the subject matter should be much more difficult than this, as it's about having the courage to make unexpected choices.

In Vienna, British businessman Michael (Law) has arranged to meet Slovakian prostitute Blanka (Siposova) on her first night on the job. But the situation shifts, and Michael ends up thinking about his wife (Weisz) in London. Meanwhile, she's having a fling with a Brazilian (Cazarre) whose girlfriend (Flor) is fed up with his infidelity. On her flight home, she meets a troubled British man (Hopkins) and a recovering sex-offender (Foster). Meanwhile, an Algerian dentist (Debbouze) in Paris is in love with his Russian employee (Drukarova), whose husband (Vdovichenkov) works for a hotheaded gangster (Ivanir).

And so on. The point is that all of these people are connected by relationships and encounters in Europe and North America. And the constant theme is that each person must make a decision that completely changes their life. Essentially the film is encouraging us to take the unexpected fork in the road, even if we must pay the consequences. But the script never follows through on this: the characters' decisions never have any real fallout.

Meirelles uses every trick in his impressive arsenal: whizzy camera moves, witty editing, inventive transitions and a clever use of reflections. He also establishes the settings beautifully, from Vienna and Bratislava to London and Paris, by way of the Denver airport and a 12-step meeting in Phoenix. Images are bright and glassy even as the characters battle against losing their moral or ethical balance. At least this gives the cast members plenty to work with.

There isn't a weak performance, with stand-out scenes for Flor and Marcinkova (as Blanka's sister). Weisz and Foster are terrific at conveying conflicting emotions, while Hopkins gets the big grandstanding scene with a lengthy monolog that brings the film to a shrieking halt. But everyone manages to inject subtlety into the thinly drawn characters, while Meirelles connects the strands inventively. But in the end, the message that we should take more risks in our lives feels more than a little simplistic.
| | | |
| --- | --- | --- |
| | themes, language, sexuality, drugs, violence | 12.Oct.11 lff |