dir Paolo Sorrentino
scr Umberto Contarello, Paolo Sorrentino
prd Francesca Cima, Nicola Giuliano, Andrea Occhipinti
with Sean Penn, Frances McDormand, Judd Hirsch, Eve Hewson, Olwen Fouere, Kerry Condon, Harry Dean Stanton, Joyce Van Patten, David Byrne, Sam Keeley, Shea Whigham, Simon Delaney
release US Dec.11, UK 6.Apr.12
11/Ireland 1h58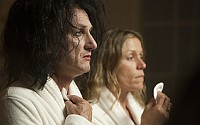 Put on a happy face: Penn and McDormand



---
CANNES FILM FEST

R E V I E W B Y R I C H C L I N E

Italian filmmaker Sorrentino creates a Jim Jarmusch-style odyssey from Ireland to America and back. Witty filmmaking and Penn's quirky performance keep it watchable, even though the story and themes are vague and elusive.

Cheyenne (Penn) is a former goth-rocker living in Dublin with his sparky firefighter wife Jane (McDormand). He's trying to hook his young friend Mary (Hewson) up with a shy waiter (Keeley), and he spends hours sitting with Mary's mother (Fouere) waiting for her missing son to come home. When his father falls ill, Cheyenne travels to New York for the funeral and then takes on his father's quest to find the Nazi who terrorised him at Auschwitz. This involves a cross-country road trip, during which Cheyenne comes to peace with himself without even realising it.

Penn plays Cheyenne as an obsessive-compulsive guy with a squeaky voice and extremely wry sense of humour. His wild hair and heavy make-up are a hilarious contrast to his dead-pan facial expressions. But Cheyenne isn't depressed, he's bored. It's a full-on performance that infuses Penn's whole body, but while there's a raw emotional centre, the character is a little too cartoonish to really believe.

Meanwhile, the actors around him are raw and often very funny. McDormand sparkles in her scenes, and it's great to see veterans like Hirsch and Stanton on screen in small but pivotal roles. In addition to composing the song score, Byrne is on hand for a couple of scenes, including an outrageously visual performance shot in one long take. And the wide range of characters Cheyenne meets along the way all add texture to the film.

Also like a Jarmusch film, we're never clear what any of this means. There are elements of revenge and awakenings, as well as the strong sense that Cheyenne is a little boy who never had the courage to grow up. This is articulated once in the script, and illustrated several times as well, leading to a moving final image. And Sorrentino captures all of this with graceful, inventive camerawork that beautifully blends authenticity with surrealism. So even if it's never clear what's happening under the surface, the journey is packed with meaning.
| | | |
| --- | --- | --- |
| | themes, language | 29.Oct.11 lff |