dir Roman Polanski
prd Said Ben Said
scr Yasmina Reza, Roman Polanski
with Jodie Foster, Kate Winslet, Christoph Waltz, John C Reilly
release UK Oct.11 lff,
Fr 7.Dec.11, US 16.Dec.11
11/France 1h19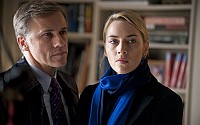 Face off: Waltz and Winslet (above), Foster and Reilly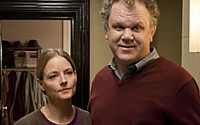 ---
VENICE FILM FEST

R E V I E W B Y R I C H C L I N E

Based on Reza's play God of Carnage, this claustrophobic film features only four characters in a single New York apartment. But the acting and directing, as well as a fiendishly entertaining script, make it absolutely riveting.

After their 11-year-old sons are involved in a playground fight, their parents meet to make sure everything is fine. Penelope and Michael (Foster and Reilly), parents of the injured boy, are happy to let bygones be bygones until they begin to suspect that Nancy and Alan (Winslet and Waltz) aren't properly punishing their son. Over the course of the next hour or so, liaisons shift as their civilised surface gives way to seething bitterness. And it certainly doesn't help that they open a bottle of Scotch.

Nothing about this sounds very cinematic: four people in one room bickering, bonding and bickering some more. And indeed, the script is fairly theatrical as it circles and pounces on big issues, pushes each of the characters to the limit and seeks to provoke rather than explain. But Polanski creates a set that allows for remarkably clever camera movement, as we share the characters experience of being stuck in this place. And this gives the actors space to create memorable interaction.

The standouts are the women, who are more expressive as mothers concerned about fiercely protective of their children, and also annoyed with their husbands. Liberal-minded writer Foster is like a wounded tiger, holding back until she has no choice but attack and draw blood. In a role that has more kick than when the play was first staged in 2006, Winslet is an investment banker who's trying to keep the peace, at least until she gets a stomach bug (perhaps from Penelope's cobbler?). Meanwhile, Waltz is a lawyer who is constantly on his mobile and Reilly is a salesman whose hatred of hamsters causes another ruckus.

This blackly hilarious script is packed with attempts to be polite ("We are not going to get into these children's quarrels"), backhanded judgements and, eventually, open hostility. A continual stream of running gags keeps us laughing because they're both hilarious ("Doodle" vs "Darjeeling") and brutally real ("Why does everything have to be so exhausting?"). And as the hysteria escalates, it's only comical because of what it reveals about each of us.
| | | |
| --- | --- | --- |
| | themes, language, some violence | 4.Oct.11 |