dir Bill Condon
scr Melissa Rosenberg
prd Wyck Godfrey, Stephenie Meyer, Karen Rosenfelt
with Kristen Stewart, Robert Pattinson, Taylor Lautner, Billy Burke, Peter Facinelli, Ashley Greene, Kellan Lutz, Elizabeth Reaser, Nikki Reed, Anna Kendrick, Booboo Stewart, Julia Jones
release US/UK 18.Nov.11
11/US Summit 1h57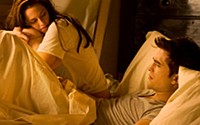 Nesting: Stewart and Pattinson


---
See also:




R E V I E W B Y R I C H C L I N E

Finally, everyone stops taking the Twilight saga so seriously, creating a surprisingly entertaining romp. Yes, everyone still mopes, but they now do so with a twinkle in the eye and a growling sense of underlying menace.

After an idyllic woodland wedding and Brazilian-island honeymoon, Bella (Stewart) finds herself unexpectedly pregnant by her new vampire husband Edward (Pattinson). But what's growing inside her? Edward's family closes ranks to take care of her fast-growing foetus, watched over by her wolf-pal Jacob (Lautner). The problem is that if Bella dies, as seems likely since the baby is sucking the life from her, the tenuous treaty between vampires and werewolves will be broken, leading to all-out war. This of course puts Jacob in a tricky position.

From the beginning, this film is far more warped and cynical than the previous three chapters. It also returns to the female-power themes of the first film, as Bella and her new sisters (Greene and Reed) and mother-in-law (Reaser) make the decisions, leaving Edward, Jacob and the other boys wringing their hands as they wait for events to unfold. And this uncertainty means that everyone is more worried than despondent this time, which gives the film a zing of promise. We actually want to see what happens.

Although it takes rather a long time to get there; we're continually promised an outbreak of violence. Instead, Stewart spends much of the film wasting away as her belly swells to epic proportions. Pattinson and Lautner maintain their characters' intriguing alliance, prowling around the house like prospective fathers in a hospital waiting room. And the deranged story is packed with hilarious asides that make the movie both engaging and enjoyably nutty.

When the nastiness finally erupts, it's a rather unexciting clash between vampires and those same dodgy animated wolves (who are seen earlier meeting up for a growly chat). Meanwhile, Bella has just endured an astoundingly grisly C-section. And when the dust settles, it frankly feels like the end of the entire franchise. So wait for the mid-credit sequence, in which arch goth-rocker Michael Sheen pops up with his Volturi brethren to promise even more outrageously camp wackiness in Part 2. I never thought I'd be looking forward to a Twilight movie.
| | | |
| --- | --- | --- |
| | themes, violence, sexuality | 18.Nov.11 |