dir-scr Mike Mills
prd Miranda de Pencier, Lars Knudsen, Leslie Urdang, Jay Van Hoy, Dean Vanech
with Ewan McGregor, Christopher Plummer, Melanie Laurent, Goran Visnjic, Kai Lennox, Mary Page Keller, Keegan Boos, China Shavers, Melissa Tang, Amanda Payton, Luke Diliberto, Lou Taylor Pucci
release US 3.Jun.11, UK 22.Jul.11
10/US 1h45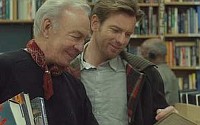 Father-son issues: Plummer and McGregor



---
TORONTO FILM FEST
R E V I E W B Y R I C H C L I N E

With a slow, wistful pace, Thumbsucker writer-director Mills tells a moving story about connections across generations. It's warm and perhaps a little too heartfelt, but it's grounded in the three central performances.

Oliver (McGregor) is struggling to cope with the death of his father Hal (Plummer), only a few years after his mother Georgia (Keller) died. As his memories swirl, he meets the lively Anna (Laurent) at a party, and they embark on a tentative relationship. But he's consumed by thoughts about his father, who came out as gay after his mother's death and then had a complex relationship with Andy (Visnjic). He also remembers time with his mother when he was a boy (Boos), wondering how his personal history is affecting his life now.

Using a kaleidoscopic structure, Oliver's memories emerge out of order along with his cartoonish sketches and images of the world looked when various events took place. This adds a quirky touch to an introspective, gentle exploration of one man's emotional life. It's also a bit gimmicky, as is Oliver and Anna's relationship, but Mills puts scenes on screen in a way that makes them meaningful, even if it's a bit cerebral.

This askance approach allows the actors to create interesting characters. McGregor is likeable as always, despite Oliver's mopiness; Plummer is complex and fascinating; Laurent is slightly too adorable, but has a prickly side; and Visnjic is like a goofy child with a sad edge. Their interaction is startlingly realistic, including the ways they can't talk to each other. And in this sense, Hal's dog Arthur is the film's scene-stealer.

It's important to note that homosexuality isn't a theme here. The issue is how Hal "stopped" being gay and adopted Georgia's Jewishness for their decades together. Meanwhile the world around them changed, so Hal's coming out is more an expression of finally living in a society that lets him be who he is. And this never undermines his genuine relationships with Georgia and Oliver. And of course this also informs Oliver's experiences with Anna. It's all somewhat literary and intellectual, but the film's real strength is how Mills helps us see that joy and contentment are choices.
| | | |
| --- | --- | --- |
| | themes, language | 7.Jun.11 |