R E V I E W B Y R I C H C L I N E
dir-scr Mike Mills
with Lou Pucci, Tilda Swinton, Vincent D'Onofrio, Keanu Reeves, Vince Vaughn, Kelli Garner, Chase Offerle, Benjamin Bratt, Kit Koenig, Sarah Bing, Patrick Chu, Mahdad Rezaujan
release US 16.Sep.05,
UK 28.Oct.05
05/US Sony 1h36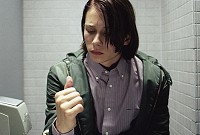 Oh grow up: Pucci



Best Actor: BERLINALE
SUNDANCE
EDINBURGH FEST

There's nothing particularly original about this indie-style coming-of-age drama (see also Igby Goes Down, Tadpole, The Rage in Placid Lake, and so on), but it's an impressive debut for Mills, who knows exactly what to do with his extremely strong cast.

Justin (Pucci) is a 17-year-old who has never stopped sucking his thumb, despite the best efforts of his loving, worldly wise parents (Swinton and D'Onofrio), his orthodontist (Reeves) and his debate teacher (Vaughn). Maybe there's something going on here? Perhaps Justin just needs medication to help him cope with either depression or attention-deficit disorder. Or the problem might be that he's smarter than everyone around him. Or that he just needs to let himself grow up.

At the centre of this film, Pucci gives such a strongly compelling performance that we experience everything right along with him. We don't always like what he does or says, or how he treats the people around him, or the way he's so relentlessly self-obsessive. But we understand him--he's a teenager after all. And Pucci is a terrific young actor who beautifully balances the comedy and drama without appearing to try at all. Swinton and D'Onofrio are constantly surprising as his bewildered parents; Garner is very good as the unattainable object of Justin's affections; and Reeves and Vaughn provide solid, sometimes scene-stealing support.

Mills gives the entire film a kind of Zen/existential tone that echoes Justin's upbringing, combined with a subtle stab of smart humour that keeps the film fresh and engaging. Some of this is hilariously funny, such as Reeves' hypnosis scenes. Other aspects are more sharply telling, such as Garner's cruel experimentation. And in the end, the concluding messages aren't terribly original. Yes, we're all--regardless of our age--scared little animals addicted to an idea of the life we imagine ourselves living. Yes, the trick in life is learning to live without an answer. There's an awful lot of, to quote Reeves, "hippy psychobabble" in here. But even as it meanders toward the conclusion, it's also the kind of film that can, surprisingly, make you fall in love with your parents.
| | | |
| --- | --- | --- |
| | themes, language, vulgarity, innuendo | 25.Jul.05 |